Director: Burt Reynolds
Starring: Burt Reynolds, Rachel Ward, Vittoria Gassman, Brian Keith, Charles Durning, Bernie Casey, Henry Silva.
Written by: Gerald Di Pego and (based on the novel) William Diehl.
Running Time: 122 mins
Original UK Cert: X
Original US Release: 18th December 1981
There is a very famous story (the stuff of legends, mind you) that when Clint Eastwood made Every Which Way But Loose, Burt Reynolds, a friend of Clint, is reported to have said, "Clint, you're getting into my territory [comedy], and if it's a success, I'm going out and make 'Dirty Harry Goes to Atlanta'!" When Sharky's Machine went into production, Eastwood sent a telegram to his buddy, saying "You weren't kidding, were you?" While Sharky's Machine isn't as iconic as Eastwood's San Francisco's cop, it's a film that has plenty to enjoy and, in my opinion, is one of Reynolds' finest.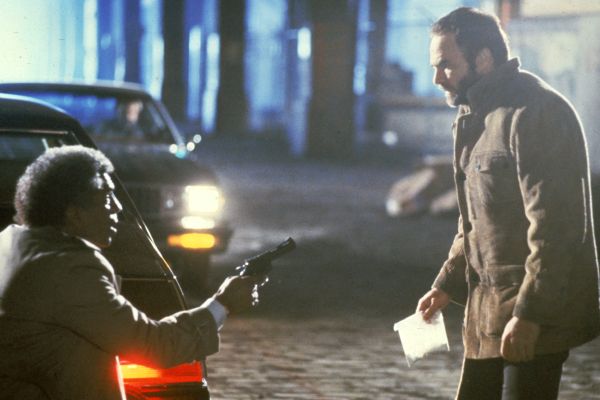 Tom Sharky is a top narcotics cop who, after a bungled drug bust, finds him send to the depth of the Atlanta police force into vice, where the old cops go to retire. While trying to cover Donald Hotchkins Governor election campaign, he stumbles across a high-class prostitution ring with a mob murder attached. Sharky and his fellow officers start to dig deeper, with Sharky spending time watching a call-girl called Dominoe and finding corruption and murder around every corner, while becomes emotionally connected with the woman he is watching.
Based on the novel by William Diehl, Sharky's Machine is a complex tale that may look like a straight forward cop thriller but as the film goes on, you discover this is a much deeper and darker flick than first expected, especially when Reynolds was at the height of his success, playing good old boys in a succession of action packed comedies like Smokey And The Bandit 2 and The Cannonball Run. This is a much more mature piece, even if it does have some light touches as well.
It's also a very sadistic film, in which the violence is full on and very graphic. Gun shots are usually shown in close up and in one shocking scene, a face is destroyed by a shot-gun. It has been criticised for its brutality but maybe it's because Reynolds previous outings have always been mostly family friendly. Yet it feels necessary in the context of the story, in which we are in a world of sex for sale and it seems that violence goes with the territory.
Reynolds the director, his third film behind the camera and his most competent, handles the action brilliantly, keeping the viewer right in the heart of things. The opening sequence in which Sharky becomes involved in a drug deal that goes badly wrong, is both tense and visually exciting and a perfect way in which we first meet the titular character. The finale shootout involves an incredible piece of stunt work that still makes you gasp, even after all these years.
The film is more than blood and guts. What works so well for Reynolds is casting his friends as the "Machine" the ageing cops who join Sharky on his quest to find the Kingpin of the prostitution ring. Brian Keith and Bernie Casey are perfect foils to Sharky's seriousness as his vice cop partners, with Charles Durning stealing all the scenes as their nightmarish, neurotic boss, Lt. Friscoe. Richard Libertini is also very funny as Nosh, the electronics expert and best friend of Sharky. Most of their scenes are obviously improvised and it helps make these characters even  more believable as they banter between each other.
Rachel Ward, in her first major film role, is delicious as Dominoe, a woman with a voice as smooth as velvet and a look that would make any man's head turn, she oozes sex appeal and it's easy to see why she is so wanted by both her pimp and Sharky. As Sharky, this is an opportunity to show his acting skills, a man who has emotions and not just a tough cop. Reynolds, up to this point, has never shown his more gentle side and there are moments when we see he is vulnerable and, at one point, heartbroken. It's one of his finest performances.
The film's aces in the pack come from Vittoria Gassman as Victor Scorelli, the man who holds Dominoe's chain. As smooth as they come, he is just plain sinister and if anyone can make My Funny Valentine as evil sounding as he does deserves recognition. It would have been very easy for him to go over-the-top with this role but he has a wry smile and a tinkle in his eye that makes him quietly nasty without actually doing a thing. Meanwhile his brother, the dope-head, cold-hearted killer, Billy, played superbly by Henry Silva, is the real diamond in the film. He is like a walking nightmare. As one of the characters comments, "He's a ghost! He's not real!" Hiding in the shadows and then exploding like a bomb, Silva's creation is a brilliant mix of psychopath and pathetic wannabe, longing to be like his brother. It's one of the screen's most underrated villains.
Sharky's Machine is part cop thriller, part comic caper, with a touch of "Laura" in the middle, Held together by great performances, a neat jazz soundtrack and Reynolds' confidence as a director. The opening scene, an aerial shot of a glass tower that slowly zooms in to a shot of Sharky crossing a railroad while Randy Crawford sings "Street Life" is still breath-taking. A film that many may not have heard of by one that I admire greatly and will pop into every chance I get.
5/5
Sharky's Machine is not available on DVD in the UK