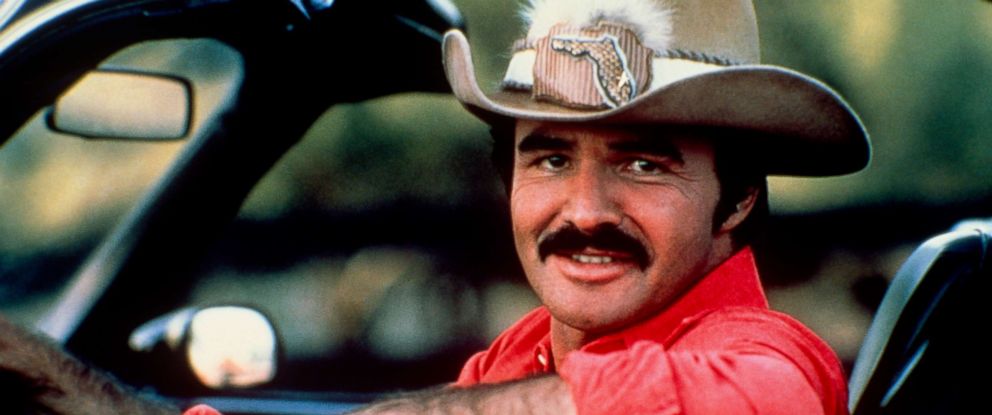 Tonight we heard the very sad news that Burt Reynolds, the king of the crowd-pleasers, has passed away.
In a career that spanned five decades, starring in television shows like Gunsmoke and Dan August, he really came to fame through his full nude picture in Cosmopolitan magazine in 1972 and his performance in John Boorman's Deliverance. After that the sky was the limit, with Reynolds starring in hit after hit, mixing drama, thrillers with comedies like the Smokey and the Bandit films, The Cannonball Run movies and Hooper. He also directed a handful of films like the black comedy, The End and the underrated cop thriller, Sharky's Machine, or as Reynolds called it, Dirty Harry in Atlanta.
His career took a wane in the late 80's with a string of flops but it was Boogie Nights that put him back on the map, playing an ageing porn director, a film that Reynolds hated but he was nominated for his one and only Oscar.
Reynolds did continue to work but most of his films going directly to DVD. Yet it's those golden years of the 1970's that he will be remembered for.
In tribute, here is my top ten of what I regard his best movies. Rest in Peace, Bandit!
10. Semi-Tough (1976)
Reynolds plays an American football star longing for the attention of Jill Clayburgh while she is falling for friend Kris Kristofferson. This satire from Michael Ritchie is more about the ludicrousness of cults and pointless seminars while keeping a level of macho humour.
9. Sam Whiskey (1969)
Comedy western in which Reynolds plays a gambler who is seduced by Angie Dickinson who wants him to retrieve a stash of gold bars that sank with a riverboat. The first time we got to see Reynolds playing the persona that made him a star. Fun.
8. City Heat (1984)
The film everyone wanted to see but the result wasn't what the world wanted. A 30's-based drama with Reynolds as a former cop turned private eye who is caught up in a murder case with former partner, Clint Eastwood. The problem was there was not enough screen time for the pair but when they did share scenes, it was worth the admission price.
7. Hustle (1975)/ The Longest Yard (1974)
A tough thriller from Robert Aldrich has Reynolds as a cop investigating the disappearance of a girl which leads to the sleazy world of pornography, while Reynolds returns home to his prostitute lover, Catherine Denevue. A film full of surprises not more so than the finale.
The Longest Yard is another Aldrich/Reynolds team up, this time with Burt as a former football star who threw an important game, who is sent to prison and is made to coach a cons team to play the guards. A macho tale made fun by Reynolds' personality.
6. Hooper (1978)
A pure, 100% Reynolds movie as he plays an egotistic stuntman who has competition from a younger man. Hal Needham's film is hardly high art but it's funny, exciting and it has those classic outtakes that became so famous in his movies.
5. Deliverance (1972)
Four friends go on a canoeing holiday in the deep south which leads to a nightmare. John Boorman's controversial film includes the famous Duelling Banjos as well as those disturbing sequences. A classic of 70's cinema. Uncompromising, tough and brutal.
4. Boogie Nights (1997)
Paul Thomas Anderson's expose of the porn industry in the 70's had Reynolds as a top director who could see the career possibilities for Mark Wahlberg. His one and only Oscar nomination, this is Reynolds best performance by a long shot.
3. Smokey and the Bandit (1977)
The film that set the bar for good ole boys comedies with Reynolds as The Bandit, a fearless driver delivering beer across state lines and being chased by Jackie Gleeson's Smokey. A mix of low-brow humour and incredible stunts. this is the film Reynolds will be remembered for.
2. Sharky's Machine (1982)
A tough cop thriller directed by Reynolds who plays a cop working in vice who uncovers corruption within the political career of a governor, when a high-classed prostitute becomes a target. Violent yet still with flashes of Reynolds charm, I feel it is hugely underrated.
1. The Cannonball Run (1981)
It's utter nonsense, it has no plot, it's basically a bunch of Hollywood actors having far too much fun and yet it has so much charm you cannot help but love it. Reynolds, Roger Moore (as a man who thinks he's Roger Moore), Jackie Chan, Dean Martin and Sammy Davis Jr all forget their careers to drive in fast cars and say memorable and quotable lines. Just a blast!