Director: Bryn Higgins
Starring: Agyness Deyn, Lenora Crichlow, Christian Cooke, Paul Anderson, Tom Georgeson, Alice Lowe
Written by: Joe Fisher and (based on the novel) Ray Robinson
Running Time: 90 mins
Cert: 15
Release date: 5th December 2014
There have been many films that deal with the subject matter of epilepsy, usually from the viewpoint of those around the person with the condition and how it affects their lives but there are very few films that deal with it from the side of those who have to cope with it. Until now, that is, for Electricity tackles it full on and gives us not only an insight into a world unknown but manages to create a gripping drama at the same time.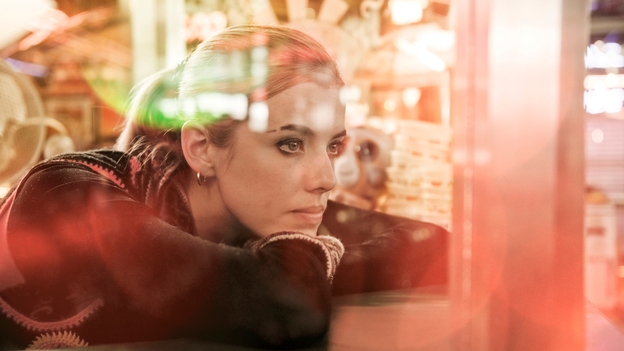 Lily O'Connor lives in a sleepy seaside town, working in an amusement arcade. When her mother dies, her poker player brother, Mikey, is willing to split her estate 50/50. Lily refuses, saying that part of the money belongs to their long-lost brother, Barry. Determined to find him, Lily heads to London, a city she is unfamiliar with, with only a hint of a clue to his whereabouts. This isn't going to be as easy as she thought, especially as she has epilepsy which brings on hallucinations and can leave her losing days.
The search for a long-lost relative in a strange town is hardly the most original of ideas but Bryn Higgins' beautifully shot yet devastatingly moving drama manages to put a new and unique spin on the proceedings. It allows the audience to experience the world of the person with epilepsy. Having worked with many people who are affected by this, it helped me to understand what they feel and see when affected.
Watching Lily as she desperately scans the streets of London, never knowing when the next attack will occur, adds a sense of urgency to the story, as she refuses to give up what looks like an impossible mission. Throw into the mix medication battles with her doctors, people she unwittingly trusts who fail her and the knowledge that at any moment she could have another attack and be left battered and beaten with no awareness of time, the film becomes almost unbearable in its tension.
Higgins's visual sense and flair is superbly mounted and illustrated in Lily's hallucinations. A surreal, floating sequence where the camera pans round each person, making them look silently still as they hover over the floor is visually striking. With Lily's point-of-view as she is inflicted with another attack, we are able to see what she sees and just how disorientating her world becomes. There is a level of fascination for the viewer as we experience the dark terror of epilepsy as experienced by Lily.
Agyness Deyn is magnificent as Lily. This cool, yet hard-as-nails, woman  refuses to give up, yet her vulnerability is brilliantly realised by the young actress. You care for her, you become irate at her when she refuses  help but all the time you are emoting with her. She is a full-blooded creation and this is a career making performance that should put Ms Deyn fully on the map. Christian Cooke, as Lily's wheeler-dealer brother Mikey, brings some needed light relief and Paul Anderson as Barry is a keg of dynamite ready to explode as Barry.
For anyone who has ever worked with or lived with someone who has epilepsy, this is a film you cannot miss. It will help you to  understand more about their world. For those who don't, this is still a must see film that demands a huge audience.Not only is this  a first-rate drama but it brings to the screen an incredible  performance of  power and truth from Agyness Deyn. A brave, breath-taking and eye-opening movie!
5/5