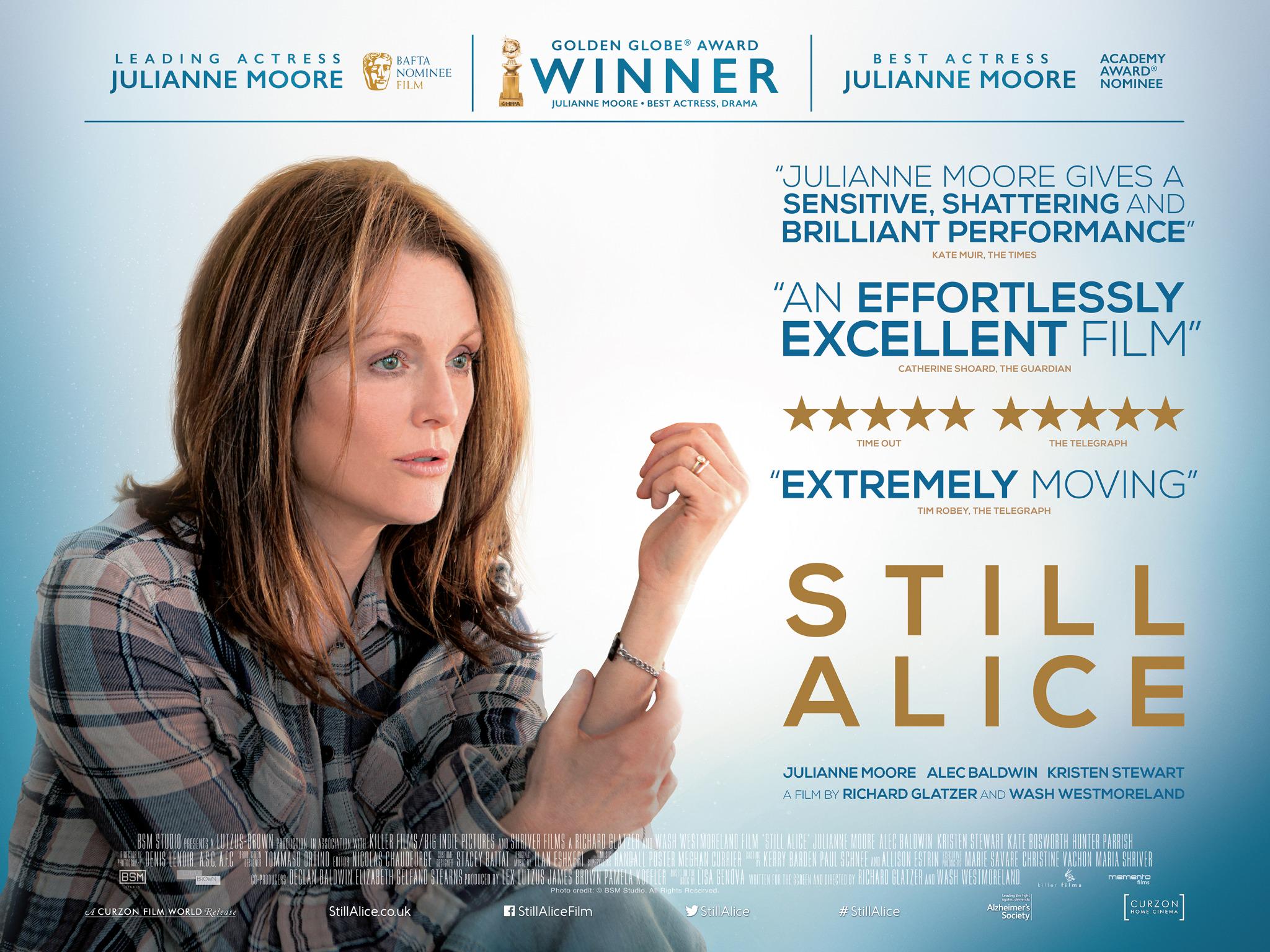 Directors: Richard Glatzer and Wash Westmoreland
Starring: Julianne Moore, Alec Bladwin, Kristen Stewart, Kate Bosworth, Hunter Parrish, Shane McRae
Written by: Richard Glatzer, Wash Westmoreland and (based on the novel) Lisa Genova
Running Time: 101 mins
Cert: 12A
Release date: 6th March 2015
Often when a film arrives that is lauded with awards and high praise, it sometimes never really reaches those high expectations. Julianne Moore, having walked away with every major award for Best Actress, including the Oscar, is a fine and experienced performer but does her work here truly deserve all that attention. In my eyes, 100% yes it does because Still Alice is one of the most emotional charged, beautifully controlled pieces of cinema, dealing with a subject that demands all the attention it gets.
Alice Howland is a linguistics professor whose work is respected throughout the English educational world. She has a loving family, all professionals apart from her youngest daughter, Lydia, who dreams of becoming an actress, even though her mother wants her to go to college. One day, Alice notices that she's forgetting things like words or faces and heads to the doctor, where she is diagnosed with Early-onset Alzheimer's Disease. Determined to continue as much as possible, it soon becomes apparent that Alice is fighting a losing battle and the devastating changes in a once strong-minded woman soon controls her whole family.
Alzheimer's is a disease that can affect anyone at any time. This is the message that writers and directors Richard Glatzer and Wash Westmoreland wanted to put out there. Alice is a woman in her 50s who, for her whole life has been at the top of her game, intellectually, and slowly we watch as this bright, life-affirming woman go from highly respected professor to a lost soul, a shadow of her former self.
Never going for massive scenes of histrionics, Still Alice plays like a simple domestic tale of a family brought together by tragedy. It is played out from Alice point of view. We see everything in her world, from her decision to hide a secret video of what to do once the disease really kicks in, to her listening to conversations about her by her family, as if she wasn't in the room. A scene that is shot blurry so we see it from her eyes. There's someone there but the mind won't allow us to see who. As these events occur, so does the confusion.
Then there's the family, a group trying to be strong but you can see that it is tearing them up inside. The eldest daughter, Anna, pregnant with twins, who is the worst culprit for talking about her as if she doesn't exist, fears that she is incapable of holding her newborn. Rebellious Lydia, who has had a running battle about her own future, becoming her best friend and finally, John, her husband, who seems to refuse this is happening and hides away from the truth by becoming immersed in his work, although inside he is falling apart.
The performances are outstanding from everyone. You genuinely feel that these are a family, their closeness and bonding oozing from the screen. Alec Baldwin as John is magnificent, a well-measured and controlled performance of a man watching his world crumble. Kristen Stewart has finally shaken off the robes of the Twilight films with an honest and incredibly truthful characterisation. She literally shines here.
Yet the film solely belongs to Moore. For years she has become a highly respect actress with a host of Oscar nominations under her belt but with no wins, until now. As Alice, we watch her go from this tower of strength, this woman of great importance to an almost unrecognisable shell of what she use to be. It's a heart-breaking performance, delivered with great subtlety and as you watch, it's like watching a transformation, of a woman losing her mind, each step deeper into her deterioration being mapped out across her face. Never has such a performance been so affecting, especially the speech she makes at the Alzheimer's association, where, armed with a marker pen so she doesn't lose her place, Moore proves once and for all she is one of the screen's finest.
Still Alice is a powerfully emotional film that will help broaden your understanding of such a terrible disease. It is handled with honesty and with sensitivity. It never once uses it to the level of effect of making a bombastic drama, instead it touches, it makes you think and it will make you cry by the bucket load. Plus I don't think you will see a better performance this or, to that matter, any other year.
On the more poignant side, co-director and writer Richard Glatzer passed away recently from Motor Neuron Disease. While making Still Alice, he was directing using an iPad to communicate. His one wish was to make movies. He certainly has made a film that will stay with you long after it is over. An absolute triumph.
5/5