Director: Alan Rickman
Starring: Kate Winslet, Matthias Schoenaerts, Alan Rickman, Stanley Tucci, Helen McCrory, Jennifer Ehle, Steven Waddington
Written by: Jeremy Brock, Alison Deegan and Alan Rickman
Running time: 117 mins
Cert: 12A
Release date: 17th April 2015
If I was to say to you that Alan Rickman's second film as a director is about gardening, you'd probably turn your nose up and walk away. Maybe you should stop, because even though the garden is a pivotal part of the story, this lavish costume drama is like a rose. Taking its time to blossom but eventually blooms into a thing of beauty.
Sabine De Barra, an independently minded woman who has faced tragedy in her past, finds she has been offered the job of working on a water feature for King Louis XIV in the gardens of Versailles. Facing prejudice for being a woman, she finds herself being drawn closer to the man who hired her, master designer André Le Notre, while hoping to win over the King.
Alan Rickman's second feature as a director (after the underrated The Winter Guest back in 1997) is a very different film from his first. This follows the traditional quintessential English style of film making: the costume drama. Although set in France during the reign of Louis XIV, you'd be fooled into thinking this could be England. None of the characters don an outrageous French accent, instead Rickman's cast speak their native tongue.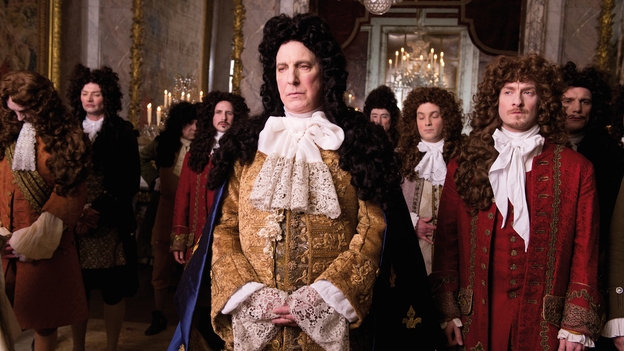 The film looks lavish and Rickman certainly has an eye for making it as cinematic as possible. The set designs and costumes are gaudy and outlandish but fit perfectly for the time and period. Never has the screen seen so many powdered wigs and heaving cleavages this side of Carry On Don't Lose Your Head.
As for the story, its slight and relies on being enjoyed scene by scene than taken as a whole. The love story is well-developed and is allowed to blossom rather than rush into it headlong. Sabine and André are from very different worlds and yet are drawn together by their love of gardens, even if André believes in order while Sabine likes chaos (hence the title).
Although the film never rushes, it does manage to draw you into this world, whether it be the romance, or the conflict against authorities or even the treachery that lies between André and his wife, a flirtatious woman who allows herself to have affairs throughout the land, is wrecked with jealousy at her husband's growing relationship.
One of the film's high-points is the scene where Sabine mistakes the King for a common gardener and this one moment could be the central reason for seeing this delicious costume drama, for it sees the return to the screen of the pairing of Kate Winslet and Rickman, last seen together in Sense And Sensibility back in 1995
The performances are impeccable. Matthias Schoenaerts seems to be the go-to guy for romantic male leads (he's next to be seen in the new adaptation of Far From The Madding Crowd). He holds himself well as the arrogant designer whose heart is slowly melted by the simplicity of Sabine. Stanley Tucci, once again, wanders in and almost steals the film under everyone's noses as the outrageously camp Philippe, Duc d'Orleans, while Rickman seems to be enjoying himself as Louis.
However, the film belongs to Kate Winslet, who sweeps you along with confidence and ease. She manages to make even the less complicated characters seem deep. It's a beautifully pitched performance that just shows her incredible talents. Definitely up there with her best.
A Little Chaos does reflect its title, being a film with a whisper of a story and yet it holds the attention beautifully, thanks to the look and the wonderful performances. It might not rate up there with the best of the costume dramas of late, For a film about gardening, it's never a limp weed, more like sweet-smelling bouquet, rich with colour.
4/5