Director: Richard Bracewell
Starring: Mathew Baynton, Simon Farnaby, Martha Howe-Douglas, Jim Howick, Laurence Rickard, Ben Willbond, Helen McCrory, Damian Lewis
Written by: Laurence Rickard and Ben Willbond
Running Time: 94 mins
Cert: PG
Release date: 18th September 2015
One of the big success stories in British television of the past few years is Horrible Histories, a children's show that adults can appreciate. A troupe of actors perform a series of sketches all based on factual events throughout the grubbier times of history, which manages to be both educational and very funny. Now the team have been let loose on the big screen with their first film, Bill, a more fictional account of the early years of William Shakespeare. Will they transfer as successfully to the cinema? Thankfully, yes.
Bill Shakespeare is a hapless lute player with dreams and ambitions that his wife, Anne Hathaway, feels he can never reach. After being dumped by the band he played in, he heads to London to become a playwright. There he meets Christopher Marlowe, a writer down on his luck. A friendship forms. Meanwhile, King Philip II of Spain is plotting to kill Queen Elizabeth I and with the help from the Duke of Croydon, who claims to be a writer himself, they trick Bill into writing a play that will form the basis of the assassination.
Without the restrictions that television has to offer, both in time and in budget, the team go all out to try to recreate what works in the show but with making it look more lavish and realistic. The production values are high, with a grimy feel to the proceedings. They are also a little more risky when it comes to the language and subject matters, pushing the naughty factor up while never forgetting that this will be enjoyed by a family audience.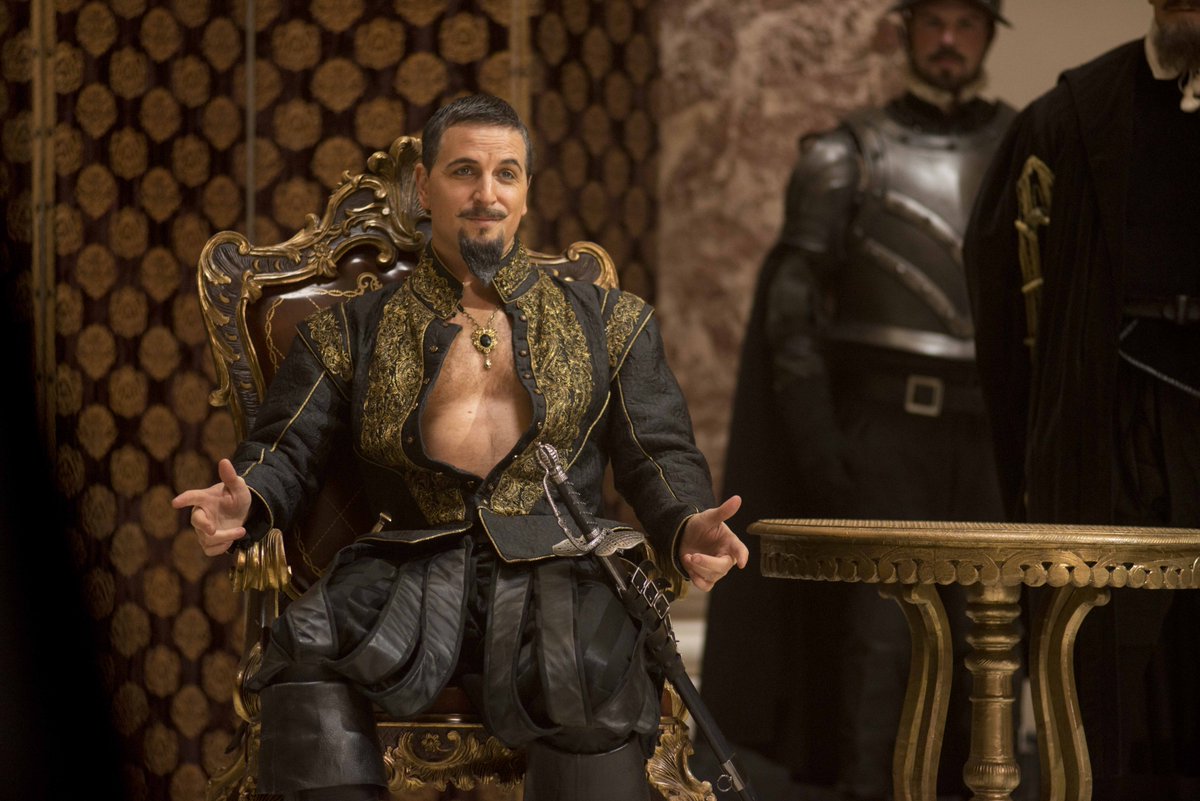 It all works extremely well, with a mixed bag of humour, from the surreal to the silly, from pratfalls to puns and some very clever gags that the older members will enjoy, with the occasional reference to Shakespeare's most famous lines and plays that those familiar with his work will enjoy.
What really stands out is how similar this is to Monty Python. Having the cast of a few actors playing multiple parts, setting a film during the plague, having quintessential British characteristics and that almost apologetic style of sketch comedy that the Pythons did so well and you have Bill. In fact, if you were to pay this film the highest compliment, then you'd say it was the perfect companion piece to Monty Python and the Holy Grail.
The cast inject plenty of enthusiasm and energy, even when the jokes set beyond infantile, yet they play them all out with the same level of gusto. Nice to see Damian Lewis in a cameo role and Helen McCrory having fun with Elizabeth, bad teeth and all. Yet the real stars are the cast of unknown, yet whose names should roll of the tongue as easy as Cleese, Palin and Chapman. Mathew Baynton giving a quietly confident performance as Bill, while the rest, with their multiple characters and caricature creation, all should take huge credit.
Bill had me giggling all the way through, from the running gag about the goodness of lute music, to the fight between Bill, dressed as a tomato, and a chicken leg, to jokes like the band Mortal Coil telling Bill they are "shuffling off". Not as side-splitting as Holy Grail but it would be very interesting to see if the gang could pull off a more mature comedy. Maybe their own Life Of Brian?
4/5