Director: Todd Haynes
Starring: Cate Blanchett, Rooney Mara, Kyle Chandler, Sarah Paulson, Jake Lacy, John Magaro
Written by: Phyllis Nagy and (based on the novel "The Price Of Salt") Patricia Highsmith
Running Time: 118 mins
Cert: 15
Release date: 27th November 2015
Some people have been under the misapprehension that Carol, Todd Haynes' exquisite tale of forbidden love, is nothing more than a tale of lesbianism. That attitude should be immediately dismissed because this is a love story that just happens to be between two women. It's also one of the most beautiful, painful and compelling love stories to hit the screen, as well as being just a remarkable piece of art.
Therese Belivet, a wannabe photographer working in a department store, meets Carol, a middle-aged woman wanting to buy a toy for her daughter. Leaving her gloves, Therese sends them back and in return, Carol invites her to drinks. Soon a friendship starts to build and Therese finds herself fascinated by this woman, who is trapped in a loveless marriage, with a husband who is believes that she is an unfit mother because of her past discrepancies. Soon Therese and Carol fall in love, in a time where their love is forbidden.
Evoking the period of the 50's with care, director Haynes, who previously visited the decade with the equally stunning, Far From Heaven, captures the tone and feel with a wonderful colour palette and an eye for the artistic. Helped by brilliant cinematography from Ed Lachman, the film is influenced by the photographs of the time, especially from Saul Leiter, a man who used shots through windows as his canvas.
Along with Sandy Powell's perfectly recreated costumes and Haynes' use of 35mm, giving the film a grainy, almost 50's feel, it has the sense of a Douglas Sirk melodrama while at the same time, producing a heartbreaking tale that is incredibly relevant today. This is a film full of style and grace that is just a treat for the eyes.
Yet the simplistic story that isn't interrupted with complex or pointless subplots, eases along at a leisurely pace, allowing the audience to endure the pains and emotions of a growing love. We witness as these two people from very different worlds, slowly and subtly become closer, to the point that when they finally kiss, your heart is beating just as fast as theirs are.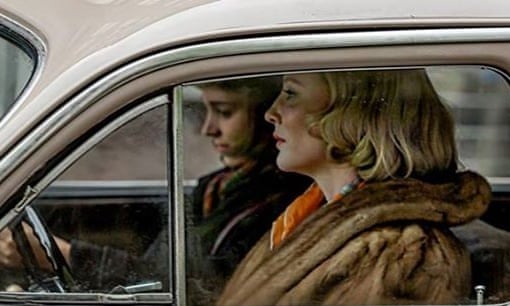 With this glorious looking film comes performances that both excite and delight. The support, especially from Kyle Chandler as the husband who cannot understand his wife's behaviour, is superb. A man whose ego is bruised as much as his emotions towards her. It is easy to overlook his role, yet it's as painful as the love that is unfolding in front of us.
In the role of Therese, Rooney Mara, who recently was badly miscast as Tiger Lily in Pan, finally is allowed to show her acting strength. An innocent confused by love, she is bewitching and bewildering in equal measures. Her wide-eyed gazes are magnetic and you often find yourself melting as she stares out of the screen. With Cate Blanchett as Carol, a woman of class, sophistication and glamour, this is her best role since winning the Oscar for Blue Jasmine. Full of subtle glances and a simple raised eyebrow, she speaks volumes without uttering a word and the pair just captivate you. It will be a hard decision to make who would win what award.
As you can guess, I am in love with Carol. I am in love with its style, its performances, its simple storytelling. It certainly has placed Todd Haynes up there among the great directors and I cannot wait to see it walk away with an armful of awards. A positively stunning love story that really understands what it is like to fall in love. Expect to see it in my top ten at the end of the year.
5/5