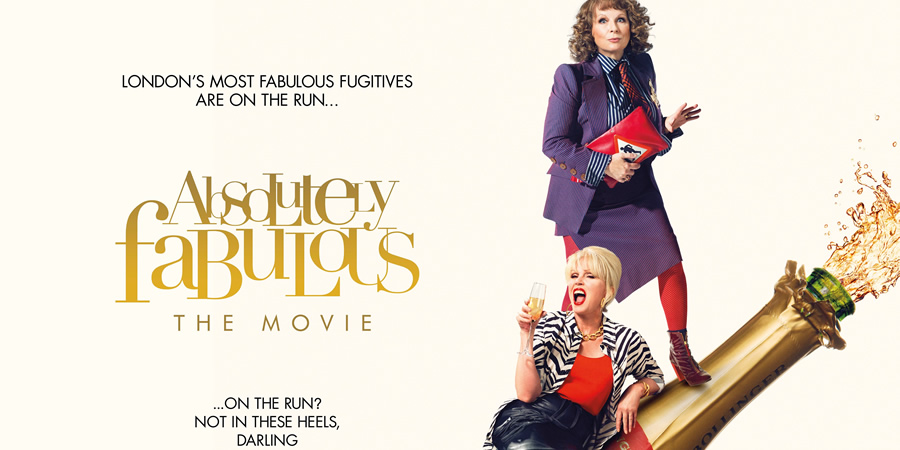 Director: Mandie Fletcher
Starring: Jennifer Saunders, Joanna Lumley, Julia Sawalha, Jane Horrocks, June Whitfield, Celia Imrie, Chris Colfer
Written by: Jennifer Saunders
Running Time: 90 mins
Cert: 15
Release date: 1st July 2016
There are some golden rules to follow when making a big screen spin-off to a popular TV sitcom: Have your main characters move from the surroundings that you are familiar with and send them on holiday; have a succession of pointless cameo appearances from celebrities and drag a usually amusing 30 minute show out for 90 with the same amount of jokes. If those aren't the rules, then Jennifer Saunders must have been given the book by mistake because the cinematic version of Absolutely Fabulous ticks all those boxes and we have a very poor, 90-minute bore.
Edina Monsoon needs a big name as her star in the PR industry is waning. When word comes out that Kate Moss is looking for new management, Edina, with the help of friend Patsy, goes after her. At a huge fashion event held by the Thames, Edina accidently knocks Kate into the river, causing a manhunt when the model disappears. Accused of murder, Edina and Patsy skip the country in the hope of finding an escape in the South of France.
Where do I start? I admire Jennifer Saunders as a comedian. She and long-time partner Dawn French are very funny ladies. When she went it alone for the hit TV show, I didn't get it but I understood why it was so popular. It was, for the better part of the word, of its time. However, that is problem number one. The boozy, drug-induced behaviour of middle-aged women seems old hat now and rather dated.
The jokes never really hit their mark. In fact, out of a 90-minute film I sniggered once. There was the odd moment when a joke looks like hitting home but it comes at you a mile off and so you end up almost ducking out of the way of the poorly delivered punch line. There is even one moment that is stolen, literally, from Return of the Pink Panther!
So to fill in the gaps, Saunders has cameos coming out of every corner. Whether it be Joan Collins, Rebel Wilson, Stella McCartney…at one point, I thought to myself that it wouldn't surprise me if Christopher Biggins didn't appear and like a magician revealing his assistant, there he was! Yet the cameos often seem pointless, often seem false and overall are massively overused that none are ever surprising. Or funny.
Then there are the endless dream sequences and montages. A sign that a script is struggling to find its rhythm. So instead of having 30 minutes of material that probably would work, we have 30 minutes filled with 60 of fillers. Not good enough. Director Mandie Fletcher plays the whole thing in a very flat and uneven manner that chops and changes from one unfunny punchline to another.
As for Saunders the actress, it seems that even she doesn't believe in her own material and half the time looks bored as if she has signed the contract, given them a half-baked script and just gone through the motions with their performance. Only Joanna Lumley, as the increasingly ridiculous Patsy, manages to save the day, with her gurning and deadpan delivery, she at least injects some life in an otherwise dead duck.
I am very surprised that this has been given 4-star reviews by some of the critics because frankly, it stinks. The screening I attended have very few laughs and most left looking sullen. In a time when we need some humour to get us through the dark days of late, this isn't the film that gives us that laughter. I am sure that fans of the series will be queuing round the block but they won't be happy once they have witnessed it. Absolutely bloody awful!
1/5