Director: Edward Zwick
Starring: Tom Cruise, Cobie Smulders, Aldis Hodge, Danika Yarosh, Patrick Heusinger, Holt McCallany, Robert Knepper
Written by: Richard Wenk, Edward Zwick, Marshall Herskovitz and (based on the novel 'Never Go Back') Lee Child
Running Time: 118 mins
Cert: 12A
Release date: 20th October 2016
In 2010, Tom Cruise brought to the screen Lee Child's famous character, Jack Reacher; a drifter who used to be a military cop but now goes around solving crimes. The initial complaints about Cruise playing Reacher were that he wasn't over 6 foot and built like a man mountain. Yet the film was surprisingly entertaining with plenty of action interspersed with some pretty smart dialogue, helped by a strong supporting cast. Now he's back for a second adventure. This time not as successfully done as the first.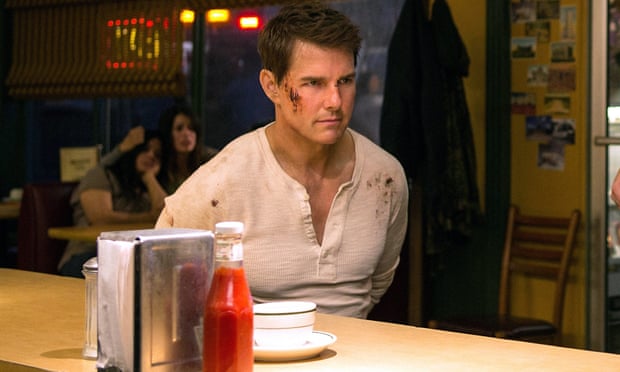 Jack Reacher heads back to his old office to meet up with Major Susan Turner, only to discover that she has been arrested for espionage. Even though he has been told to stay away, Reacher starts to investigate, leading to him being accused of murder. Breaking himself and Turner out of prison, the pair starts to put together the clues as to why two soldiers under her command were killed and why they are wanted people. Not helping the situation is that Reacher also discovers he is a father to a teenage daughter, Samantha.
Based on the 18th novel by Child, this starts off in a style that reminds us of the first film, in which Reacher, sitting in a diner, has taken on four men single-handedly and the sheriff who is trying to arrest him has a big surprise coming to him when Reacher tells him that he will be the one wearing the handcuffs. It's a strong start and you have that feeling that we are definitely back. And we are, of sorts.
Reacher runs around like some modern day Hercules Poirot, this time joined by Major Taylor, trying to be one step ahead of the men who want to kill them both. This would have been fine as we piece together the clues along with the characters on screen. Adding the daughter he didn't know gives the film some interesting twists but the real problem to the film is how ordinary and monotonous it feels.
The first film had a sharp edge to it, helped by some decent action sequences and a plot that got more intriguing as it went along. This time, the plot feels messy and unstructured and only serves as an interruption to the mediocre action scenes. It also becomes pretty repetitive. They find a clue, someone gets killed. They find another clue, someone else gets killed.
Director Edward Zwick, who in the past has been known for his epic adventures like Glory and Defiance, here doesn't bring any of that to this story, instead, delivers a fairly pedestrian  thriller that could have quite easily been an episode of NCIS. What doesn't help is that the supporting cast for the first Jack Reacher film was so strong (Rosamund Pike, David Oyewana, Werner Herzog) that you could forgive any misgivings to the plot due to the solid performances. This time the supporting cast isn't as powerful and so the areas where the plot is lacking really shows.
Having said that, Danika Yarosh as Samantha does a fine job keeping her this side of obnoxious, while the rest of the cast are perfectly workmanlike as Reacher and Taylor go through the motions of pieces things together. Cruise, looking a little older than usual, still manages to be as charismatic as ever, even if he does slightly step back to allow his leading ladies to take more of the limelight. The real positive here is Cobie Smuthers, as Taylor. Having been badly underused in The Avengers movies, here she gets to really show her muscle, pushing her as a terrific female action star as well as managing the comedy elements, thanks to her training on How I Met Your Mother. She and Cruise do make for an engaging screen couple.
I was a huge fan of the first Jack Reacher film and was looking forward to where the character would go next. Sadly, this didn't come close to the original and when a title like Never Go Back is thrown at you, you tend to think that maybe they shouldn't have.
3/5