Director: David Finkel
Starring: Will Smith, Edward Norton, Kate Winslet, Helen Mirren, Keira Knightley, Michael Pena, Naomie Harris, Jacob Latimore
Written by: Alan Loeb
Running Time: 97 mins
Cert: 12A
Release date: 26th December 2016
Christmas time! A time to be jolly! That's one thing you won't feel if you view Collateral Beauty, a mawkish, depressing film that desperately wants to give its audience the same emotional feelings that It's A Wonderful Life delivers but is badly misguided, even if the stellar cast of genuine actors really try their best with the material.
Ad executive Howard is mourning the death of his daughter. So much so, that the company he has built up is slowly falling apart. Intersecting letters he has written to Love, Time and Death, his three partners decide to have those letter answered by hiring actors, in the hope that he will eventually come out of the grieving process and bring the company back.
David Finkel's film starts off with a decent premise but without the lightness of touch to make this an emotional rollercoaster ride, the whole film is played out heavy-handedly. Setting it at Christmas, this has all the ingredients of one of those thought-provoking dramas that make you see the true meaning of Christmas. Instead, it comes at you like something you'd discover by accident on the Christmas Channel and immediately want to switch off.
The emotions feel forced. We are supposed to care about Howard and his plight but we know every little about him apart from he's a businessman who lost his daughter and now he mopes around building domino tracks, writes letters to concepts he once believed in (his company motto) and hangs outside a support group for those who lost a child.
In fact, all of the characters are never fully developed. Even his partners, all with backstories, are never given any depth apart from one needs to understand love, one needs time and one has death issues. When the actors arrive on the scene, each one taking the concepts, they are immediately linked with the partners of their choice: the one with love issues is joined by the actor playing Love and so on.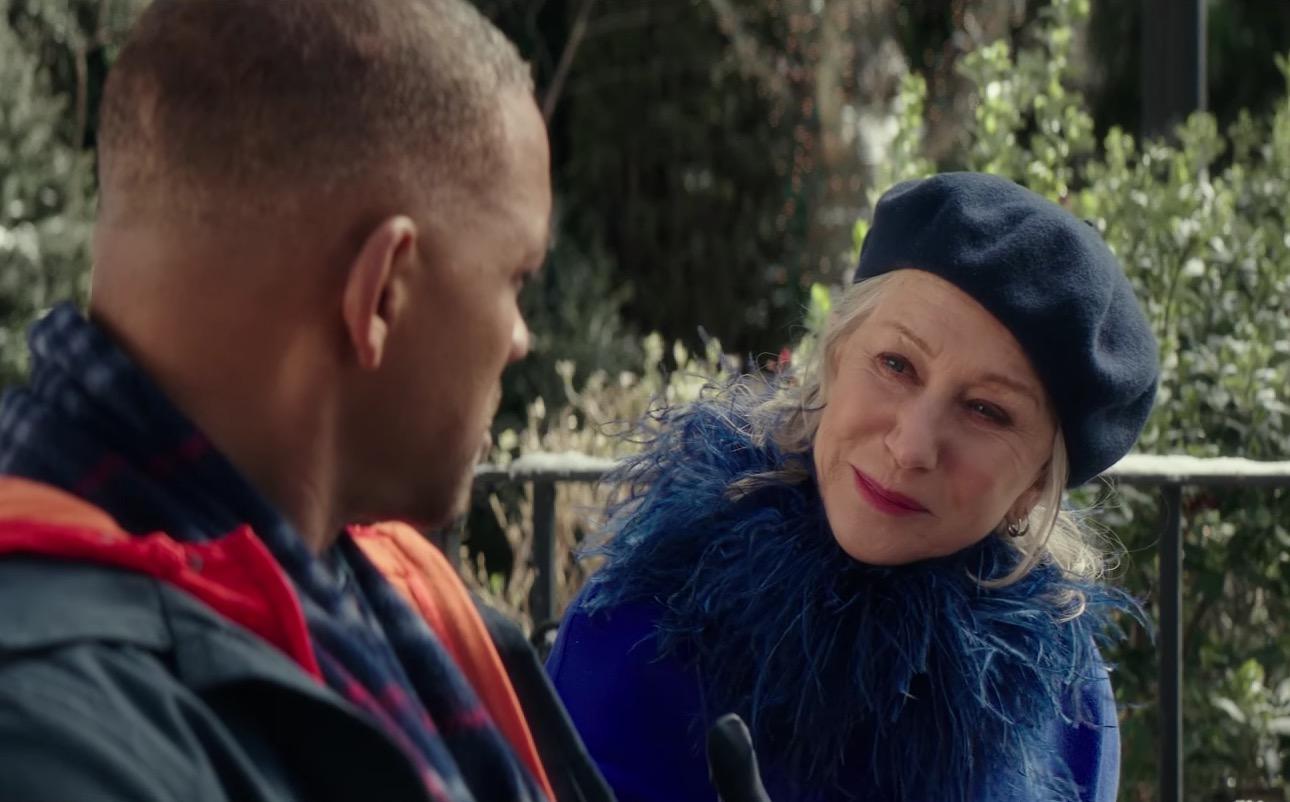 This is another flaw of the film. Everything is far too obvious, which means that there are no real surprises. It throws up several questions but there are clearly sign-posted throughout the film so that when the final scenes are played out unless you really weren't paying attention, you know exactly what's coming.
It's up to the cast to do their magic. This is the film's saving grace. Helen Mirren seems to enjoy relishing in a true thespian performance, while the scenes between Keira Knightley's Love and Edward Norton manage to work. Naomie Harris, as the woman who runs the support group, shines among the strong support and brings a certain amount of warmth and charm to her role.
Which leads to Will Smith as Howard, the main focus of the whole story. Cynics among us (sorry) will say that this is another attempt for recognition from the Academy. Spending the whole film teary-eyed and miserable doesn't necessarily work and his short-comings are brought forward with his scenes with his fellow cast members, who seem to very little and yet act him off the screen.
At a time when the "serious" movies are hitting out cinemas, all out for awards, Collateral Beauty falls very short of even making it close to being recognised. A film that is supposed to make you cry, just makes you want to leave the cinema and view It's A Wonderful Life to see how to make a real emotional Christmas movie. More like Collateral Damage than Beauty.
2/5