Director: John Madden
Starring: Jessica Chastain, Mark Strong, Gugu Mbatha-Raw, Michael Stuhlbarg, Alison Pill, Sam Waterston, John Lithgow, Jake Lacy, Douglas Smith
Written by: Jonathan Perera
Running Time: 132 mins
Cert: 15
Release date: 12th May 2017
It's hard to remember the last time that a female lead took such control of a film that everyone else involved instantly becomes the support to her incredible work. That is exactly how I feel about Miss Sloane, a political thriller about a subject matter I know very little about…the lobbyist. A  person who tries to persuade senators and politicians to swing to whatever side they are working for when it comes to bills and laws. Yet all of that could have been lost if it hadn't been for the amazing talents of Jessica Chastain.
Elizabeth Sloane is the best lobbyist in the business. Cold-hearted and calculating, she refuses to budge from her position and will do anything to get what she wants. When asked to work for a man wanting to try and make guns attractive to women, Sloane takes the moral high ground, getting sacked from her job and moving to another lobbying firm, run by Rodolfo Schmidt, to get senators to vote against the new bill. Yet with 44 on their side and needing another 17 out of 22, Sloane will do anything to win the support, including using one of her new work colleagues as a poster girl for the cause.
Director John Madden has an uphill struggle with the material. A very wordy script that follows the same lines as something Aaron Sorkin would write, dealing with a character who is completely unlikeable. Yet it works and Madden manages to inject enough tension to grip the viewer throughout its long 132 minutes running time.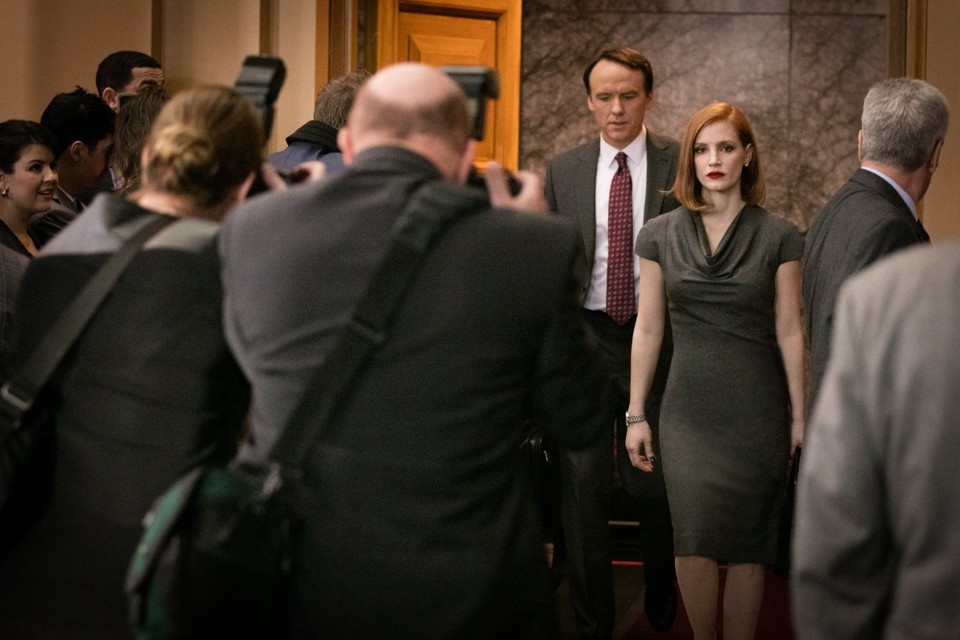 Where it struggles often isJonathan Perera's writing. He obviously has done some amazing research into this dark and morally repugnant side of politics and tried to show it all, while at the same time keep the plot moving. Sometimes it gets bogged down in its own weight and the long scenes in which characters churn over views and opinions are sometimes too heavy going and wordy for us to really care.
Yet it builds nicely to a finale that comes straight from the courtroom playbook. Even to a point where it wouldn't surprise if the "You can't handle the truth!" speech from A Few Good Men wasn't reaired. Thankfully it manages to sidestep that cliche, replaced, instead, by one last surprise that will both delight those who have been hooked throughout and will satisfy those who thought that this would be a crowd-pleasing finale.
None of this would work if it wasn't for the superb central performance from Jessica Chastain. She doesn't just lead the film, she dominates it. She delivers the kind of powerhouse performances you'd expect from an Oscar winner with years of experience behind them. Sloane is not a nice person, a woman willing step on, use and abuse those around her for her own personal means. She never forms relationships, instead choosing to use an escort, as having a man would weaken her. She even uses a vulnerable woman to be targeted by the press in order for her to win the popular vote. She is vicious, biting and lacking in any real moral standing, yet in Chastain's hands, she has a vulnerability that is evident but never shown. It is a masterful performance from an actress who understands her character and refuses to compromise or make her sentimental.
Miss Sloane will attract those who like  House of Cards or Michael Clayton. It can be heavy going and you don't get much action for your pounds. It also takes itself far too seriously and earnest. Yet for all its flaws, it kept me glued, mainly because of the mesmerizing Ms. Chastain. Her performance alone is worth the admission fee.
4/5