Director: Hany Abu-Assad
Starring: Idris Elba, Kate Winslet, Beau Bridges, Dermot Mulroney, Linda Sorensen
Written by: Chris Weitz, J. Miles Goodloe and (based on the novel) Charles Martin
Running Time: 112 mins
Cert: 12A
Release date: 6th October 2017
The Mountain Between Us is a first. It's the first disaster-survival-romance movie. Yet no matter where it sits in the genre world and whether it has an award-winner director attached and two powerhouse leads, the film just doesn't come off well. No matter how many genres are attached to it, this just doesn't gel and what we end up is a bit of a drag.
Alex Martin is a journalist who needs to get home for her wedding. Ben Bass is a neuro-surgeon who needs to get back to his hospital to perform a vital operation. They are both stranded at an airport due to an incoming storm. Not letting something like bad weather stop her, Alex charters a private flight and invites Ben to join her. When the pilot has a stroke, the plane crashes in an isolated mountain range. With very little food, no phone signal and no one knowing they have taken this flight, Alex, whose leg is broken and Ben must battle with their environment in order to survive.
The film starts with plenty of promise. Alex and Ben, both stuck at an airport (although it doesn't seem a busy airport considering all the flights are cancelled) and heading to a private charter company run by a friendly old man and his dog. The flight is handled with imagination as the camera spins around the small enclosure, giving us a 360-degree image of the size of the craft. We then get the crash, which isn't going to be on the scale of something like the crash from Alive but is still impressive.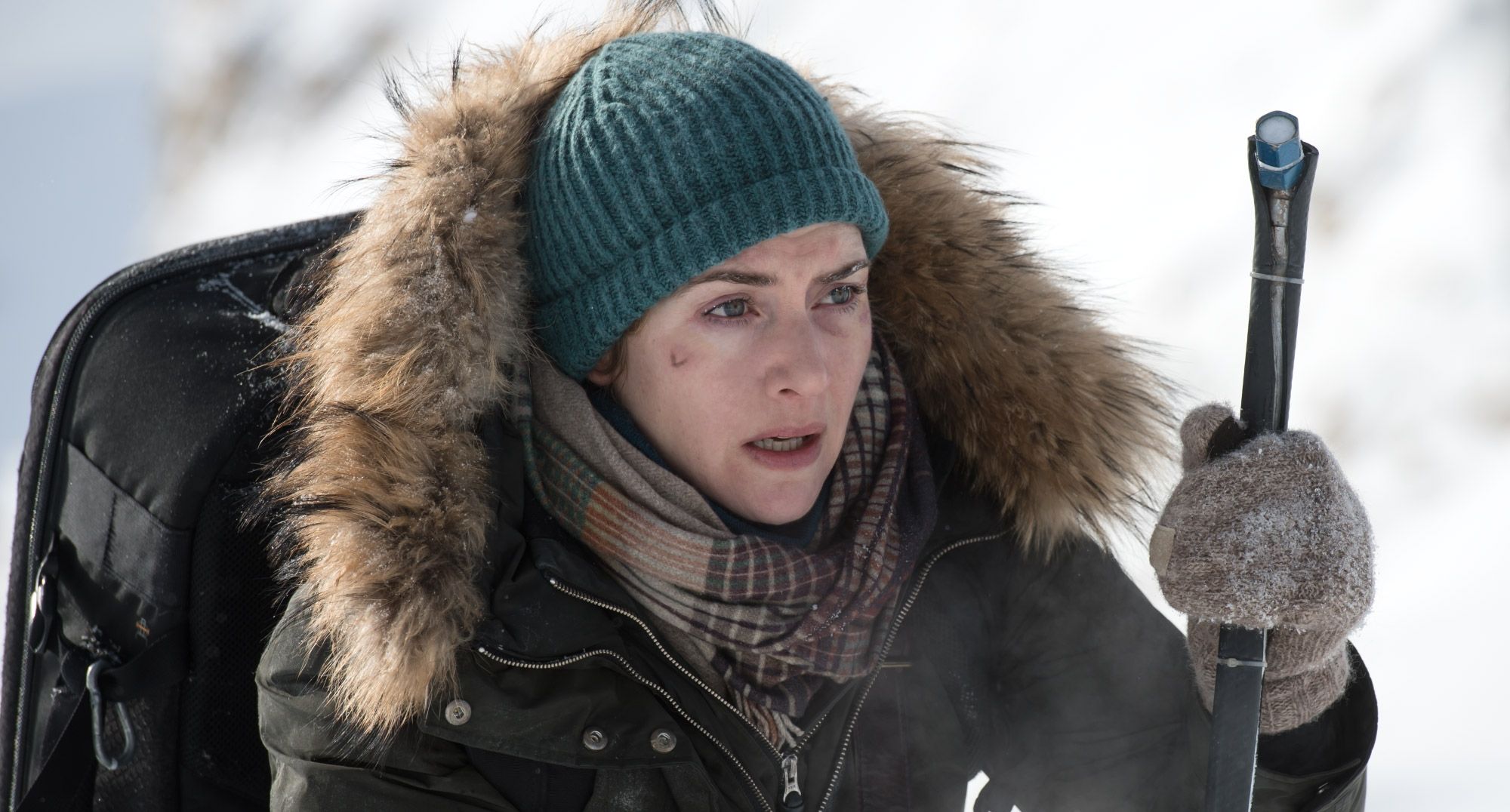 It's from this point on that the film falls into a lull. We discover that Alex has a broken leg and is unconscious. The pilot has died and Ben is bruised and battered but fine. As you would expect, the dog doesn't have a scratch on it. It then becomes a fight against the elements and the environment that these two strangers have to deal with, which, as the core of the movie, would be a little tense or exciting. Quite the opposite. What we get is Ben almost falling off a cliff and Alex being attacked by a cougar, yet never once do these instil excitement or threat.
Director  Hany Abu-Assad captures the snow-filled backdrop well and it does look incredibly beautiful, yet he doesn't inject any real peril. The main reason behind this is that this is a two-hander for two top-flight movie stars, so you know that they are going to be all right. Abu-Assad seems more interested in the strangers falling in love than putting them into situations that will jeopardise that section of the story. By the finale, it seems the story has run out of steam and we get a very cheesy denouement that doesn't leave you with any feelings of emotion.
It's not the fault of the two leads, Idris Elba and Kate Winslet. Actually, the pair does work well together and they are both charismatic screen presence, although I couldn't understand why Idris had a London accent and Winslet had to play an American? They do make the film watchable and as long as you are not looking for nail-biting tension, it is never boring, just so-so. Nice to see Beau Bridges back on the big screen, even if it is for the briefest of times and the film is stolen by the Labrador.
The Mountain Between Us is perfectly fine if you want a film to wash over you without having to use your brain power. You'll probably not remember must once you've left the cinema and you yearn for better material for the two leads. Not a total disaster but not that great either.
2/5