Director: Ryan Cooglar
Starring Chadwick Boseman, Michael B. Jordan, Lupita Nyong'o, Danai Gurira, Martin Freeman, Daniel Kayluua, Andy Serkis, Angela Bassett, Forest Whittaker
Written by: Ryan Cooglar, Joe Robert Cole, (based on the comic book ) Stan Lee and Jack Kirby
Running Time: 134 mins
Cert: 12A
Release date: 13th February 2018
If there is one thing that the ever-expanding Marvel Cinematic Universe has tried to do is to try mixing different genres and push boundaries within their films. None more so than their latest stand-alone movie, Black Panther, which many are seeing as a game changer within mainstream blockbusters. This is a film that delivers the first black superhero as well as showing, not the pain and poverty of the black community, a staple norm of cinema but one of innovation and invention, where culture is rich and creation is richer. To show the importance of this film, there is a story going around on the internet, of three black children looking at a poster of the film in a cinema foyer, one of them hugging it and is heard saying: "Is this how white people feel all the time?"
Following his father's death, T'Challa has to return to his home of Wakanda, to take his place on the throne as King, as well as being its protector in the form of Black Panther. He soon has to defend his nation, a world hidden away due to his huge technological advances, from an arms dealer who knows its secrets and a former soldier with a past that could upset T'Challa's rule.
Starting off with a prologue telling us about Wakanda's secret, an alien meteor crashing into the land, giving it vibranium, a powerful source that the people use for their strength, speed and technology, way advanced to anything else found on Earth, we move swiftly to Oakland, California in the early 90's, not only to set up an important plot twist but it allows director Ryan Cooglan to show the norm of how the world usually see black culture; poverty-ridden of makeshift basketball hoops, criminal activity and rap. A complete contrast to the world we are going to frequent throughout the film, that of Wakanda.
Once there, it's a giddy mix of the futuristic,  in a way in keeping with other Marvel worlds (Asgard being the main comparison) with a more traditional African feel of colour and tribal celebration, where the throne isn't necessarily a bloodline given but can be challenged by other tribal leaders who make up the council of the nation.  Those who complain that Superhero movies are just masked men fighting each other and causing mass destruction can look again. It's also a film that delivers big, strong, independent women, something that Marvel have had complaints about in the past
Of course, Cooglan gives the fans what they want. a well executed fight in a South Korean casino, where T'Challa, his bodyguard, Okoye, a bald-headed woman with a fine-line in fending off her assailant with a wig and Nakia, one of Wakanda's best spies, find themselves in a plan to capture their nemesis, Ulysses Klaue, the arms dealer first introduced in Avengers: Age of Ultron, leads to a spectacular car chase and the finale is, of course, a huge all-out battle but gone are the collateral damage of buildings being destroyed, replaced by an understanding why people are fighting and being able to see who is fighting who.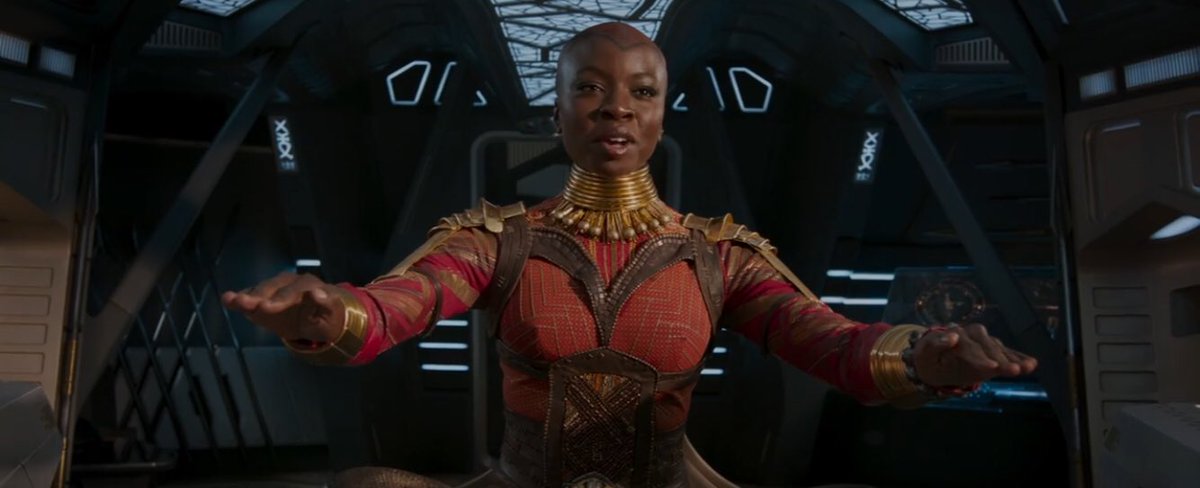 Where the film really works is that every character is richly drawn out. These are not two-dimensional where only the leads are important and the minor characters are left with just a sketch. Cooglan has surrounded his film with actors and not just movie stars so even the small roles are far more believable. There's a nod to  spy movies with T'Challa as James Bond and his young sister, Shuri, a gadgets expert, as his Q. Even the villain of the piece, Erik Killmonger, isn't just a man wanting world domination but a longing to share the technology of Wakanda to help with poverty isn't the kind of attitude a villain should have, even if he goes about it in a way that you cannot help but compare to recent politics in America.
With so much to like in visuals, story, character arcs and music, a wonderful mix of African tribal and modern hip-hop, the performances are universally good. Chadwick Boseman gives us a hero with a regal presence and full of nobility while Michael B. Jordan's Killmonger is the polar opposite, brimming with American swagger and arrogance. Other notables include Danai Gurira as Okoye, a woman you wouldn't want to upset, while the comedy comes from Letitia Wright as Shuri.
Black Panther does suffer from some scenes being just a tad too long but this doesn't mar the importance of the film or the sheer visual treat that the film has to offer. Cooglan has managed to make a film that everyone can enjoy and appreciate while giving a community something to embrace. Like the young boys in that foyer, they can embrace this film and make them finally feel they have a voice in mainstream cinema.
4/5