Directors: Abby Kohn and Marc Silverstein
Starring: Amy Schumer, Michelle Williams, Tom Hooper, Rory Scovel, Adrian Martinez, Emily Ratajkowski, Aidy Bryant, Busy Phillips, Lauren Hutton
Written by: Abby Kohn and Marc Silverstein
Running Time: 110 mins
Cert: 12A
Release date: 4th May 2018
I Feel Pretty is a new comedy that deals with body shaming and how we perceive ourselves. The problem is, by dealing with such a subject matter, it doesn't so much give answers to the age-old problem but somehow feeds the fire. It's also a film that relies on the audience believing that the star is full of self-doubt about the way she looks but no one can see anything wrong with how she looks, hence it fails to deliver any real message apart from the fashion industry and media is shallow and we should just like who we are.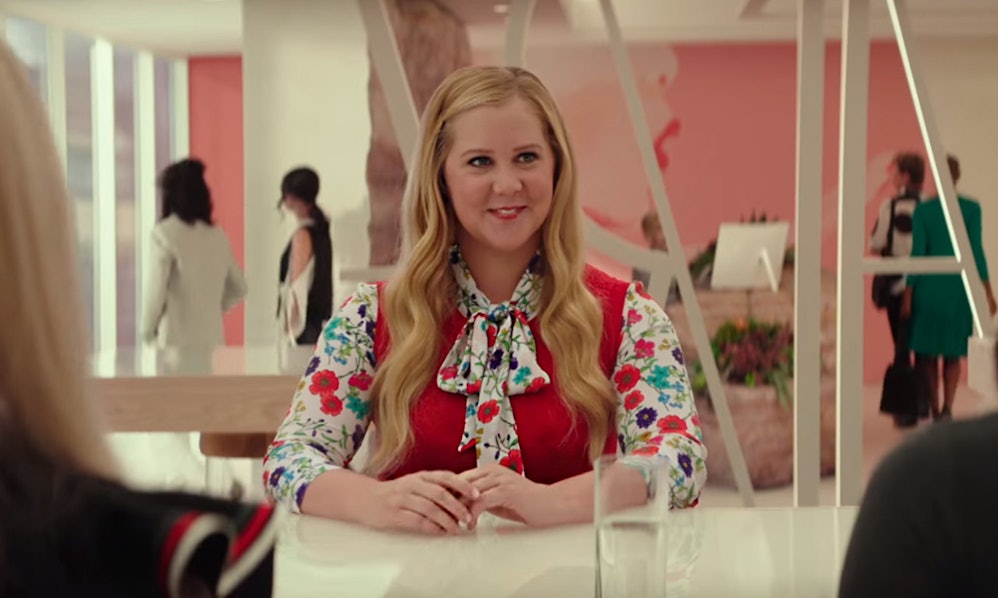 Renee works in a basement in charge of a website for fashion giant, Lily LeClaire, who dreams of having a better life by being beautiful. At a spinning class, she bumps her head and once she wakes up, she believes that she is beautiful and her confidence levels go through the roof, finding love, getting her dream job as LeClaire's receptionist while her new positive attitude starts to alienate her friends, even though nothing has changed for Renee on the outside.
The premise of wish-fulfilment and body-swapping has been done time and time again, done more successfully in Big, a film that this film tips its hat towards. (An early scene has Renee being influenced by the movie). While there are always going to be scenes that never really sit properly, this film's politics are a mess. We are told that unless you are stick-thin and so stunning that random strangers will stop you in chemists to ask for your number is what beauty means and this is what Renee aspires to be. Yet what the film should be doing and what would have been much more believable, is if Renee was an insecure lady, the bang on the head makes her over-confident.
Having said that, there are a few moments when the comedy works, never to more than a snigger. A scene when Renee enters a bikini contest (do these still exist?) and storms the stage with an outrageous dance routine is amusing, as is Renee's embarrassing first meet with the eligible bachelor, Grant.
The film may be weak on laughs and have a very cringing ending that is so predictable, you might as well leave 10 minutes before the end and no miss a thing, it does have performers really doing some good work. Michelle Williams goes full over-the-top as Avery, the company's current CEO and in charge of launching a range of make-up for the Target customer. With her high-pitched squeaky voice and lack of spatial awareness, it's a funny turn that deserves a much better script. Rory Scovel nicely underplays as Renee's boyfriend and Adrian Martinez is slimy as Renee's former work partner, Mason.
The film, however, is a vehicle for Amy Schumer, a comedian who is very funny, who knows how to deliver a killer punchline and who does physical comedy with ease. As Renee, she has moments where she is in top form but she just doesn't look right for the role and she needs much stronger material than this. Give her a decent script and she could easily be the queen of screen comedies.
I Feel Pretty is a confusing film. It does have sequences that work but as a whole, it's a shambles, especially when it comes to its politics. It also outstays its welcome by at least 20 minutes and the ending is the cheesiest I have seen, a typical Hollywood feel-good vomit-fest. I just hope that Schumer can return to form with material as good as Trainwreck.
2/5