Director: Gary Ross
Starring: Sandra Bullock, Cate Blanchett, Anne Hathaway, Helena Bonham Carter, Rihanna, Sarah Paulson, Mindy Kaling, Awkwafina, Richard Armitage, James Cordon
Written by: Olivia Milch, (also story) Gary Ross, (based on the characters created) George Clayton Johnson and Jack Golden Russell
Running Time: 110 mins
Cert:12A
Release date: 18th June 2018
The adventures of Danny Ocean and the Ocean's 11 gangs, as produced by Steven Soderbergh, were an opportunity for George Clooney, Brad Pitt and their friends to play criminals masterminding elaborate robberies in casinos, mainly belonging to Andy Garcia. In this time of female equality, it was almost a sure thing that if ever there was a fourth film in the series, it would be an all-female affair. Now arrives Ocean's 8, which boasts some of Hollywood's top female stars doing what the boys did but on a slightly smaller stage. Will this reboot of a popular crime caper series have the same sense of fun as the originals?
Debbie Ocean, sister to the now deceased Danny, has been released from prison after being framed by art dealer, Claude Becker. Immediately she is putting a team together to pull off a crime involving a diamond necklace belonging to Cartier and to be worn by Hollywood actress, Daphne Kluger, on the night of the star-studded event, the Met Gala. Bringing on board best friend, Lou, Debbie and her crew are in line to pulling off the biggest diamond heist.
Soderbergh steps away from behind the camera (and is given executive producer status) and hands the reins over to Gary Ross, the man who gave us Pleasantville, wrote Big and directed the first Hunger Game movie, so here is a man who knows how to tell a tale. Yet the film does look like a cheap imitation of the 2001 movie except with different characters. The script, which he co-wrote, is a bit of a mess and never gets to grip with the talent in the cast. Having said that, this was also a problem with the original movies, in that some characters got much more screen time than other.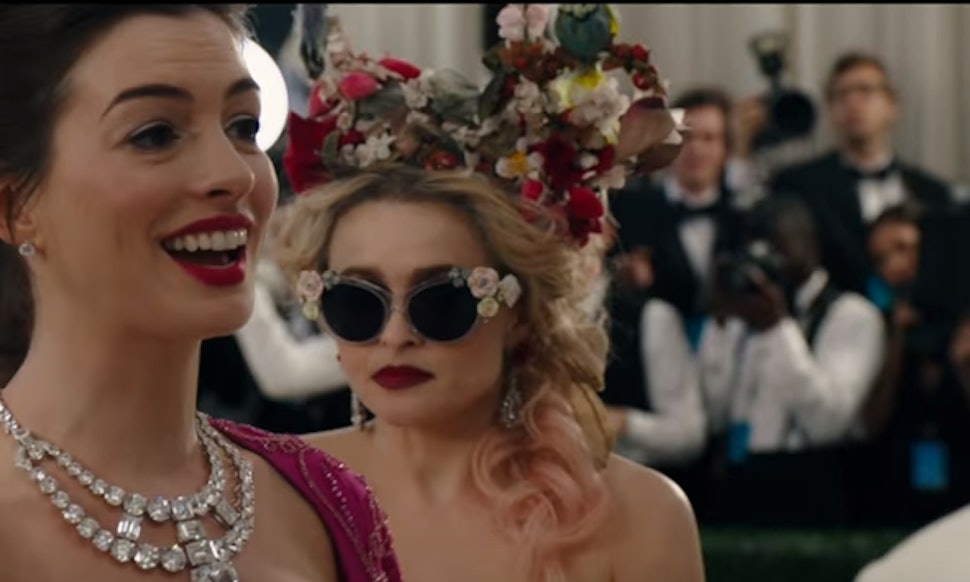 Many have criticised the film for having a talented group of women and not knowing what to do with them.  Again, Ocean's 11 was hardly a film riddled with Oscar-winning performances (particularly Don Cheadle's appalling cockney accent). Is this film a total disaster then? Actually, no. This isn't perfect by a long shot. The pacing is uneven, the music seems to intrude more than enhance and the direction is somewhat pedestrian, yet there are elements of fun to be had.
Like the boys, the girls seem to be enjoying each other's company and even though that doesn't always translate to the audience, here it does. You don't mind spending time. Sandra Bullock is perfect as the new Ocean and her relationship with Lou, played by the always reliable Cate Blanchett is just as joyful as watching Clooney and Pitt. If there is a criticism here, is that they don't have enough screen time and if there is a sequel, then they should be allowed to develop their relationship. While the other women are fine, including singer Rihanna as a computer hacker and Sarah Paulson as a sweet-natured mother with a criminal secret in her garage, it's left up to Anne Hathaway and Helena Bonham Carter to battle for scene-chewing queen, as the actress and the eccentric designer.
The only blip in the casting comes in the form of James Corden, who turns up in the final act as an insurance investigator and basically plays James Corden as if Ross had managed to get him on board and so they decided to write a character just for him. Thankfully, he's not half as annoying as he was voicing Peter Rabbitt and up to his arrival, the film must have been fun enough not to allow him to spoil the party.
Ocean's 8 is not a patch on 11 but this is an unapologetic popcorn movie where you can sit back and let the whole thing wash over you. In the company of these actresses, it's a pretty painless affair.
3/5