Director: Aneesh Chaganty
Starring: John Cho, Debra Messing, Joseph Lee, Michelle La, Dominic Hoffman, Sara Sohn, Connor McRaith, Briana McLean
Written by: Aneesh Chaganty and Sev Ohanian
Running time: 102 mins
Cert: 12A
Release date: 31st August 2018
With technology and social media now as part of our lives as eating and drinking, it would only be a matter of time that filmmakers would utilise the computer screen for cinematic entertainment. we have already had Unfriended, a horror set around the use of Skype, Facebook and messaging services to play out a teen slasher movie, as well as its recent sequel, Unfriended: Dark Web. Now we have Searching, a full-blown thriller in which the story of a missing person and the case to find her is entirely produced via a laptop. Even though it might not seem the most exciting experience in the world, this is a cracking and emotional journey.
David Kim's 16-year-old daughter, Margot, has gone missing. Without a single clue where she is or who she may be with, he contacts the police and an officer, Detective Vick, is assigned. While looking through photos and videos online, he manages to break into her social networking sites and even into her bank accounts, where suddenly, the daughter that David thought he knew, turned out to be almost a stranger.
Director and co-writer Aneesh Chaganty keeps to his convictions and never strays from the computer screen. Every inch of film is played out via websites, social media, emails and messaging. He even manages to do an Up! on its audience. Within the first five minutes, we learn everything about David and his family through a montage of videos, photos, messages and calendar dates, which ends up throwing a hard-hitting emotional punch that will have the same effect as watching the Pixar movie, Up!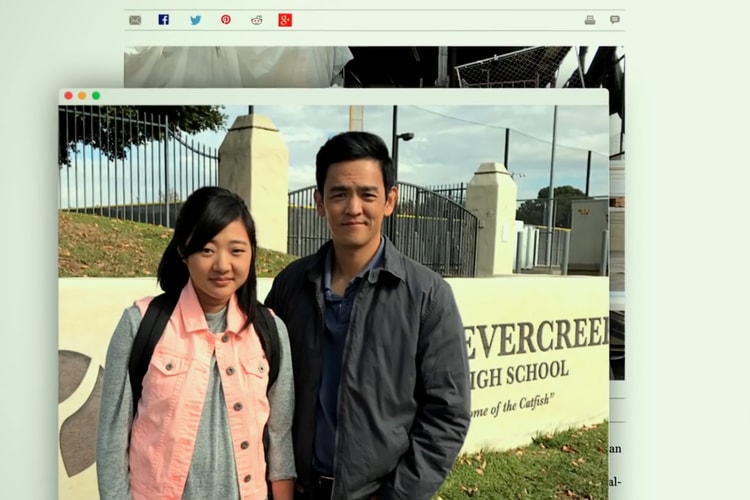 Once the initial story settles in, the film uses every trick in the book to keep the attention, from Facetime calls to news stories on websites and even tackling trolls and memes, when the accusations as to the whereabouts of the teenager go public. This is much more than a missing person thriller but a commentary of how the internet is used for good and for bad. We even get to see David's thoughts, often typed out as messages and then deleted, including an extended rant aimed at her daughter, which we get to glimpse at before it's gone forever.
Yet setting this whole story from the point of view of David's laptop would seem to restrain on any character development or, for that matter, caring about the girl, her father and the outcome. In fact, the opposite happens. It is so well played that you want the finale to be a happier experience and you find yourself being dragged through the whole affair as if you were the father desperately seeking your sibling. When revelations are revealed or clues pop up that twists the story in different directions, you are just as shocked and surprised as David. One particular moment has a real shock to the system. The ending may be a little contrived and too exposition heavy but there is an air of satisfaction about it.
The performances help the whole thing along, with John Cho on exceptional form as David, the father getting increasingly concerned for his daughter's safety and who finds that every step he takes in tracking her down, brings out another surprise. You are with him throughout and whatever he feels, you start to feel too. Debra Messing, she of Will and Grace fame, is also very good as the officer in charge.
Searching is a terrific thriller that will have you blubbing within minutes of it starting and then will have you gripped for the rest of the film. It may not be the first time we have seen this and some may consider it a gimmick. Maybe, but if it can produce a film this exciting, this surprising and this entertaining, then I don't mind how many films I see it being used. Although let's not overdo it.
4/5