Director: Jon M. Chu
Starring: Constance Wu, Henry Golding, Michelle Yeoh, Gemma Chan, Lisa Lu, Awkwafina, Harry Shum Jr, Ken Jeong
Written by: Peter Chiarelli, Adele Lim and (based on the novel) Kevin Kwan
Running Time: 120 mins
Cert: 12A
Release date: 14th September 2018
When a film gets so much press attention as Crazy Rich Asians have, it has to rise to the challenge and really prove itself. Having smashed the US box office, the UK release was moved earlier from its original November date to encapture the frenzy that this film has grabbed. Is it worth all that talk? Well, it certainly doesn't disappoint.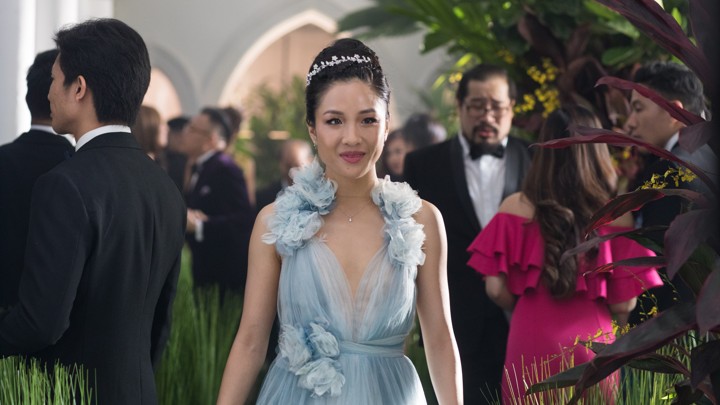 Rachel Chu, a professor of economics, has bee dating her boyfriend Nick for a year when he invites her out to Singapore for his best friend's wedding. Little does she know that Nick has a small secret he has been keeping from her: he's rich. Very rich. In fact, his family is impossibly wealthy and he has been the most eligible bachelor in the country. Can a commoner from New York win the hearts of a family notorious for turning their noses up at the poor and ordinary?
Why did this film have so much press attention? It has been publicised as the first all-Asian Hollywood movie since the Joy Luck Club back in 1993 (although this has already been proven as false when other films like Crouching Tiger, Hidden Dragon: Sword of Destiny and Letters from Iwo Jima have been mentioned). In a time of diversity and equality, should we really be focusing on whether the cast is all Asian or not? Instead, shouldn't we be concentrating on the content.
Based on the best selling novel, this comes at you in the same way that the repugnant Sex and the City 2 does, all consumerism and money. Where this succeeds is that you are spending two hours with interesting and enjoyable characters. This also isn't just another romantic comedy, it's about status, culture and refusal to be bullied, even by a matriarch with enormous power.
The fact that we have to witness how the other half lives isn't as offensive as it sounds. Unlike the dire Sex and the City, where consumerism was rubbed into our faces, this is more interested in character than material things, even though it plays an important part. One of its strengths is that the characters are so well developed. Sure there are the stereotypes of bitchy rich girls oozing with jealousy but they almost immediately dismissed and the flamboyant gay friend but they only add to the charm. yet you don't mind spending time with these people. There's an air of comfort about them, like snuggling down in a warm duvet on a cold night. Mostly this is thanks to a witty script and strong performances from the likeable cast.
Constance Wu and Henry Golding, as Rachel and Nick, are an agreeable couple who have enough chemistry to believe that they are in love with each other, while Awkwafina scores highly as Rachel's eccentric best friend and has some of the bigger laughs. Michelle Yeoh, however, steals the film as Nick's all-powerful mother who takes an instant dislike for his new girlfriend. She is funny without actually being funny and plays the whole thing so straight, it often comes across as scary.
Crazy Rich Asians is a film that made me smile throughout and I left the cinema with a spring in my step and brimming with joy. In this time of doom and gloom, it was the perfect tonic. Did it matter that the whole cast was Asian? To be honest, I didn't really notice. Joyful.
4/5