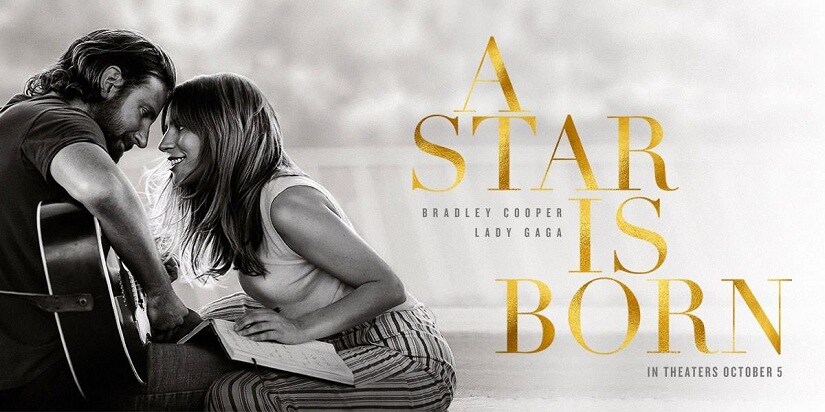 Director: Bradley Cooper
Starring: Lady Gaga, Bradley Cooper, Andrew Dice Clay, Sam Elliott, Anthony Ramon, Dave Chappelle, Alec Baldwin, Marlon Williams, Brandi Carlile
Written by: Eric Roth, Bradley Cooper, Will Fetters, (based on a story) William A. Wellman, Robert Carson, (based on the 1954 screenplay) Moss Hart, (based on the 1976 screenplay) John Gregory Dunne, Joan Didion and Frank Pierson
Running Time: 135 mins
Cert: 15
Release date: 3rd October 2018
Going into films that have been heavily praised by every critic around and expectation levels set extremely hard are always difficult. They mostly get to fail and, ultimately, disappoint. The levels of excitement surrounding A Star Is Born, the fourth version of the tale of success and failure built around a love story has been almost fever pitch ever since the first trailer hit our screens 6 months ago. So going into this with some knowledge of the story and a certain amount of trepidation, I need not have worried. After 10 minutes, I knew I would like this film. By the end, I was in love with it.
Jackson Maine is a huge rock country star with a drinking problem. One night, looking for a bar, he finds a drag joint where he gets to witness Ally performing, Immediately he becomes infatuated in her and her incredible voice. Learning she writes songs as well, Jackson starts to manipulate her career and hopefully turn her into a star. Yet while she is rising to the top, Jackson's star is on the decline.
Originally staled as a Clint Eastwood production, with Bradley Cooper co-starring with Beyonce, Eastwood stepped aside, leaving Cooper taking control of the project and deciding to make his directorial debut. This seems to be a wise decision, as Cooper proves himself very accomplished behind the camera, as well as co-writing the script, co-producing as writing some of the songs. He also takes the role of Jackson Maine, the star in decline, which means that he has to sing and play the guitar. Is there anything this man can't do?
As a director, this is a classy affair. Capturing the feel of being on stage in front of a live audience has never felt so exhilarating. The energy these scenes have are just a small sample of the bigger picture. Cooper has produced an exceptional romance that feels real and is far from sickly or sentimental. He captures the music industry with as much realism that hasn't been seen in a dramatic movie for a long while. This is one of the best directorial debuts in a long while. All the time, you keep saying to yourself, this is from the man who starred in The Hangover movies?
The tale is as old as time, or as old as 1937. A story of two people with a common cause, falling in love and yet while they might be working in parallel, they are, in fact, poles apart. Jackson is a man who has fame and fortune but cannot cope with the pressures it brings, so with drink and drugs, he copes. Until he meets Ally, a torch singer who has the most incredible voice but has been turned down by record companies, due to her look. with Jackson behind her and bringing her to the public attention, she is taken by a music producer and turned from a singer found in a drag bar to international superstardom, while Jackson watches his career sink away, due to the drinking and the tinnitus he is suffering from. All the while, it is their love that keeps them together.
Cooper, the actor, gives the performance of his career. Altering his voice to a low gravel, this isn't an egomaniac rock star but a man who thinks that the bottle will help him from suffering the pain in his ear, while he has genuine love and affection for Ally. As a singer, he surprises, especially when you discover that all the performances are live. He is magnificent. He is also only as good as his leading lady, in this case, Ally, played by Lady Gaga. We already know she is an incredible singer but her performance in her first feature lead is extraordinary. We feel everything she feels. She manages to convey every emotion not only in her singing but in her face, behind those amazing blue eyes. She comes across like an actress who has been doing this for years instead of a debut. If awards don't come to both stars, then there is no justice.
Let's not forget equally impressive support from a strong cast, particularly Sam Elliott as Jackson's brother. He is a terrific actor at the best of times but here he excels. It's a smallish character beautifully realised by a seasoned veteran and if there is a criticism, it's that he's not in it enough.
With songs that hit home to the heart, particular one sequence when Jackson invites Ally onto the stage for the first time, this is a film that will melt even the hardest heart. A Star Is Born is a superior romance which will break your heart. The only way these works is believing in the couple and Cooper and Gaga are so believable, you'd think they were dating for real. The more I think about this film, the more I love it. A Star Is Born is triumphant.
5/5