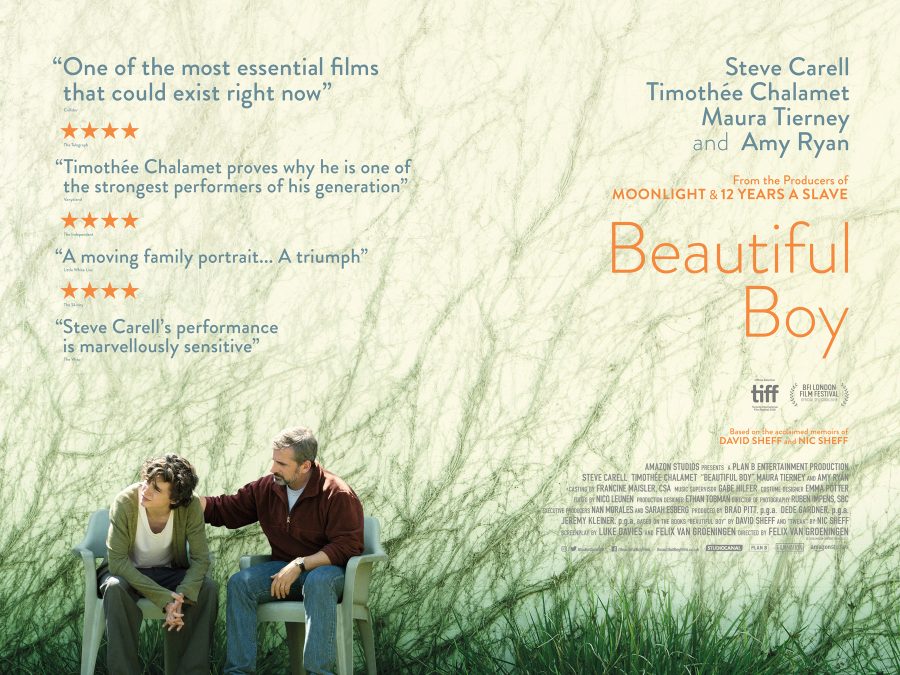 Director: Felix van Groeningen
Starring: Steve Carell, Timothee Chalamet, Maura Tierney, Amy Ryan, Christian Convery, Oakley Bull, Kaitlyn Dever, Stefanie Scott
Written by: Felix van Groeningen, Luke Davies, (based on the book "Beautiful Boy") David Sheff and (based on the book "Tweak") Nic Sheff
Running Time: 120 mins
Cert: 15
Release date: 18th January 2019
There are some films you can openly recommend and that you are guaranteed to have a good time. There are others that you find hard to recommend because they are terrible and then there are movies like Beautiful Boy, which you want to recommend but you know that nobody is going to have a good time once they've seen it. This is a tough ride. A film that falls neatly into the realms of admiration but I don't think I'd want to watch it again. That's not saying this is a bad film. It's not. I'm saying the subject matter is tough. Really tough.
David Sheff is a proud, quietly spoken man who dotes on his son, Nic. Throughout his life, Nic has been the apple of his father's eye. Then college comes calling, Nic has to take responsibility for his own life and David has to let go. Unfortunately, Nic's decisions take a wrong turn and he soon becomes addicted to drugs. The addiction becomes a focal point for David, who tries to change his son's ways for the sake of their relationship as well as the family's.
Felix van Groeningen's film, based on two books written by the real-life David and Nic Sheff, follows the loving family, particularly David point of view, through flashbacks and disjointed timelines, as Nic slowly slips into a dark and dangerous place. It would have been very easy to follow the boy's journey into a world he has no control but Groeningen decides not to take that trip. What he is more interested in is how it affects the whole family and how a father pines for a son he once knew.
We witness as Nic seems to be crowbarred further and further away from his father, often resenting the advice being given and hating what his father stands for. In the meantime, we see a father slowly crumbling as he becomes ever more helpless with the situation as his son, who he adores, vanishes before him.
The story is one that could quite easily bring fear into the hearts of those with children, as they get sent off to the outside world and the responsibilities of making life decisions are left in their hands. The film manages never to be preachy or tries to point out the failings in a family. This seems to be a stable one, even to the good relationship David still has with Nic's mother. It isn't dysfunctional or even extravagant. This is an ordinary family living an ordinary life with a difficult situation to cope with.
The performances are extraordinary. With able support from Maura Tierney and Amy Ryan as the wives, the film belongs to the two leads, Steve Carell and Timothee Chalamet. Young Chalamet, who made waves last year with Call Me By Your Names, is slowly becoming the hot thing in Hollywood, with some comparing him to Marlon Brando. He does an amazing job as Nic, showing the mix of uncontrollable, drug-fuelled rants with a vulnerability of someone who needs the support and love he gets from his father and still refusing to fully accept it in the state he is in. Already a Golden Globe nominee for the role, expect him to be Oscar-nominated this year as well.
However, it is Steve Carell who has the trickier role as David and he attacks it with a subtle understatement. He is trying to be a tower of strength and yet watching his son become someone he doesn't even recognise could have led Carell to play the part hysterically, yet he doesn't. He tries to inject stability and normality. Carell is slowly becoming the Tom Hanks of our time, easily skipping from broad comedy to heart-breaking tragedy with equal ease.
Beautiful Boy is a powerful and thought-provoking film that is not an easy watch. Be aware that you may feel completely miserable afterwards but you will be rewarded with a well-made, well-performed piece of cinema.
4/5