Director: Adam Shankman
Starring: Taraji P. Henson, Aldis Hodge, Josh Brener, Richard Roundtree, Tracy Morgan, Max Greenfield, Phoebe Robinson, Wendi McLendon-Covey, Tamala Jones
Written by: Peter Huyck, Alex Gregory (also story) Tina Gordon Chism, (story) Jas Waters, (based on the screenplay and story "What Women Want") Josh Goldsmith, Cathy Yuspa and (based on the story "What Women Want") Diane Drake.
Running Time: 117 mins
Cert: 15
Release date: 15th March 2019
Back in 1999 was a romantic comedy entitled What Women Want starring the then popular Mel Gibson as a man who, wanting to get in touch with his feminine side, could hear the thoughts of the opposite sex. Now some twenty years later, we get What Men Want, a sequel/reboot of sorts, which swaps the idea from a man to a woman who can hear the thoughts of men. If What Women Want is a meal, it would be dinner at the Ritz. If what Men Want is a meal, it would be a kebab from a van!
Ali Davis is a sports agent in a man's world. Even though she has signed and represents the most successful female athletes, she keeps getting passed over from a partnership in the company she works, often being accused of paying attention to the male sports stars. One night during a bachelorette party, Ali drinks a special tea given to her by a fortune teller, then bangs her head in a fall. From here on, she starts hearing the thoughts of men and thinks she can use it to her advantages to win over an up and coming basketball star.
The film is brimming with problems, none more so than it not being funny. The jokes, mostly crude or vulgar, fall flat on their face as all the performers try to outshout each other. Yes, this is a very loud film. Subtlety is thrown out the window and director Adam Shankman thinks that the bigger and louder the performance, the funnier it is. Adam, it isn't.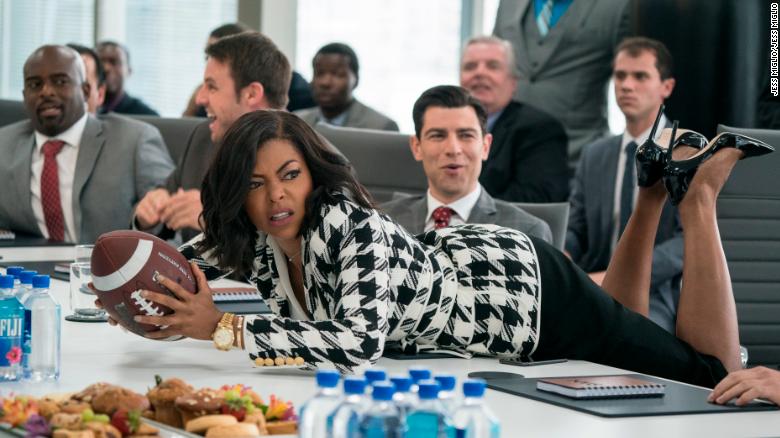 What Women Want was predictable but it had its heart in the right place. Here, it seems to be more of an attack at men. They are all sexist pigs who only have one thing on their minds. Proven by one scene in which a male agent, trying to win over the NBA star and his father by showing a video involving women shaking their body parts. Something that no right-minded sports agent would even dream of creating and yet here it seems perfectly fine and not a sackable offence.
The film drags on for a bum-numbing two hours, and you can see scenes outstaying their welcome. The characters are either unlikeable or stereotypes, from the back-slapping, male testosterone agents to the gay assistant who happens to be an expert in women's fashion. The whole film feels like it was made in the 90's.
If it has one redeeming feature, it's the musical choices in the soundtrack. Otherwise, this is a poorly written, sometimes nasty excuse of a film that neither pushes the woman's rights or is a giant leap backwards in comedy. Apart from one Black Panther joke, the rest is just pitiful. We also get a massively sympathetic final act which, if the events happened in real life as they played out in the film, would be unforgivable.
This is sad as star Taraji P. Henson is a talented actress who deserves a much better vehicle than this. As Ali, she has enough sassiness to cope in a man's existence without having to use the power of hearing their thoughts.
What Men Want is a disaster. What could have been a smart examination of the differences between men and women is just a glib, unfunny waste of time. Avoid.
1/5