Director: Bo Burnham
Starring: Elsie Fisher, Josh Hamilton, Emily Robinson, Jake Ryan, Daniel Zolghadri, Fred Hechinger, Imani Lewis, Luke Prael, Catherine Oliviere
Written by: Bo Burnham
Running Time: 93 mins
Cert: 15
Release date: 26th April 2019
Growing up can be hard and we, as adults can often forget that. As a middle-aged man, I fail to remember just how tough being 13 really was. We may not think that a teenager has any worries, but in fact, there are far more than we could ever imagine, especially in these time where social media and peer pressure has such a hold on the young minds. Thankfully, writer and director Bo Burnham's film, Eighth Grade, is a film that reminds just what it's like to be that age, in the most painfully honest coming-of-age movie in years and introducing a new, magnificent star in the process.
Kayla Day is a 13-year-old girl living with her single dad and whose life revolves around social media and creating videos about how to survive life, videos nobody watches. It's the last days of being in Eighth Grade as she prepares to move into high school, yet her current educational establishment hasn't been kind to her. Voted Quietest student in her year, Kayla's advice isn't followed by her. Longing for friendship from the popular kids, the attention of a boy in her year and wishing her father wouldn't try so hard to be her friend engulf her very existence.
Burnham's takes the events leading to the end of Eighth Grade in middle school as his core structure to a plotless story which follows the awkward Kayla, a girl quietly living her life through videos that show a side of her she struggles to repeat in school, who wishfully likes Instagram photos, hoping to receive a positive comment. Kayla seems like a ghost, a girl living in a world that doesn't want to know her. The film starts with her walking through school against the tide of students walking towards and past her. She is lost in this river of her peers. The only person who knows she exists is her doting, sometimes overly protective father and she cannot stand it.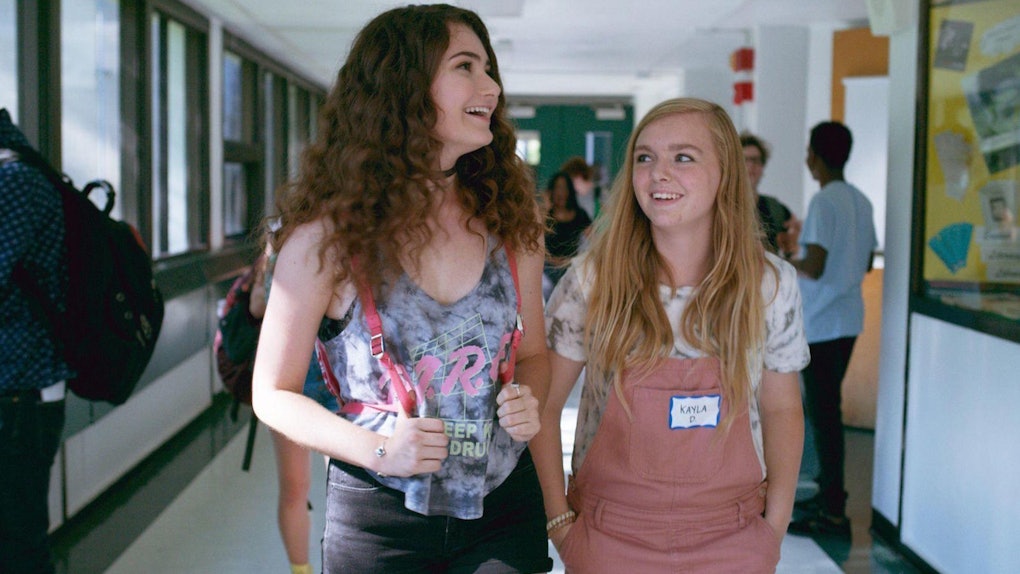 It would have been easy for Burnham to moralise about teenagers and their reliance on social media, but he doesn't. Instead, he understands that kids live on the various apps on their phones and so allows viewers to see that this world is vital for them to express themselves. At the same time, he never sugar-coats the changing face of life for a girl of her age, from boys full of hormones only caring if a girl has nude photos to girls ignoring those who fail to fit their image of a perfect young lady. Kayla is way outside that world, and no matter what she tries, she will never breach the walls of these mean girls.
This film refuses to pull any punches. While there are moments of hilarity, it also has scenes that are hard to watch. From Kayla's acceptance to a birthday party being held by a girl who dislikes her, to end up in the back of a car playing Truth or Dare with an older boy wanting only one thing, Burnham wants us to feel uncomfortable for her, often wanting us to protect her from these dangers. There are scenes made so realistic just from the level of conversation between the young cast. A sequence in a Mall, where Kayla finally finds someone who wants to look out for her, is so real and yet so enjoyable you don't want to leave.
What helps the film is the star-turning performance of Elsie Fisher as Kayla. This young girl gives us everything, warts and all. It is the most honest, most real performance ever seen on film. She is instantly sympathetic, and you care for her. Fisher takes us on a journey back to our childhood, to how we felt, how we coped. It is a triumph, and there is no way this is the last we have seen of this talented young girl.
Eighth Grade is sometimes a tough watch, while at the same time it's a film full of warmth, hope and charm. It oozes more charisma than most other movies out there. Burnham has created a mini-masterpiece, and this is the most poignant teen comedy-drama since Gregory's Girl. There are only two quibbles from me and none about this perfect picture. One, why did they release it the same week as Avengers: Endgame? This is a film that demands much more attention than it will get. Secondly, why did the BBFC give the film a 15 certificate when it's about a 13-year-old girl? I often agree with their decisions. This time they have got it very wrong. This is, without a doubt, a classic in the making. Wonderful.
5/5