Director: Rupert Goold
Starring: Renee Zellweger, Jessie Buckley, Finn Wittrock, Rufus Sewell, Michal Gambon, Royce Pierreson, Andy Nyman, Darci Shaw
Written by: Tom Edge and (based on the stage play "End of the Rainbow") Peter Quilter
Running Time: 118 mins
Cert: 12A
Release date: 2nd October 2019
You can tell we are heading into the awards periods as performance films and worthy dramas come out thick and fast. One of the Oscars favourite style of movie is the biopic, where a troubled celebrity from the past is brought to back to life by a modern star giving everything they have. Last year's celebrity winner was Freddie Mercury with Remi Malik stealing the golden statue. Already a front runner is Renee Zellweger as Judy Garland in this screen adaptation of her 1968 London performances. It is a barnstorming performance in a film where she holds everything together.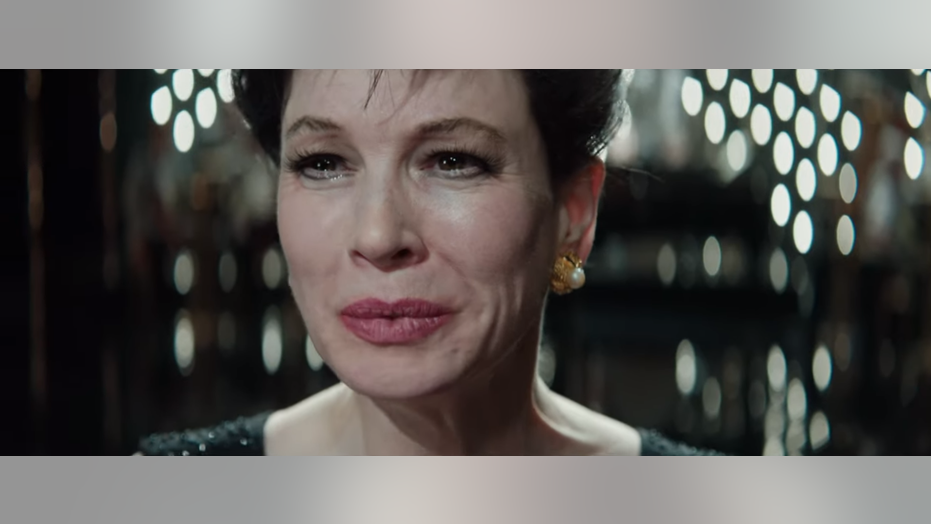 Judy Garland's star has fallen heavily. No longer working as a film star because she is too difficult, she makes appearances for very little money to keep her and her children afloat. With the threat that her ex-husband wants custody, she accepts a residency at London's Talk of the Town. Her difficulties, her drinking and prescription drug taking and her general apathy make her time harder than anyone could imagine.
Based on the award-winning play "End of the Rainbow", Rupert Goold's film concentrates on that one period of Judy Garland's life when she found her star was still bright in London. Similar to the latter days of Laurel and Hardy, as played out in Stan and Ollie, this once beloved movie star needed to work wherever she could. Removing the fantasy elements of the play, this does try to explain her erratic behaviour, using flashbacks to her youth, when she was preparing to take on the role of Dorothy in The Wizard of Oz. It also, briefly, explores her relationship with Mickey Rooney.
The film has been criticised for not covering her life as a whole. This was never the intention of the play. If the film had looked at her whole life, as with a lot of biopics, it could become rushed or muddled. Taking that one period seems to explain why her behaviour was often misunderstood of that of a diva. Living a life of prescribed pills, her inability to sleep and her constant struggles with depression, Garland was the product of a studio who wanted perfection. That level of body-shaming takes its toil and so some days, Garland cannot perform not through choice but effect.
There are moments within the film that contrivances occur. Her relationship with two gay fans who frequently see the show is a fabrication and yet a way to show how she became such an icon of the LGBTQ+ community. Her shallow relationship with the younger Mickey Dean doesn't always hit the mark. There could have been more time spent on the personal assistant in London, Rosalyn Wilder, and her frustrations with the star. Her relationship with Liza Minnelli is also brushed over.
This is a film built around a career-best performance, which does somewhat overshadow the rest of the cast. Jessie Buckley, so good in Wild Rose, but is given little to do as Rosalyn, while Rufus Sewell, Michael Gambon and Finn Wittrock are more than just cameos in their respective roles of Bernard Delfont, ex-husband Sidney Luft and new lover, Mickey. At its heart is Renee Zellweger. Probably not the first choice for the role, she lives, breathes and sings like the great lady. Every inch of her performance is meticulously Judy. There are moments when you forget you are watching Bridget Jones. She is beyond electrifying. An Oscar nomination should be heading her way come February.
Judy may not be as exciting as Rocketman or as crowd-pleasing as Bohemian Rhapsody. For those looking for a biopic with its heart in the right place, then you've come to the right place. Fans may be disappointed but watching Zellweger becoming Judy; it's worth the ticket price.
4/5