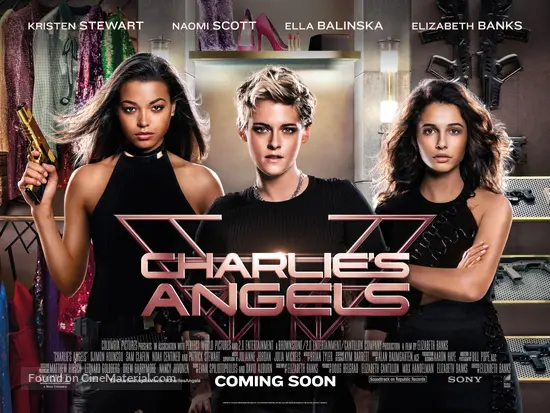 Director: Elizabeth Banks
Starring: Kristen Stewart, Naomi Scott, Ella Balinska, Elizabeth Banks, Patrick Stewart, Djimon Hounsou, Sam Claflin, Jonathan Tucker, Nat Faxon
Written by: Elizabeth Banks, (story) Evan Spiliotopoulos and David Auburn
Running Time: 118 mins
Cert: 12A
Release date: 29th November 2019
Charlie's Angels were one of the hit TV series of the 70s and, at the time, was very subversive in allowing women to take on the male species without having the males save them. This detective show also spawned a thousand flick hairstyles, thanks to Farrah Fawcett Majors. In 2000, Drew Barrymore brought together a decent cast and a terrible director and made two terrible spin-off movies that left you craving for the old TV show. Now comes a second reboot in the hands of Elizabeth Banks and while it may not erase the memory of the show, it manages to be far more entertaining than it has right to be.
Elena Houghlin is a scientist working on a new power source that could help save the environment. Unfortunately, it is unstable, yet no one wants to hear that. She decides to blow the whistle on the whole technology and calls in the Townsend Detective Agency, now a massive franchise, thanks to John Bosley. Sabina Wilson and Jane Kano are bought in by a female Bosley (the name is now a rank like sergeant) to investigate and soon find themselves dragging Elena into a world of assassins, dark deals and murder.
Having been a fan of the cheesy 70s show, a heady mix of glamour and action, watching the 2000 version was like watching a headache. It wanted to be kooky, crazy and eye-boggling, with impossible stunts borrowed from Crouching Tiger, Hidden Dragon and an even more excruciating script that was neither funny or exciting and direction from McG that seemed out of control. Elizabeth Banks, however, is a far more controlled director and, working with her script, she tries to bring the true essence of the show, while at the same time updating it.
The Townsend Detective Agency, which was one building in LA and only had three angels at any one time, has now grown into an international company that takes on jobs no one else wants or are willing to deal with. A sort of secret MI6, with each area led by a Bosley, the name of the original man who looked after the Angels in LA. What Banks manage to do quite nicely, is a nod to those days of old, including the previous reboots and then adding her twist.
The story is total nonsense, but what makes this film work so well is the obvious affection for the series, but also it allows the audience to join in with that affection. The jokes are corny, yes, but the set pieces are spectacular, and you don't have to think, sit back and enjoy. What I don't understand is the criticism about the film having the same action sequences. The same could be said about all the Fast and Furious movies as well.
The cast seems to be having a good time that comes across into the audience. Kristen Stewart, customarily associated with severe, darker roles, gets to let her hair down and is more the comic role as Sabina. It's a side rarely seen of Ms Stewart, and she should do more. Naomi Scott, one of the better things in Guy Ritchie's Aladdin, is excellent as the hapless scientist, Elena while Ella Balinska as Jane, gets to do some severe high-kicking and as a unit, the three work exceptionally well. Led by Elizabeth Banks, who seems to have done everything apart from making the tea, this is a team that you enjoy spending time with.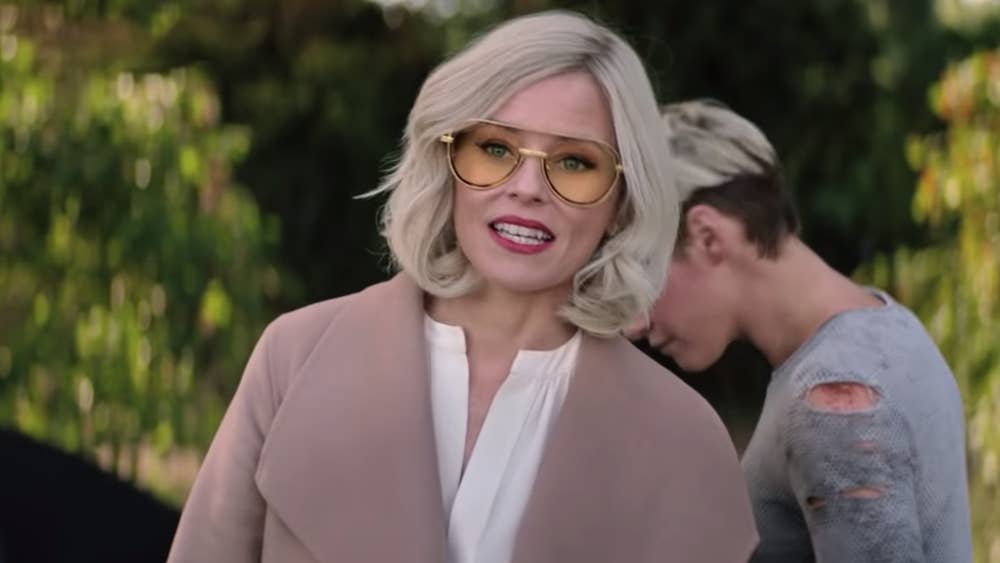 Charlie's Angels may not change the face of action movies, but this is an action film for the #MeToo generation. Grab some popcorn, a large drink and set your brain into neutral for a fun journey.
3/5