Director: Jay Roach
Starring: Charlize Theron, Nicole Kidman, Margot Robbie, John Lithgow, Allison Janney, Malcolm McDowell, Kate McKinnon, Connie Britton, Rob Delaney
Written by: Charles Randolph
Running Time: 109 mins
Cert: 15
Release date: 17th January 2020
At this time of year, we seem to get a collection of films based on real-life events. The reason behind this is they are liked by the awards committees. Seeing the words "based on true events" before the film starts usually means that either the names have been changed, or some of the events have been dramatised to make it seem so much more enjoyable. Bombshell makes it apparent that we all know characters names and circumstances have changed, not to protect the innocent but to save from being sued. This is because Bombshell is about how the women of Fox News managed to have the CEO and one of their top presenters removed due to sexual harassment.
Roger Ailes is the CEO of Fox News, one of the most powerful men in the media and one who turned Rupert Murdoch's struggling news channel into a massive rating hit. Ailes's position means he can use his power to do what he pleases. When Gretchen Carlson, a news anchor, is removed from the breakfast show to mid-afternoon, because she didn't like the sexist attitude of her so-presenters, this starts a domino effect. Accusations of sexual harassment are aimed at Ailes. Megyn Kelly, the station's star presenter, a woman who will stand up to Presidental candidate, Donald Trump, realises the dark secret of the station, she comes out with her own story, and a revolution begins.
This headline story was huge in 2016 before the #MeToo movement came about. It was a time when women in the entertainment industry were too scared to call out their male bosses, so this was a pivotal part of the changing face of Hollywood and the media. Director Jay Roach, who is more known for his broad comedy, attacks the film like Adam McKay would have and, of course, comparisons to The Big Short is obvious. He has the lead character, Megyn Kelly, breaking the fourth wall and explaining the events. Sadly, it doesn't hit home as hard as the tale of the US mortgage market.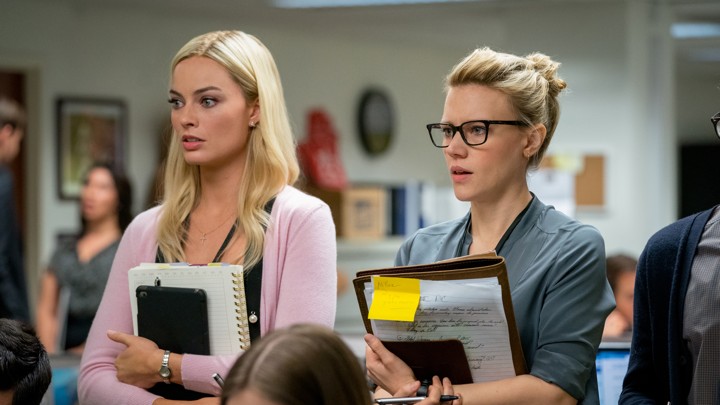 It gives us the facts that here was a man, surrounded by beautiful young women, who he used and abused for them to progress up the corporate ladder. If they became old or no longer following his rules, they were either shouted at or out. We see both sides of the coin, as Gretchen Carlson takes on the all-powerful Ailes by suing him, while ambitious young Kayla Pospisil is willing to do whatever he wants. Once Megyn Kelly gets involved, the whole thing blows up in Ailes's face.
Roach's film, while entertaining, refuses to get angry enough to make it either a severe watch or a vital watch. It's as if they are afraid of having the film attacked by those involved for taking sides. Yet it is quite obvious which side we are and should be on. Ailes comes across as a nasty, slimy man who abuses his position of power. This could have been satirical and comparisons to events currently occurring with the notorious film producer or even in a political sense. Instead, it feels like its side-stepping the pitfalls and only an exclaimer at the end of the film, do we feel shocked.
The film is held together by a strong ensemble cast and some terrific individual performances. Charlize Theron is excellent and almost unrecognisable as Megyn Kelly. The make-up is extraordinary, and she gives us a woman who has a hard facade, but the inside is conflicted. Nicole Kidman is equally good as Gretchen, and Margot Robbie continues playing with the big hitters as Kayla, a woman who knows she is wrong to do the things she has done but wants that top position. John Lithgow is brilliant as Ailes, while it's fun to see Malcolm McDowell as Rupert Murdoch.
Bombshell should have been a tour-de-force and make us feel angry that this ever happened. Instead, we are impressed by the superb performances but feel cheated by the story. It is no Big Short, which it should have been. It's not a terrible film, it just doesn't feel worthy enough.
3/5