Morning! Easter Monday brings the cold, North winds. It's not pleasant out there. There are also hints of snow as well! So stay inside, get a blanket, some snacks and settle down to a movie or two, playing on your telly.
Stay safe, look after yourself and Happy Easter Monday!
AMAZON PRIME
AMERICAN HUSTLE (15)
Starring: Christian Bale, Bradley Cooper, Amy Adams, Jeremy Renner, Jennifer Lawrence
Drama, Crime
A con man, Irving Rosenfeld, along with his seductive partner Sydney Prosser, is forced to work for a wild F.B.I. Agent, Richie DiMaso, who pushes them into a world of Jersey powerbrokers and the Mafia. All-star period drama. Strong language.
PAPILLON (15)
Starring: Steve McQueen, Dustin Hoffman
Biopic, Drama
A man befriends a fellow criminal as the two of them begin serving their sentence on a dreadful prison island, which inspires the man to plot his escape. Excellent prison drama with brilliant performances from McQueen and Hoffman. Strong violence.
NETFLIX
ATONEMENT (15)
Starring: Keira Knightley, James McAvoy, Romola Garai, Saoirse Ronan
Drama, Romance
Thirteen-year-old fledgling writer Briony Tallis irrevocably changes the course of several lives when she accuses her older sister's lover of a crime he did not commit. Terrific drama based on the best-seller. Very strong language, bloody injuries and moderate sex.
IN THE NAME OF THE FATHER (15)
Starring: Daniel Day-Lewis, Pete Postlethwaite, Emma Thompson
Biopic, drama
A man's coerced confession to an I.R.A. bombing he did not commit results in the imprisonment of his father as well. An English lawyer fights to free them. Powerful drama from the team behind My Left Foot. Strong language, violence and drug use.
NOW TV
BAD BOYS FOR LIFE (15)
Starring: Will Smith, Martin Lawrence
Thriller, Comedy, Action
Miami detectives Mike Lowrey and Marcus Burnett must face off against a mother-and-son pair of drug lords who wreak vengeful havoc on their city. Enjoyable third film in the popular franchise. Strong bloody violence, language, crude humour.
LAWRENCE OF ARABIA (PG)
Starring: Peter O'Toole, Alec Guinness, Anthony Quinn, Jack Hawkins, Omar Sharif
Biopic, Adventure, Drama
The story of T.E. Lawrence, the English officer who successfully united and led the diverse, often warring, Arab tribes during World War I in order to fight the Turks. One of the best epics ever made with a brilliant debut from Peter O'Toole. Mild violence.
DISNEY+
THE DARJEELING LIMITED (15)
Starring: Owen Wilson, Adrian Brody, Jason Schwartzman
Adventure, Comedy, Drama
A year after their father's funeral, three brothers travel across India by train in an attempt to bond with each other. Another stylised comedy from the director of The Grand Budapest Hotel. Strong language.
MARTHA MERCY MAY MARLENE (15)
Starring: Elizabeth Olsen, Hugh Dancy, John Hawkes, Brandy Corbet, Sarah Paulson
Haunted by painful memories and increasing paranoia, a damaged woman struggles to re-assimilate with her family after fleeing an abusive cult. A career-changing performance from Elizabeth Olsen in a hard-hitting drama. Strong sex and language.
MOVIES ON TERRESTRIAL TV
THE KARATE KID (12)
11.15am Sony Movies
Starring: Ralph Macchio, Noriyuki 'Pat' Morita, Elisabeth Shue
Drama, action
A boy and his mother move to California for a new job. He struggles to fit in, as a group of karate students starts to bully him for dating a rich girl from their clique. It's up to the Japanese landlord, Miyagi, to teach him karate. Classic 80s drama. Violence and language.
THE TAMING OF THE SHREW (U)
11.20am Sony Movies Classic
Starring: Elizabeth Taylor, Richard Burton
Comedy, drama, romance
Brutish, fortune-hunting scoundrel Petruchio (Richard Burton) tames his wealthy, shrewish wife, Katharina (Dame Elizabeth Taylor). Bright version of Shakespeare's play.
JANE EYRE (U)
1.45pm Sony Movies Classic
Starring: Joan Fontaine, Orson Welles
Drama, Romance
Classic version of the Charlotte Bronte novel, with Joan Fontaine as the title character, an orphan hired to look after the daughter of Orson Welles Mr Rochester. Black and white.
THE KARATE KID PART II (PG)
1.45pm Sony Movies
Starring: Ralph Macchio, Noriyuki 'Pat' Morita
Action, Drama, Romance
Daniel accompanies his mentor, Mr. Miyagi, to Miyagi's childhood home in Okinawa. Miyagi visits his dying father and confronts his old rival, while Daniel falls in love and inadvertently makes a new rival of his own. A reasonably decent sequel to the 1985 hit. Violence.
SENSE AND SENSIBILITY (U)
2.15pm Channel 5
Starring: Emma Thompson, Alan Rickman, Kate Winslet, Hugh Grant
Drama, romance
Rich Mr. Dashwood dies, leaving his second wife and her three daughters poor by the rules of inheritance. The two eldest daughters are the title opposites. Charming adaptation by Emma Thompson of Jane Austen's wonderful novel.
THE FALL OF THE ROMAN EMPIRE (PG)
2.20pm BBC2
Starring: Sophia Loren, Stephen Boyd, Alec Guinness, Christopher Plummer, James Mason
Drama, War
The death of Marcus Aurelius leads to a succession crisis, in which the deceased emperor's son, Commodus, demonstrates that he is unwilling to let anything undermine his claim to the Roman Empire. Large-scale epic like they don't make anymore. Moderate battle violence.
THE HORSE SOLDIERS (U)
5.30pm ITV4
Starring: John Wayne, William Holden
Western, adventure, war
In 1863, a Union outfit is sent behind Confederate lines in Mississippi to destroy enemy railroads but a captive southern belle and the unit's doctor cause frictions within ranks. Classic John Wayne/John Ford western. Mild violence and injury detail.
OLIVER! (U)
6.05pm Sony Movies Classic
Starring: Ron Moody, Oliver Reed, Harry Secombe, Shani Wallis, Mark Lester, Jack Wild
Musical, drama
After being sold to a mortician, young orphan Oliver Twist runs away and meets a group of boys trained to be pickpockets by an elderly mentor. Oscar-winning musical that has an amazing performance from Ron Moody. Mild violence.
PHENOMENON (PG)
6.25pm Sony Movies
Starring: John Travolta, Kyra Sedgwick, Forest Whitaker
Drama, fantasy, romance
An ordinary man sees a bright light descend from the sky, and discovers he now has super-intelligence and telekinesis. Touching fantasy drama. Language and sexual content.
BUMBLEBEE (PG)
6.45pm Film4
Starring: Hailee Steinfeld, John Cena
Adventure, comedy
The best Transformers movie yet as a young girl in the 80s comes face to face with a lost and confused Bumblebee. Terrific fun and the best of the Transformers movies…by a country mile. Moderate fantasy violence, mild sex references, injury detail, language.
THE ENEMY BELOW (PG)
6.55pm Sony Movies Action
Starring: Robert Mitchum, Curt Jurgens
War, Action, Adventure, Drama
During World War II, an American destroyer meets a German U-Boat. Both captains are experts, and so begins a deadly game of cat-and-mouse. Classic war drama directed by Dick Powell. Violence.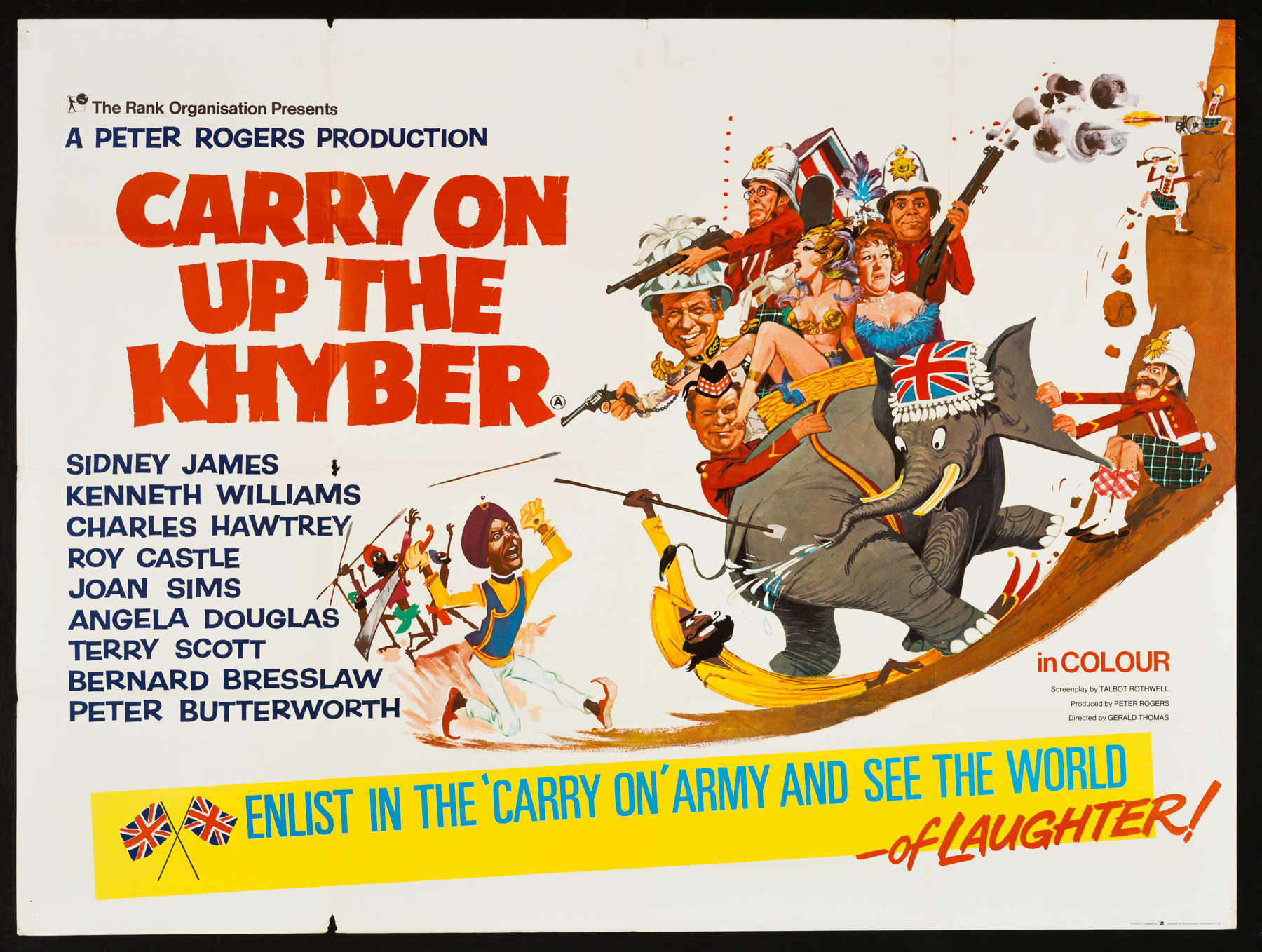 CARRY ON UP THE KHYBER (PG)
8.15pm ITV3
Starring: Sidney James, Kenneth Williams, Charles Hawtrey, Roy Castle
Comedy
Sir Sidney Ruff-Diamond looks after the British outpost near the Khyber Pass. Protected by the kilted Third Foot and Mouth regiment, you would think they were safe but the Khazi of Kalabar has other ideas. Personal favourite of the Carry On Series. Innuendo, mild violence, rude humour.
THE DAY OF THE JACKAL (15)
9pm Sony Movies Action
Starring: Edward Fox, Michel Lonsdale
Thriller, Drama
A professional assassin codenamed "Jackal" plots to kill Charles de Gaulle, the President of France. Gripping thriller based on the best-selling novel. Strong violence, injury detail.
THE WAY WE WERE (PG)
9pm Sony Movies Classic
Starring: Barbra Streisand, Robert Redford, Bradford Dillman, Lois Chiles
Drama, Romance
Two disparate people have a wonderful romance, but their political views and convictions drive them apart. A much deeper romantic drama with two charismatic leads. Mild language.
JACK REACHER (12)
9pm ITV4
Starring: Tom Cruise, Rosamund Pike, Richard Jenkins, David Oyelowo, Werner Herzog, Jai Courtney, Robert Duvall
Action, Thriller
A homicide investigator digs deeper into a case involving a trained military sniper who shot five random victims. Action thriller based on the popular books. Strong violence and one use of strong language.
SKYSCRAPER (12)
9pm Film4
Starring: Dwayne Johnson, Neve Campbell
Drama, Crime, Action
A security expert must infiltrate a burning skyscraper, 225 stories above ground, when his family is trapped inside by criminals. Nonsense blockbuster that passes the time away nicely. Moderate violence, threat, injury detail, infrequent strong language.
HIGHLANDER (15)
10.30pm BBC2
Starring: Christopher Lambert, Sean Connery
Action, adventure, fantasy
An immortal Scottish swordsman must confront the last of his immortal opponent, a murderously brutal barbarian who lusts for the fabled "Prize". Flashy 80s action film. Strong violence, language and moderate sex.
SLAUGHTERHOUSE RULEZ (15)
11.05pm Film4
Starring: Asa Butterfield, Michael Sheen, Margot Robbie, Simon Pegg, Nick Frost, Finn Cole
Action, Comedy, Fantasy
An illustrious British boarding school becomes a bloody battleground when a mysterious sinkhole appears at a nearby fracking site unleashing unspeakable horror. Fun comedy horror with a decent British cast. Bloody violence, language, sexual content, and some drug use.
THE BUTTERFLY EFFECT (15)
11.10pm Sony Movies
Starring: Ashton Kutcher, Amy Smart
Drama, sci-fi, thriller
Evan Treborn suffers blackouts during significant events of his life. As he grows up, he finds a way to remember these lost memories and a supernatural way to alter his life by reading his journal. Interesting sci-fi thriller. Strong language, violence, sex references and child abuse theme.
THE THOMAS CROWN AFFAIR (15)
11.10pm 5*
Starring: Pierce Brosnan, Rene Russo
Crime, romance, thriller
A very rich and successful playboy amuses himself by stealing artwork, but may have met his match in a seductive detective. Stylish remake of the 60s classic. Language, sex, nudity and sexual references.
FINAL DESTINATION (15)
12.50am ITV2
Starring: Devon Sawa, Ali Larter, Kerr Smith
Horror
After a teenager has a terrifying vision of him and his friends dying in a plane crash, he prevents the accident only to have Death hunt them down, one by one. Inventive horror that started a franchise. Strong language, bloody violence and horror.
BRAWL IN CELL BLOCK 99 (18)
1.10am Film4
Starring: Vince Vaughn, Don Johnson
Drama, Thriller, Crime
A former boxer-turned-drug runner lands in a prison battleground after a deal gets deadly. Incredibly brutal prison drama with a very different role for Vince Vaughn. Strong bloody violence, injury detail.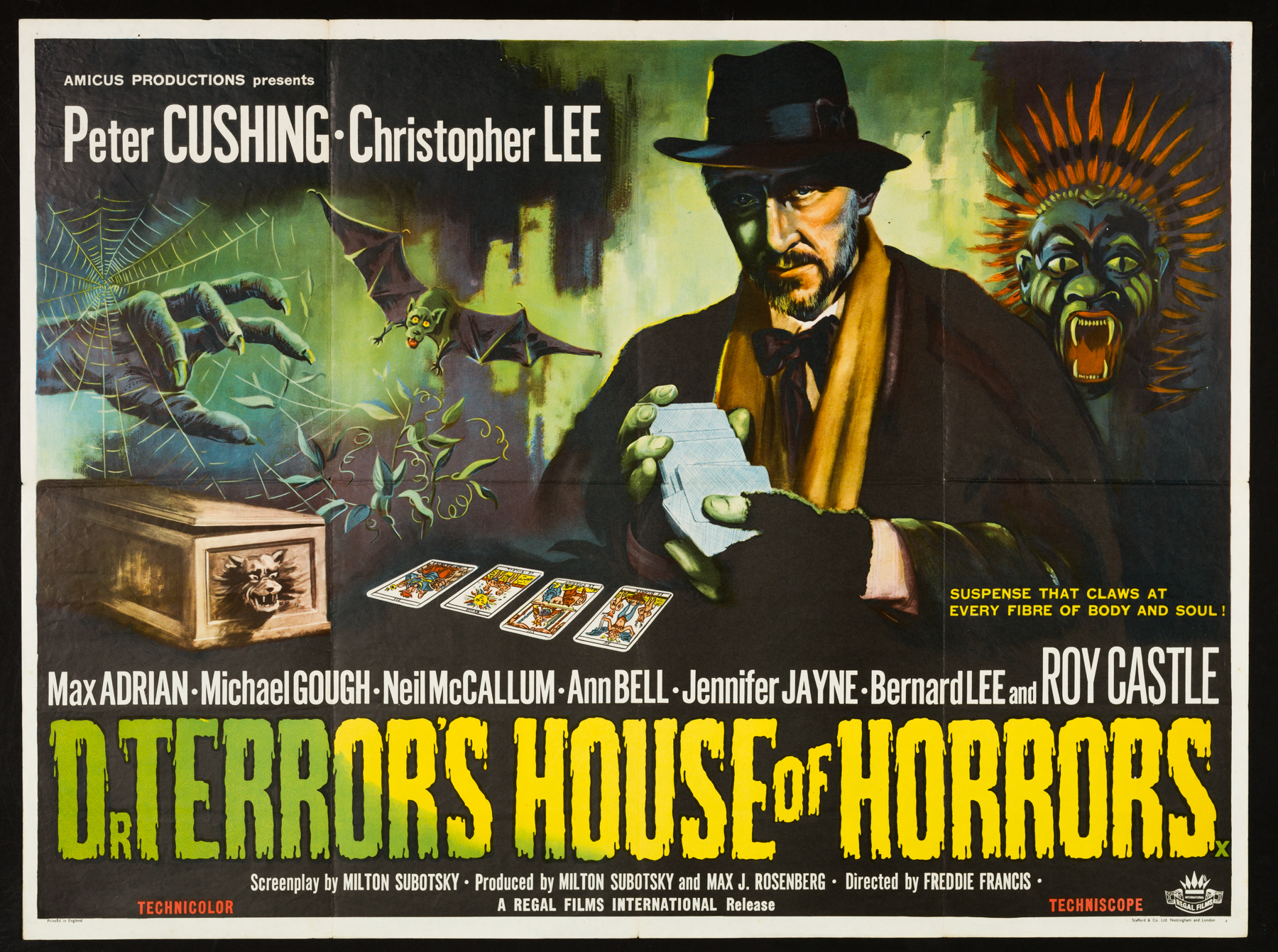 DR. TERROR'S HOUSE OF HORRORS (PG)
2.35am Horror Channel
Starring: Christopher Lee, Roy Castle, Peter Cushing, Donald Sutherland
Horror
Aboard a British train, mysterious fortune teller Dr. Schreck uses tarot cards to read the futures of five fellow passengers. Creepy horror anthology with a strong British cast. Mild horror, violence.