Director: Guillermo del Toro
Starring: Bradley Cooper, Cate Blanchett, Rooney Mara, Toni Collete, Willem Dafoe, Richard Jenkins, Ron Perlman, Mary Steenburgen, David Strathairn
Written by: Guillermo del Toro, Kim Morgan and (based on the novel) William Lindsay Gresham
Running Time: 150 mins
Cert: 15
Release date: 21st January 2022
Guillermo del Toro is one of the most inventive directors working in mainstream cinema at the moment. His movies are always creative and visually stunning, while his ability to tell stories can exceed the limits of the imagination. Movies like Pan's Labyrinth, Cronos, The Devil's Backbone and his Oscar-winning The Shape of Water take you into the world of the impossible and yet make them believable. His latest film, Nightmare Alley, is different from previous films. In the traditional sense, this isn't a fantasy, adult fairy tale or monster movie. This is film noir, although Del Toro's thumbprints are definitely all over.
Stanton Carlisle is a drifter during the depression who finds himself wandering into a travelling fair. He gets himself a job and becomes attached to Zeena the Seer and Pete, a former magician. Learning the tricks of the trades and being a natural-born con artist, Stanton moves into the world of mind-reading, and, along with Molly, a woman Stanton meets at the fair, the pair start a routine that propels him into the big time. Until he meets a female psychiatrist who could be dangerous for the con man.
Del Toro's film is split into two halves. The first set in the fair is a world of dust, wind, and darkness that hides many secrets. As Stanton arrives, he finds himself drawn into what makes this world work, taking advice from everyone around. He spends time with Clem, a man who runs a show based around a "geek", a homeless person led to becoming an attraction by using their addiction and need for a home, then cutting off their food supply which will make them almost savage. Then his attentions turn to Zeena, a woman who has a mind-reading act that is helped by Pete, a former performer who now lives inside a bottle. The pair take the man under their wing and teach him how to operate.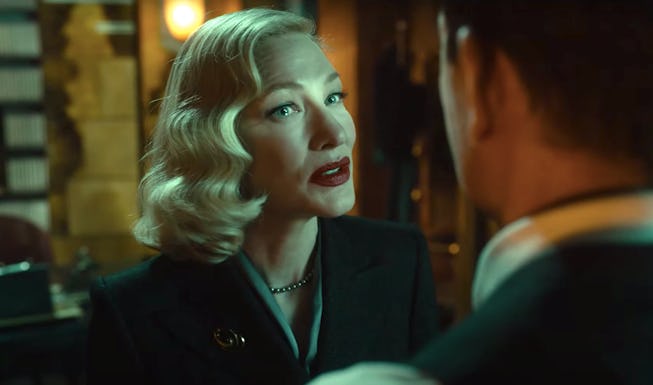 While there, he meets Molly, a woman who can survive electricity passing through her body. Stanton removes her from the fair life, and the pair becomes a success among the rich and famous until his act is discovered by Dr Lillth Ritter, a psychiatrist who manipulates Stanton to a new world filled with enormous possibilities but also could get him killed.
This is typical film noir fare, based on a successful book from the 1940s that was turned into a movie with Tyrone Powers in 1946. Del Toro has been working on this for years, but now, with an incredibly talented cast and the stunning set designs and production values, it hits the screen oozing with class. This is definitely a throwback to 40s cinema, where the characters have no redeemable features and the story and suspense that keeps you interested.
The sets are breathtaking, with the fair just as muddy and dirty as you could imagine. Damp, windy and dusty, it captures the feeling of travelling brilliantly while the sense of period is never ignored. When the action moves to the big city, it's as different as chalk and cheese. Gold and shiny take over in a land that is constantly snowing. Never could these two worlds exist simultaneously, yet they seem to.
The plotting builds slowly. We are given enough information about Stanton to see his journey progress. The film begins in spectacular but mysterious circumstances, as Stanton is seen dragging a corpse into a hole in the floor of a house and setting light to it. No more information is given, and it takes time to explain Stanton's actions eventually. Yet as it shifts gear in the second half, the mystery really begins, with Stanton's newfound abilities taking him further into a world of greed and deception. All the things we love about the old film noirs of the day. Del Toro is a real cinephile, and he knows the genre, delivering a polished and exception thriller that manages to surprise around every corner.
It also helps that he has an impressive cast to work with. The always watchable Richard Jenkins and David Straithairn are terrific, while Toni Collette gives us enough mystique to make her character more than one-dimensional. Cate Blanchett, who always seems to be an actress born out of time, is perfect as the femme fatale, but it is Bradley Cooper as Stanton who is really impressive. He's intelligent, cunning and willing to do anything to get his way, yet there is something about Cooper that you can almost forgive him for his crimes.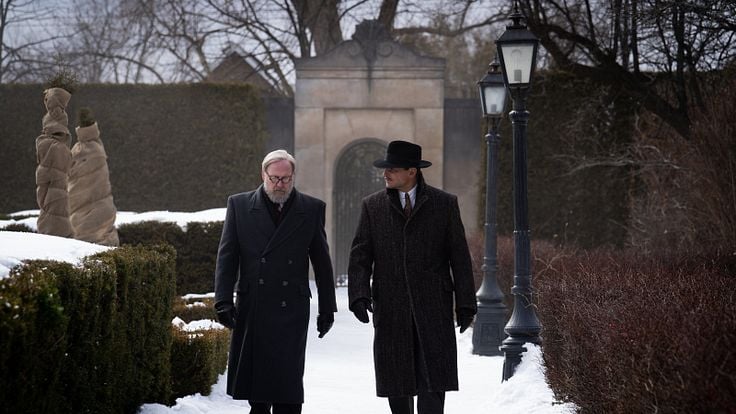 Nightmare Alley is a visual treat with plenty to enjoy and a thriller that hooks. When I said that this film lacks monsters, it is brimming with them but not the kind we usually see in a Del Toro movie. It's an impressive piece that some may find challenging work, but for those who miss the days of shadows and deception, the way that film noir always was, it's a chance to step back in time and enjoy those old movies again.
4 out of 5