Director: Marc Lawrence
Starring: Hugh Grant, Marisa Tomei, Allison Janney, J.K. Simmons, Chris Elliott, Bella Heathcote, Annie Q
Written by: Marc Lawrence
Running Time: 106 mins
Cert: 12A
Release date: 8th October 2014
If bland was an object, it would be The Rewrite, a pointless, ordinary, unoriginal romantic comedy that sees the return of Hugh Grant in a role that even he seems bored with. This is a poor excuse of a movie that I openly admit to falling asleep in for a few minutes and waking up to find I had missed nothing!
Keith Michaels is an Oscar-winning screenwriter of a hugely popular film but has failed to find a successful follow-up. Desperately pitching ideas in Hollywood that no one wants, he is forced to take a job as a teacher in a university in a small town. Within hours of arriving, he has slept with a student, got drunk at a faculty party, insulted the head of Faculty, Mary Weldon, a Jane Austen fanatic, chosen his class on the strengths of their looks and dismissed them for a month. He hates teaching and the whole idea of teachers, yet he needs the money so, with some encouragement from mature student and single mother, Holly Carpenter, to at least try. He soon finds himself enjoying it more than he thought.
The problem with this film is that it has nothing new to say about anything. It ticks all the boxes that a bog-standard romantic comedy delivers: fish-out-of-water, small town America, quirky collection of characters and, of course, a love interest with the one person least likely to be the object of desire. Writer and director Marc Lawrence, who has worked with Grant before on Two Weeks Notice and Music & Lyrics, has just churned up the same thing we have seen in dozens of other movies similar to this, except changed setting, occupations and eventual outcome.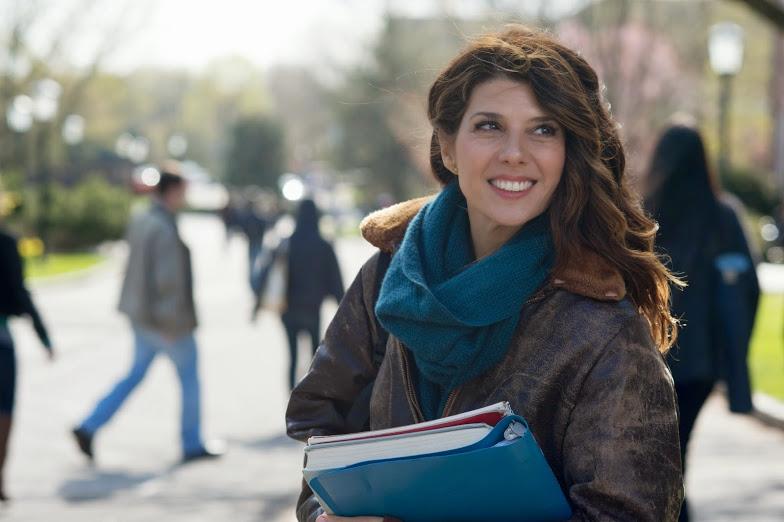 In the process, he has given his audience a film that doesn't have enough laughs to make it a hilarious comedy, characters that are so one-dimensional that you care very little about them and so many contrivances that he see them coming a mile off. At the same time, giving the film no noticeable life whatsoever and you genuinely question why does this even exist? What is it's purpose in this world? Admittedly the cast try their hardest to breathe life into the proceedings and yet it trudges along to its predictable finale.
There are a few moments when you think it's going to pick up and it is thanks to the cast mainly. J.K.Simmons ex-Marine who lives with his wife and four daughters and who feels his masculinity is draining away from him as he is forced to watch Love, Eat, Pray is a neat idea but not fully realised and could have quite easily been the focal point of a much more interesting and funnier movie. The always reliable Allison Janney as Austen fan, Weldon, doesn't get enough screen time to make a huge impact and while the class isn't given enough originality, Annie Q as an Emo film fanatic is the best of the bunch.
Marisa Tomei, who always is a worthwhile watch, is somewhat wasted as Holly, as she balances jobs and courses. She deserves much meatier and deeper roles, although she exudes energy and charm. So it's up to Grant, as the seemingly cynical and sarcastic Michaels to move the film along, which he is skilled enough to do but we've been here so many times before and in much better films (see About A Boy for roughly the same character). Even he can't save a sinking ship.
I know I'm not a massive fan of rom-coms and I do know that maybe I'm not the audience for it but I would feel cheated if I were a fan and demand much better than this lazy and dull excuse. I would hate it more if it was poorly executed but it isn't. It just seems like a total waste of everyone's time, including mine. Even the poster is bland and unoriginal.
1/5