Director: Damien Chazelle
Starring: Miles Teller, J.K.Simmons, Paul Reiser, Melissa Benoist, Austin Stowell, Nate Lang
Written by: Damien Chazelle
Running Time: 107 mins
Cert: 15
Release date: 16th January 2014
When Whiplash first appeared at last year's Sundance festival, it started receiving enormous critical acclaim. Sometimes this can cause the film to be a disappointment as the film heads towards release but thankfully, this time, the reports tell the truth. Whiplash is a heart-pounding, roller coaster ride of a movie.
Andrew is a young drummer, enrolled in an exclusive music conservatory, where he dreams of being as good as jazz maestro Buddy Rich. He meets Fletcher, a notoriously hard conductor at the school, who decides to allow Andrew, a freshman, into his band. A battle of wills begin, as Andrew becomes fixated on staying in the band, and proving to Fletcher that he is a great drummer.
The first thing to say about Whiplash is that it isn't about drumming. Although drumming is at the core of the film, this comes at you more like a boxing movie. Andrew, the young underdog taking on the wily old pro, it's Rocky for the jazz set. It even has the same feel of a boxing film, with Andrew's persistent practicing often leading him to sweating buckets and with bloody hands, which he has to plunge into large jugs of ice. All this heads towards a final showdown that genuinely leaves you breathless.
Writer and director Damien Chazelle keeps things moving at breakneck speed. The camera is constantly moving with a succession of quick-fire edits that follow the beats of the fast-pace jazz played in the film. yet at the same time there is plenty of restraint, in order for the drama to play out. He glides the camera around the bands as the musical numbers kick in, allowing us to feel immersed in the sounds of the musicians, then fires shot after shot as sticks hit skins on the drum kit.
Then there's the relationship between pupil and teacher. This is the real blood and guts of the piece, a pulse-racing battle from the young pretender and a force of nature. Andrew, the naive young boy who seems to absorb Fletcher's arrogance and tries to turn the tables on an all-powerful figure. Their war of words are sometimes shocking, sometimes funny but always engrossing. We watch as Andrew, desperate to stay in the band, is willing to do anything to keep his place, questioning if he is trying to impress his mentor, or beat him down.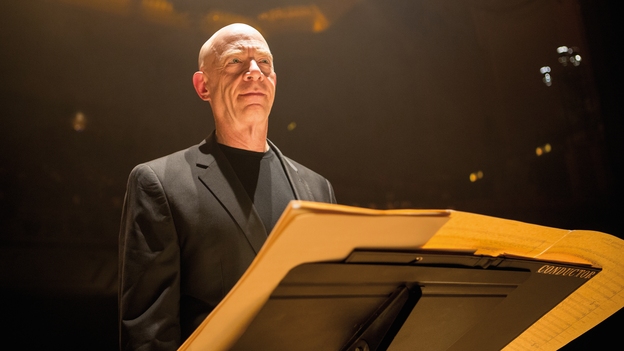 The two leads are impressive. Miles Teller, who up to now is more known for teen flicks like Project X and That Awkward Feeling, rises to the occasion as Andrew. If his acting skills don't impress, as the young boy growing in statue as the film progresses, then his drumming skills will certainly blow you away. So much so that some of the blood seen in the film is actually his. It's a triumph for the young actor and hopefully this will give him the opportunity to move away from the dire teen comedies. He is superb.
Yet it is J.K.Simmons as the vile Fletcher who will stay with you long after the film is over. A foreboding figure, dressed in black and with an air of complete control, he is sadistic, cruel, intense and sometimes darkly comic. Not since R. Lee Ermey's Drill Instructor from Full Metal Jacket has a man been so violently insulting. It is a tour-de-force in every sense of the word. For years of being a terrific character actor, this is the role that will certain change Simmons' career. If he doesn't walk away with the Oscar for Best Supporting Actor this year, there is no justice in this world.
Whiplash is a masterpiece of menace. A film crammed with surprises, delights and shocks. |It doesn't waste a frame and by the end you are physically exhausted. With the most compelling relationship in movie history, this is a film that you don't just watch, you feel every inch. Utterly, utterly exhilarating.
5/5