Director: Francis Lawrence
Starring: Jennifer Lawrence, Josh Hutcherson, Liam Hemsworth, Woody Harrelson, Donald Sutherland, Philip Seymour Hoffman, Julianne Moore.
Written by: Peter Craig, Danny Strong and (adaptation and novel "Mockingjay") Suzanne Collins
Running Time: 123 mins
Cert: 12A
Release date: 20th November 2014
If you listen to any fans of the three books that make up The Hunger Games trilogy, the final part, Mockingjay, doesn't deserve to be broken up into two parts for the cinema. So after the slightly stodgy second part, Catching Fire, the thought of a third AND fourth part didn't excite me.  I shouldn't have worried because, as it turns out, Mockingjay Part 1 is definitely the best of the series so far, thanks to a much shorter running time, hence a much tighter film altogether.
Katniss Everdeen has been hospitalised in District 13 after the destruction of District 12. There she meets President Coin, who plans a revolution against President Snow and his dictatorship, the Capitol. Deciding to use Katniss as a symbol of the rebellion, she discovers just how evil President Snow is and, she believes that her Hunger Games partner, Peeta, is dead. However, just how powerful is she and what is the truth about Peeta?
Where the original Hunger Games and Catching Fire fell down was the length. There were moments in both films where the pace was uneven and only when the games took full effect did the films pick up. Mockingjay doesn't suffer from that at all. Firstly, and this isn't a spoiler, this doesn't have a Hunger Game. Instead it's a delicious mix of exciting set pieces and a strong political story.
The main theme is revolution. Here we watch the little people trying to up-rise against the all-powerful President Snow. It's like having the Russian Revolution explained in an easy and straight-forward way. This is a major plus for the film. Even though it is heavily political, you find yourself drawn into the power play and the momentum of the pace isn't affected.
It also helps that director Francis Lawrence intersperse the politics with some effective action scenes and some juicy dramatic moments that allows his very talented cast to finally get their teeth stuck in. It manages to bring the events of the first two films together and you can finally start emoting with these people, old and new.
There's a heady mix of the greats and the new as far as the cast is concerned. The late great Philip Seymour Hoffman (who the film is dedicated to) doesn't have a great deal to do but still manages to give a first rate performance. Donald Sutherland as President Snow has less screen time than normal but still has a powerful presence.
The inclusion of the always reliable Julianne Moore, without her trademark red hair, is perfectly cast as President Coin. Nice to see Liam Hemsworth getting more screen time here as Gale.
At the heart of this is Jennifer Lawrence's Katniss. She has already proved she can handle the action perfectly well but she manages to take this now well-known character to another level. Some of the scenes allow Lawrence to show what an incredible actress she is by some massively dramatic moments that never seem false or out-of-place. This is Lawrence at her finest.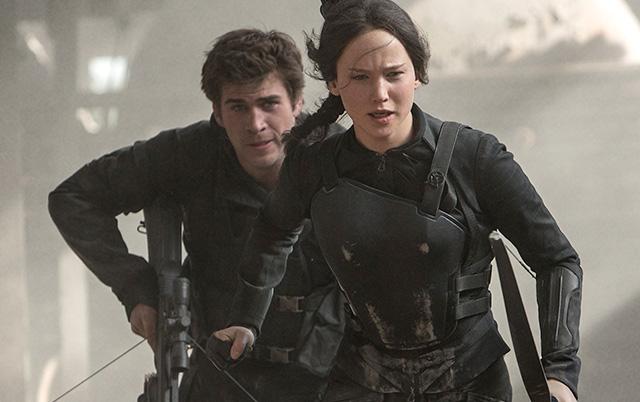 Fans of the series will not be disappointed. It crackles along, throwing in some nice twists and real human moments. Those concerned that splitting the final book was wrong may find themselves eating their words and we are left with a neat cliffhanger that will make the start of Part 2 even more eagerly awaited. I, for one, am looking forward to it and I never thought I'd hear myself say that.
4/5