Morning!
I have noticed that the figures are dropping with people visiting these blogs. I need to hear from you about whether it is worth carrying on as lockdown slowly comes to an end. Please leave a comment and let me know.
Stay safe, look after yourself and Happy Sunday!
AMAZON PRIME
GRAN TORINO (15)
Starring: Clint Eastwood, Bee Vang, Ahney Her
Thriller, Drama
Disgruntled Korean War veteran Walt Kowalski sets out to reform his neighbour, Thao Lor, a Hmong teenager who tried to steal Kowalski's prized possession: a 1972 Gran Torino. Clint Eastwood stars and directs in this tough drama. Strong language and violence.
PAPERHOUSE (15)
Starring: Charlotte Burke, Elliott Spiers, Glenne Headley, Ben Cross
Drama, Fantasy
A young girl lost in the loneliness and boredom of reality finds solace in an ill boy, whom she can visit in a surreal dream world that she drew in her school composition book. Dark fantasy from the director of Candyman. Mild language, violence, brief nudity and intense scenes.
NETFLIX
RED CORNER (15)
Starring: Richard Gere, Bai Ling
Drama, Thriller
An American attorney on business in China is wrongfully arrested and put on trial for murder, with a female defence lawyer from the country the only key to proving his innocence. Courtroom drama with an interesting twist. Strong violence, language and occasional sex.
PRINCE AVALANCHE (15)
Starring: Paul Rudd, Emile Hirsch
Comedy, Drama
Two highway road workers spend the summer of 1988 away from their city lives. The isolated landscape becomes a place of misadventure as the men find themselves at odds with each other and the women they left behind. Strong sex references, language.
NOW TV/SKY CINEMA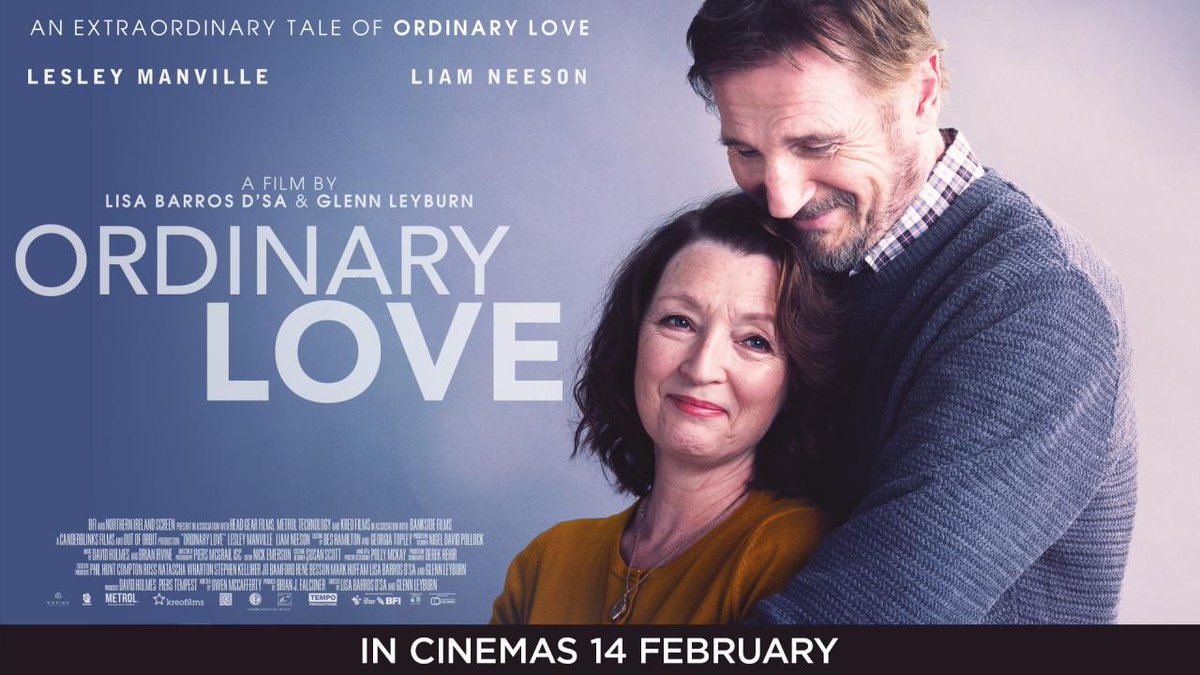 ORDINARY LOVE (12)
Starring: Leslie Manville, Liam Neeson
Drama, Romance
An extraordinary look at the lives of a middle-aged couple in the midst of the wife's breast cancer diagnosis. Beautiful and heartbreaking drama with two superb lead performances. Brief moderate sex, nudity, illness theme.
STAR TREK VI: THE UNDISCOVERED COUNTRY (PG)
Starring: William Shatner, Leonard Nimoy, DeForest Kelley
Action, Adventure, Sci-Fi
On the eve of retirement, Kirk and McCoy are charged with assassinating the Klingon High Chancellor and imprisoned. The Enterprise crew must help them escape to thwart a conspiracy aimed at sabotaging the last best hope for peace. The last of the original Star Trek crew's big screen outings. Mild sex references, language and sci-fi violence.
MOVIES ON TERRESTRIAL TV
THIS GUN FOR HIRE (PG)
11am Sony Movies Classic
Starring: Veronica Lake, Robert Preston, Alan Ladd
Drama, Film-Noir, Thriller
When assassin Philip Raven shoots a blackmailer and his beautiful female companion dead, he is paid off in marked bills by his treasonous employer who is working with foreign spies. Excellent film-noir. Violence. Black and white.
RANGO (PG)
11am Film4
Starring: Johnny Depp, Timothy Olyphant, Isla Fisher
Animation, Adventure, Comedy, Western
Rango is an ordinary chameleon who accidentally winds up in the town of Dirt, a lawless outpost in the Wild West in desperate need of a new sheriff. Surreal stop-motion animation. Mild threat and scary scenes.
THE FAR COUNTRY (U)
11.25am ITV4
Starring: James Stewart, Ruth Roman
Western, adventure, romance
A self-minded adventurer (Jeff Webster) locks horns with a crooked lawman (Mr. Gannon) while driving cattle to Dawson. Classic western from Anthony Mann and James Stewart. Mild violence.
GROUNDHOG DAY (PG)
12.30pm Sony Movies
Starring: Bill Murray, Andie MacDowell
Comedy, romance
A weatherman finds himself inexplicably living the same day over and over again. Regarded now as a classic, and rightly so. Mild language.
THE ADMIRABLE CRICHTON (U)
12.45pm Sony Movie Classic
Starring: Kenneth More, Cecil Parker
Comedy
In 1905, Lord Henry Loam, his family and his servants are shipwrecked on a deserted island where the survival of the fittest renders the rigid class system irrelevant. Classic comedy based on the play by J.M.M. Barrie.
JANE EYRE (PG)
1.50pm BBC1
Starring: Mia Wasikowska, Michael Fassbender, Jamie Bell, Sally Hawkins
Drama, Romance
A mousy governess who softens the heart of her employer soon discovers that he's hiding a terrible secret. Beautifully shot version of the classic novel. Mild violence and brief injury detail.
FATHER OF THE BRIDE PART II (PG)
2.30pm Sony Movies
Starring: Steve Martin, Diane Keaton, Martin Short, Kimberly Williams
Comedy, Romance
George Banks must deal not only with the pregnancy of his daughter, but also with the unexpected pregnancy of his wife. Sequel to the hugely popular comedy. Mild language.
YOU MUST BE JOKING (U)
2.40pm Sony Movies Classic
Michael Callan, Lionel Jeffries
Comedy
A motley group of soldiers are set loose in swinging London in an initiative test to collect a selection of esoteric items. Silly 60s comedy. Mild innuendo.
OCTOPUSSY (PG)
2.55pm ITV1
Starring: Roger Moore, Maud Adams, Louis Jourdan
Action, Adventure, Thriller
A fake Fabergé egg, and a fellow Agent's death, lead James Bond to uncover an international jewel-smuggling operation, headed by the mysterious Octopussy, being used to disguise a nuclear attack on N.A.T.O. forces. Roger Moore's Bond still has great moments but age is taking its toll. Moderate violence, innuendo and sexual content.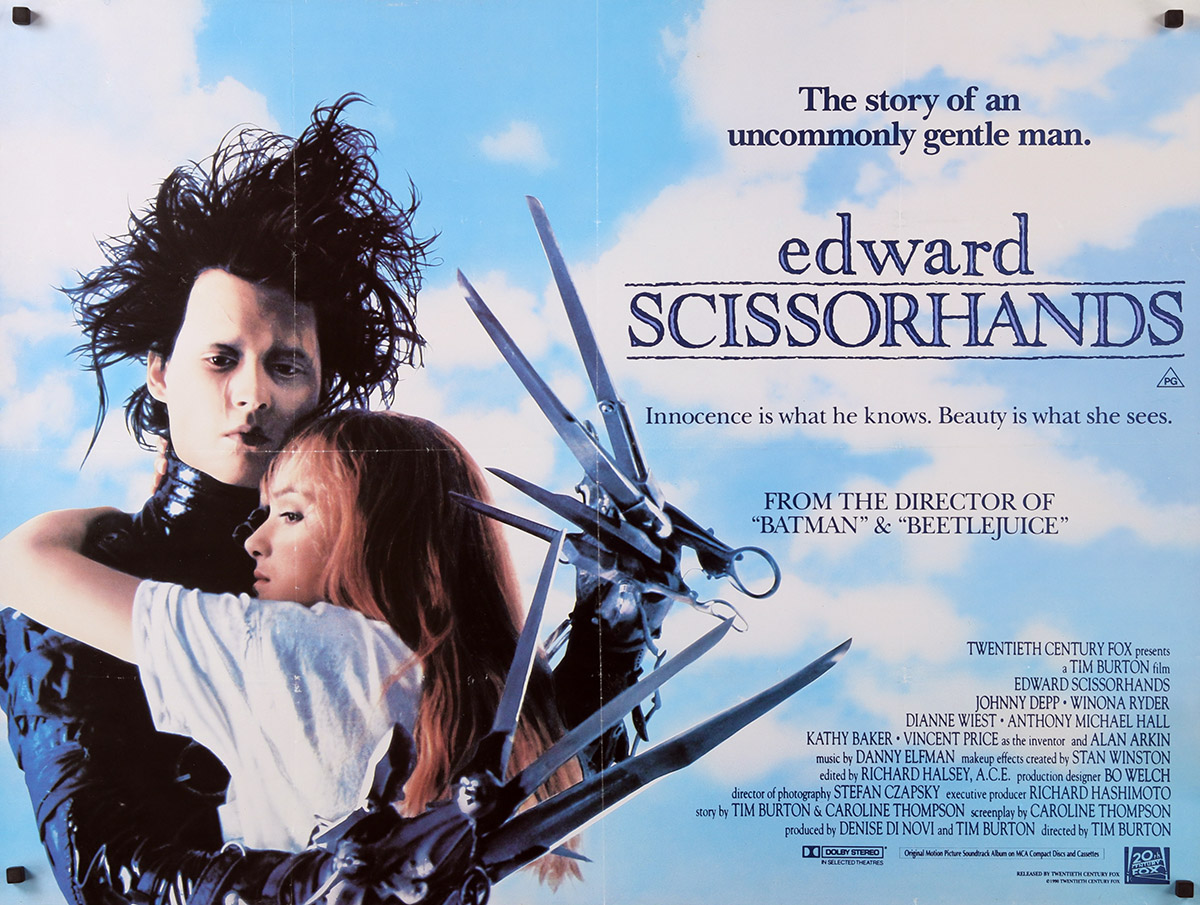 EDWARD SCISSORHANDS (PG)
3pm Film4
Starring: Johnny Depp, Winona Ryder
Fantasy, drama, romance
An artificial man, who was incompletely constructed and has scissors for hands, leads a solitary life. Then one day, a suburban lady meets him and introduces him to her world. Tim Burton's magical love story. Moderate violence.
KELLY'S HEROES (PG)
4pm ITV4
Starring: Clint Eastwood, Telly Savalas, Don Rickles, Carroll O'Connor, Donald Sutherland
War, Adventure, Comedy
A group of U.S. soldiers sneaks across enemy lines to get their hands on a secret stash of Nazi treasure. Classic war adventure. Mild language and violence.
THE COCKLESHELL HEROES (U)
4.10pm Sony Movies Action
Starring: Jose Ferrer, Trevor Howard, Anthony Newley
War, Action, Drama
During World War II, German ships are "safely" docked upriver at Bordeaux, but the British send a team of kayakers to attack them. Exciting war drama directed by Jose Ferrer. Violence.
BREWSTER'S MILLIONS (PG)
4.30pm Sony Movies
Starring: Richard Pryor, John Candy
Comedy
A minor league baseball player has to spend $30 million in thirty days, in order to inherit $300 million. However, he's not allowed to own any assets, destroy the money, gift it, give it to charity or tell anyone about the deal. Enjoyable comedy with the great Richard Pryor. Mild language.
THE WACKIEST SHIP IN THE ARMY (U)
4.45pm Sony Movies Classic
Starring: Jack Lemmon, Ricky Nelson
Comedy, War
During WW2, Lt. Rip Crandall, who was a yachtsman before the war, takes command of the USS Echo, a sailing ship, for a secret mission in waters patrolled by Japanese warships. Madcap comedy capers on board a ship.
LEMONY SNICKET'S A SERIES OF UNFORTUNATE EVENTS (PG)
5.05pm Film4
Starring: Jim Carrey, Meryl Streep, Jude Law
Adventure, comedy, family
When a massive fire kills their parents, three children are delivered to the custody of cousin and stage actor Count Olaf, who is secretly plotting to steal their parents' vast fortune. Fun family adventure. Mild threat and scary scenes.
JURASSIC WORLD (12)
5.50pm ITV1
Starring: Chris Pratt, Judy Greer, Vincent D'Onofrio, Bryce Dallas Howard
Science Fiction, Drama, Adventure
A new theme park, built on the original site of Jurassic Park, creates a genetically modified hybrid dinosaur, the Indominus Rex, which escapes containment and goes on a killing spree. Exciting adventure reboot. Moderate threat, occasional bloody moments, action violence.
TWELVE O'CLOCK HIGH (U)
6.15pm Sony Movies Action
Starring: Gregory Peck, Hugh Marlowe, Gary Merrill
War, Drama
A hard-as-nails general takes over a bomber unit suffering from low morale and whips them into fighting shape. Classic war drama with Gregory Peck on great form. Reference to injury. Black and white.
ARACHNOPHOBIA (PG)
6.50pm Sony Movies
Starring: Jeff Daniels, Harley Jane Kozak, John Goodman, Julian Sands
Comedy, Fantasy, Horror
A species of South American killer spider hitches a lift to the U.S. in a coffin and starts to breed and kill. Hugely enjoyable comedy horror but not for those who hate spiders. Moderate horror and mild language.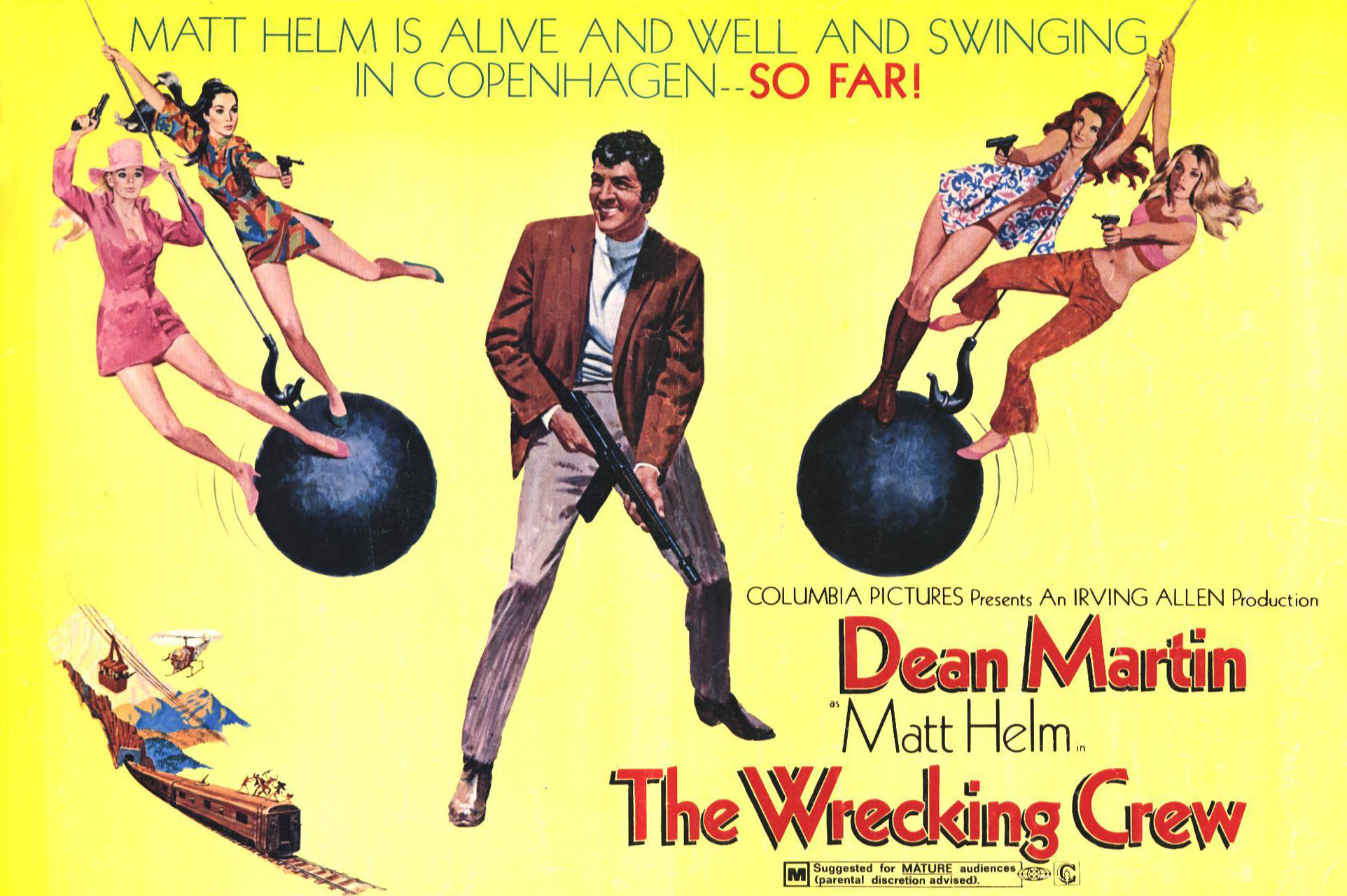 THE WRECKING CREW (PG)
6.50pm Sony Movies Classic
Starring: Dean Martin, Elke Sommer, Nancy Kwan, Sharon Tate
Action, adventure, comedy
Gold bullion worth USD 1 billion has been stolen from a hijacked train in Denmark. The main suspect is Count Massimo Contini. The US government sends Matt Helm, one of its top agents, to investigate and recover the gold. The last of the Matt Helm movies. Violence, mild language and sexual references.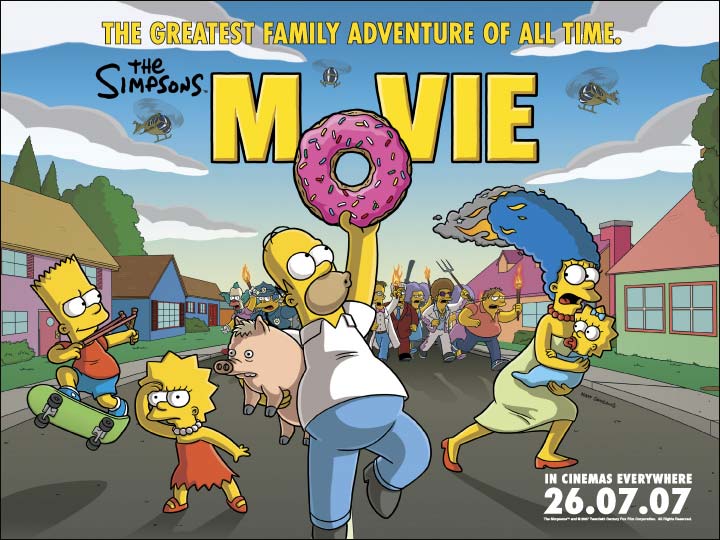 THE SIMPSON MOVIE (PG)
7.15pm Film4
Starring: Dan Castellaneta, Julie Kavner, Nancy Cartwright
Animation, comedy, adventure
After Homer deliberately pollutes the town's water supply, Springfield is encased in a gigantic dome by the EPA and the family are declared fugitives. Big screen outing for the famous cartoon family. Mild language, innuendo and comic violence.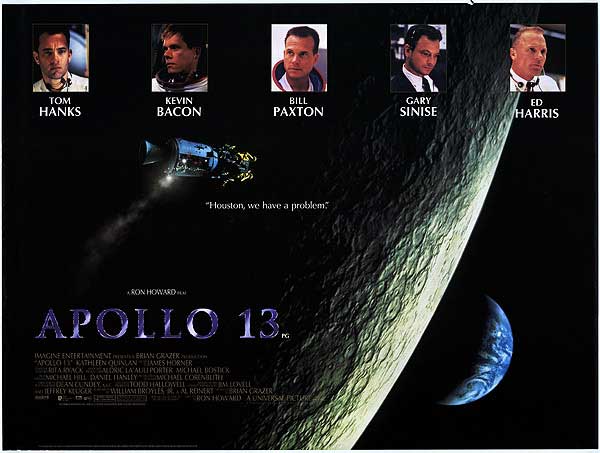 APOLLO 13 (PG)
8pm ITV4
Starring: Tom Hanks, Bill Paxton, Kevin Bacon, Gary Sinise, Ed Harris
Drama, biopic, adventure
NASA must devise a strategy to return Apollo 13 to Earth safely after the spacecraft undergoes massive internal damage putting the lives of the three astronauts on board in jeopardy. First-class dramatisation of a tense historical event. mild threat, language.
KONG: SKULL ISLAND (12)
8pm ITV2
Starring: Tom Hiddleston, Samuel L. Jackson, John Goodman, Brie Larson
Action, Adventure, Fantasy
After the Vietnam war, a team of scientists explores an uncharted island in the Pacific, venturing into the domain of the mighty Kong, and must fight to escape a primal Eden. Exciting adventure that is the film Peter Jackson's version should have been. Moderate threat, violence, infrequent strong language.
THE LAST SAMURAI (15)
9pm 5*
Starring: Tom Cruise, Ken Watanabe, Billy Connolly, Tony Goldwyn
War, Action, Drama
An American military adviser embraces the Samurai culture he was hired to destroy after he is captured in battle.Spectacular drama with some terrific battle scenes. Strong violence.
DODGEBALL: A TRUE UNDERDOG STORY (12)
9pm E4
Starring: Vince Vaughn, Ben Stiller
Comedy
A group of misfits enter a Las Vegas dodgeball tournament in order to save their cherished local gym from the onslaught of a corporate health fitness chain. Goofy, bizarre but constantly funny. Language, violence, sexual references.
JASON BOURNE (12)
9pm Film4
Starring: Matt Damon, Julia Stiles, Tommy Lee Jones, Alicia Vikander
Action, adventure, thriller
The CIA's most dangerous former operative is drawn out of hiding to uncover more explosive truths about his past. Fourth edition of the Jason Bourne story. Moderate violence and language.
BILLION DOLLAR BRAIN (PG)
9pm Sony Movies Classic
Starring: Michael Caine, Karl Malden, Ed Begley
Crime, Thriller
A former British spy stumbles onto a plot to overthrow Communism with the help of a supercomputer. But who is working for whom? Third outing for Michael Caine's Harry Palmer directed by Ken Russell. Moderate violence.
THE JUROR (18)
9pm Sony Movies
Starring: Demi Moore, Alec Baldwin, Joseph Gordon-Levitt
Drama, Thriller
A juror in a Mafia trial is forced to convince the other jurors to vote not guilty by an obsessive mob enforcer. Tense courtroom thriller. Violence, language and sexuality.
QUARTET (12)
10.30pm BBC1
Starring: Michael Gambon, Maggie Smith, Billy Connolly, Pauline Collins, Sheridan Smith, Tom Courtenay
Comedy, Drama
At a home for retired musicians, the annual concert to celebrate Composer Giuseppe Verdi's birthday is disrupted by the arrival of Jean (Dame Maggie Smith), an eternal diva and the former wife of one of the residents. Delightful comedy-drama directed by Dustin Hoffman. Strong language.
BULLITT (15)
10.50pm ITV4
Starring: Steve McQueen, Robert Vaughn, Jacqueline Bisset
Thriller, Action
An all guts, no glory San Francisco cop becomes determined to find the underworld kingpin that killed the witness in his protection. Classic cop thriller with one of the best car chases on screen. Strong violence.
21 GRAMS (15)
11.25pm Sony Movies
Starring: Sean Penn, Benicio Del Toro, Naomi Watts
Crime, drama, thriller
A freak accident brings together a critically ill mathematician, a grieving mother, and a born-again ex-con. Gripping and intelligent thriller. Strong language, moderate sex, violence and drug use.
A MOST WANTED MAN (15)
11.25pm Film4
Starring: Phillip Seymour Hoffman, Rachel McAdams, Willem Dafoe, Robin Wright
Drama, Thriller
A Chechen Muslim illegally immigrates to Hamburg, where he gets caught in the international war on terror. Slow-burning yet tense spy thriller. Strong language, violence, references to torture and rape.
THE MIND BENDERS (12)
11.35pm Talking Pictures TV
Starring: Dirk Bogarde, Mary Ure, John Clements
Drama, Thriller
Dedicated British scientist Dr. Henry Laidlaw Longman (Sir Dirk Bogarde) tests the possibility of brainwashing. If the experiment succeeds, he will stop loving his wife Oonagh (Mary Ure). Creepy British thriller. Black and white.
THE DISAPPEARANCE OF ALICE CREED (18)
12.30am Horror Channel
Starring: Gemma Arterton, Martin Compston, Eddie Marsan
Thriller
A rich man's daughter is held captive in an abandoned apartment by two former convicts who abducted her and hold her ransom in exchange for her father's money. Underrated thriller with three stunning performances. Very strong language, strong sex, nudity, violence and threat.
THE OWL AND THE PUSSYCAT (15)
1.15am Sony Movies Classic
Starring: Barbra Streisand, George Segal
Comedy, drama, romance
A stuffy author enters into an explosive relationship with his neighbour, a foul-mouthed, freewheeling prostitute. Comedy lifted by the charm of the two leads. Strong language and sexual content.
THE JAZZ SINGER (PG)
1.45am Talking Pictures TV
Starring: Neil Diamond, Laurence Olivier, Lucie Arnaz
Drama, Romance, Music
The son of a Jewish Cantor must defy the traditions of his religious father in order to pursue his dream of being a popular singer. 80s remake of the famous 20s drama. Mild language and sexual content.
OUR IDIOT BROTHER (15)
1.50am Film4
Starring: Paul Rudd, Elizabeth Banks, Zooey Deschanel, Emily Mortimer, Rashida Jones, Steve Coogan
Comedy
Ned lived a happy life growing organic vegetables on a farm with his hippie girlfriend and his dog named Willie Nelson, but an unadvised incident with marijuana at a farmer's market lands him in jail. When he gets out of jail, he is off to live with his sisters. While Ned is still happy, his sisters are much less so. Comedy with a great cast. Strong language and sex references.