Director: Elliot Hegarty
Starring: Jack Whitehall, Harry Enfield, Matthew Horne, Sarah Solemani, Joanna Scanlan, Iain Glen, Clarke Peters
Written by: Freddy Syborn and Jack Whitehall
Running Time: 90 mins
Cert: 15
Release date: 21st August 2015
The poster for this big screen outing of the mildly popular TV comedy exclaims "Best School Trip Ever!" Can I just say right now that this is an out-and-out lie. Because even if you are a fan of the BBC Three show, even you might find this an utter monstrosity.
Alfie Wickers, the worst teacher in his school, has decided to take his class on one final trip for completing their GCSEs. Having caused chaos in Amsterdam, the idea of him being in charge of another trip is frowned upon by the parents and a planned journey to Las Vegas is out of the question, so a compromise is made. A trip to Cornwall with one of the parents coming along. Once there, the chaos starts all over again.
Every basic rule for these TV spin-off movies is met, or as I like them to be known as "The Holiday On The Buses Syndrome!" The rules are very simple: extend your half hour comedy to 90 minutes. Take your cast out of their comfort zone of their sit-com surroundings and send them on holiday (see Please Sir!, Are You Being Served, The Inbetweeners, Kevin And Perry Go Large – although just a sketch than a sit com but the rules still apply). Give the film a farcical angle, where what can go wrong, will (almost every TV Spin-off) and, more importantly, remove any form of humour that the TV series might have injected (far too many have met this rule).
What The Bad Education Movie offers us are a series of lame and unfunny set pieces, mostly dealing with something of a sexual nature or to embarrass Alfie Wickers, and expect its audience to laugh along at the hilarity. At the same time, riddle the film with stereotypes of the worst kind. So everyone in Cornwall is either very old and wrinkly or a pirate. Even the students familiar to viewers of the show are nothing more than typical stereotypes (the thug, the fat kid, the dumb girl, the smart girl, the camp gay boy). Then to add insult to injury is include a boy in a wheelchair and give him almost no lines whatsoever, so that the equality and diversity box has been ticked.
Then let the hilarity happen. Or in this case, you have a very long wait. Unless, of course, you enjoy watching Jack Whitehall zip-lining past the Eden Project with his trousers round his ankles, or Jack Whitehall swallowing an ancient foreskin, or Jack Whitehall playing his testicles on the head of a swan. This is the level of humour we are forced to sit through. Laugh? I thought I'd never start. You then realise that this is going to get worse when Mr Poppy from the Nativity films appears, playing a local policeman! By that point, I wanted to end it all there and then.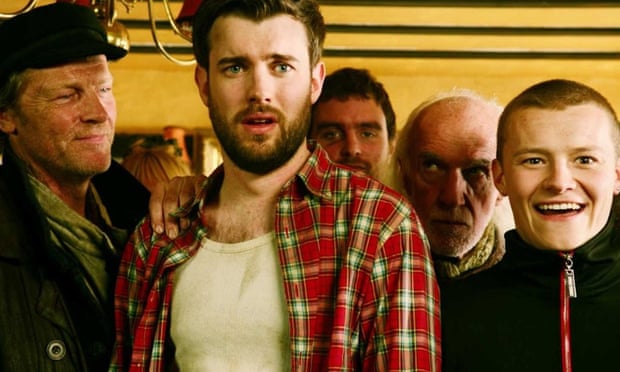 Jack Whitehall is a very likeable stand-up who, when live on stage, can be very funny. I wouldn't have minded watching a film of his comedy set (possibly as part of a collection of comics. I think 90 minutes might be pushing it). What I don't want to watch are pathetic jokes about drugs, the posh talking strange, a dim-witted head teacher who plays Eye Spy. Jack Whitehall is much better than this. Or is he?
I came out of a laugh-free screening (even the four teenagers sitting next to me and who the film is obviously aimed at, never laughed once) feeling utter despair. Is this the level we have gone to for our comedies to be funny now? Is this what we are sending to foreign markets as the level of comedy entertainment produced here? There are hundreds of talented writers and directors itching to get their work made and this is what we are given instead. Quite frankly it's pathetic beyond words and, dare I say it, Pudsey The Movie was funnier!
1/5