Directors: Anthony Russo and Joe Russo
Starring: Chris Evans, Robert Downey Jr, Scarlett Johansson, Sebastian Stan, Anthony Mackie, Don Cheadle, Jeremy Renner, Chadwick Boseman, Paul Bettany, Elizabeth Olsen, Paul Rudd, Emily VanCamp, Tom Holland, William Hurt, Daniel Bruhl, Frank Grillo, Martin Freeman
Written by: Christopher Markus, Stephen McFreely, (based on the comic book) Mark Millar, (based on the characters created) Joe Simon and Jack Kirby
Running Time: 147 mins
Cert: 12A
Release date: 29th April 2016
And so we begin Phase Three of the Marvel Cinematic Universe with a bang. A superhero-filled spectacular that could have been a messy affair where everyone is jostling for screen time. Instead, we are given a film that is exciting, funny and surprisingly emotional. In fact, this could be the best film Marvel  has produced so far. It's must certainly it's most mature.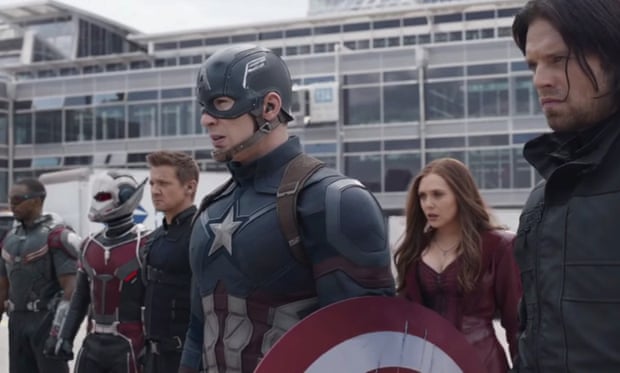 After causing series collateral damage in Africa, The Avengers are being held accountable for their actions by politicians, demanding they sign a UN treaty which will take away their personal decisions to act. Tony Stark is keen to sign while Steve Rogers has his doubts. When an explosion occurs on the day of the signing and the finger is pointed to Captain America's former friend, Bucky, known as The Winter Soldier, the rift between Rogers and Stark grows ever bigger.
It could have been so easy to have made another wham-bang superhero movie, where property is pointlessly destroyed and foes crash and bang around without a care in the world. Instead, directors The Russo Brothers have produced a very measured, intelligent tale that takes its time. The film starts off in 1991 with a sequence reintroducing The Winter Soldier, the metal-armed assassin, being programmed by villainous group Hydra to cause an accident. Leap forward to Africa and the new Avengers, led by Captain America, are chasing down an old foe, Rumlow, and accidently killing innocent people, thinking they are saving lives. This becomes the lynchpin of the film. Should these people, who believe they are saving lives, be allowed to act independently, to make them look like vigilantes more than heroes. Tony Stark feels they should be put on a lease while Rogers doesn't.
The rift begins and slowly the friendship that has grown between the two men is being pulled apart. For a good hour and a half of the 2 and a half hour running time, we wait eagerly for the well publicised big battle of good versus good, friend versus friend. When it does come, it doesn't disappoint. In fact, it has an element that the other superhero movie battle, Batman V Superman, doesn't have: humour. This is one of the funniest fight sequences ever, thanks, mainly, to Ant-Man and, more impressively, Spider-Man. Yes, the introduction of the web-slinger to the MCU is a huge plus. The geeky Peter Parker, not really understanding the whos, whats, and wheres of the relationship between Iron Man and the Captain quips his way around the various mini-fights while trying to impress his mentor, Stark, who uses him as an extra bit of muscle against his former friend.
It doesn't end there. Once the spectacle happens, a new layer enters the frame and it's the most human element of all: protection of the truth about one of the characters family that pulls the former friends even more apart. It leaves you breathless and unbelievably emotional.
This is a film dealing with very mature issues, not only politically but more so, human. Even the introduction of a villain isn't your usual megalomaniac but a man with a reason. New character, The Black Panther, is slipped in with good reason, although we are going to learn more about him in his own solo film while old characters are given enough screen time to make their appearances very welcome. With so many heroes on show, this never becomes too cluttered, unlike Age of Ultron.
Captain America: Civil War is a triumph in every way. It has a strong enough story to keep you gripped, with enough humour to keep you entertained while the darker moments are more poignant than bleak. After so many movies in the series, you would have thought that Marvel would have run out of steam. On this evidence, they are far from over and as we enter the new phase, with nine movies already slated to be coming soon, it seems that they are still setting the benchmark to how these films should be made.
5/5