Director: Matteo Garrone
Starring: Salma Hayek, Vincent Cassel, Toby Jones, Shirley Henderson, John C. Reilly, Hayley Carmichael, Babe Cave, Stacy Martin
Written by: Edoardo Albinati, Ugo Chiti, Matteo Garrone, Massimo Gaudioso and (based on the book) Giambattista Basile
Running Time: 133 mins
Cert: 15
Release date: 17th June 2016
Every once in a while, a film comes along that is so original, so startling in its visuals, so impressive in its storytelling that you thank the Lord that there are some filmmakers out there willing to take risks. In a time when the screens are filled with superheroes, special effects, and superficial sentimentality, what a joy to announce a film that will enrapture you from start to finish, no matter how bizarre it gets.
Inspired by the fairytales by Giambattista Basile, three stories tell of greed, obsession, and passion. A queen, desperately wanting a child, must eat the heart of a sea monster to create a child whose love is split between her and his friend; a king finds himself obsessing over a flea, to the point that he is willing to give up his daughter to the most inappropriate husband, while two weird sisters evoke a passion with a king who has an appetite for women.
Director Matteo Garrone, who gave us the sublime Sicilian gangster film, Gomorrah, has taken the tales of Basile and instead of reinventing them or giving them modern twists, has told them exactly as they were written. A darkly grisly series of adult fairy tales, although Basile's were subtitled "Entertainment for Little Ones", these are tales with a surreal and sometimes annoyingly strange edge. While the three stories have very little connection between them, Garrone manages to flip from one to another with ease and without too many disjointedness.
The main reason for this is the luscious production designs and camerawork. The costumes are exquisite and sit perfectly among the Italian castles. The scenery is breathtaking and is used as effectively as the actors. while the cinematography by Peter Suschitzky, simply glides around the screen, making ever scene almost picture-book like, made none more so impressive than the scene in which a king battles a sea monster under water. The framing is both unique and captivating.
What is even more impressive is that these stories are so graphic and well drawn out. Fairy tales of late have had to be reinvented for the sake of modern audiences. Here they are kept intact and never fluffed up to appeal to a younger audience. This is an adult world, filled with violence, sex and dealing with subject matters that you wouldn't normally find in such tales. Garrone never once panders to the Disney-esque. Instead, he gives it to us in a raw and shocking way yet manages to humanise them, so we get ogres that are more human than monster, we get witches with hearts. We get a king whose passion for the ladies are never kept behind closed doors. It is all laid bare for everyone to see.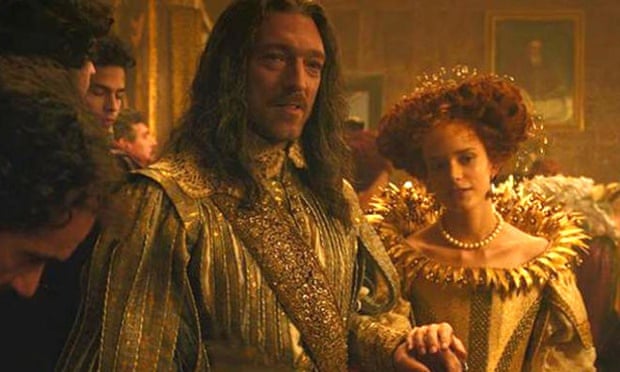 The performances are superb from an international cast. Most notably, Salma Hayek, as the queen filled with jealousy, is terrific, even if the dialogue is sparse, she manages to capture thoughts and moods with a simple raised eyebrow. Toby Jones gives a masterclass in focus as the king obsessed with a flea, while the excellent Shirley Henderson and Hayley Carmichael bring sympathy to roles usually called upon to be just hacking old women.
As beautiful as it is weird, as challenging as it is compelling, Tale of Tales is a cinematic equivalent of a box of chocolates. Sweet, hard, bitter, and occasionally soft centred. Yet with every bite, you get something different. Please, can we have more original cinema like this? Captivating.
Please note: This is available on demand as well as in the cinema, although I do advise you to see it on the big screen to embrace its glorious beauty.
5/5