Director: David Yates
Starring: Alexander Skarsgård, Margot Robbie, Christoph Waltz, Samuel L. Jackson, Djimon Hounsou, Rory J. Saper
Written by: (also story) Adam Cozad, Craig Brewer and (based on the 'Tarzan' stories) Edgar Rice Burroughs
Running Time: 110 mins
Cert: 12A
Release date: 6th July 2016
Tarzan has been swinging across our screen since the silent era, and his form has never really changed. Raised by the apes, his many adventures have captured the imagination of the viewers, none more so than when Johnny Weissmuller took the role in the 1930's. Now Edgar Rice Burroughs creation has been brought into the 21st Century for an audience that has been force-fed superhero movies since the beginning of the new millennium. Can a character survive in a world of Iron Mans and Captain Americas?
Living in England as Lord Greystoke, John Clayton is given an opportunity to return to his native Africa, where he was brought up by apes, as part of a trade deal with Belguim. Travelling back to the Congo with his wife, Jane, and George Washington Williams, an American envoy, it soon becomes apparent that this is more a trade-off by sinister Leon Rom of Tarzan to a tribe in exchange for diamonds.
Filmed almost entirely in the UK, this mash-up of live action and CGI follows the same process as The Jungle Book, except the effects here are less impressive than in Jon Favreau's joyful blockbuster. mainly because the film drags its feet so often that you care little for either the story or the characters. Director David Yates, who directed four of the Harry Potter films, as well as the soon-to-be-released Fantastic Beasts and Where to Find Them, cannot find the real magic in this film, instead over directing the piece to the point of annoyance.
We get flashbacks of the origins of Tarzan, being taken by the apes after the death of his human parents, as well as how he meets Jane. These explode onto the screen every time there's a lull in the action, with out of focus sequences and extreme close-ups that may seem impressive for the first few times but become increasingly aggravating as they occur more often. If the plot isn't leaden already without constant interruptions.
When Tarzan does swing into action, it's more like watching a naked Spider-Man. This is a man who can jump from great heights and still manage to grab a vine or battle giant gorillas, or take on a whole Belguim army or even a tribe. Tarzan has gone from Lord Of The Jungle to Lord of the World. Drop him into an Avengers movie and he wouldn't look out of place unless you wanted him to drop the odd one-liner, which would be tricky for a man of little words.
The story also plays around with some of the darker periods of history. Leon Rom being based on a real character, who allegedly beheaded tribal men to decorate his garden. Mixing a tale of politics, which tries to put Tarzan in a modern context. just doesn't work. The audience for this is after action and excitement and not how the King of Belguim ran up debts that he couldn't pay his army.
Performance wise, we get reliable Christoph Waltz as Rom, doing his best villain (and the man can make the most of a meal scene than any other actor around). Samuel L. Jackson delivers another ultra-cool performance with touches of comedy as Williams, while Margot Robbie is allowed to be a much more feisty Jane than in the past, although most of the time she is treated as the damsel in distress. As Tarzan, Alexander Skarsgård certainly looks the part and physically we believe he can mix it up with the best of them but he isn't given much in the line of dialogue and we cannot sympathise with him either, coming across as rather cold and vacant.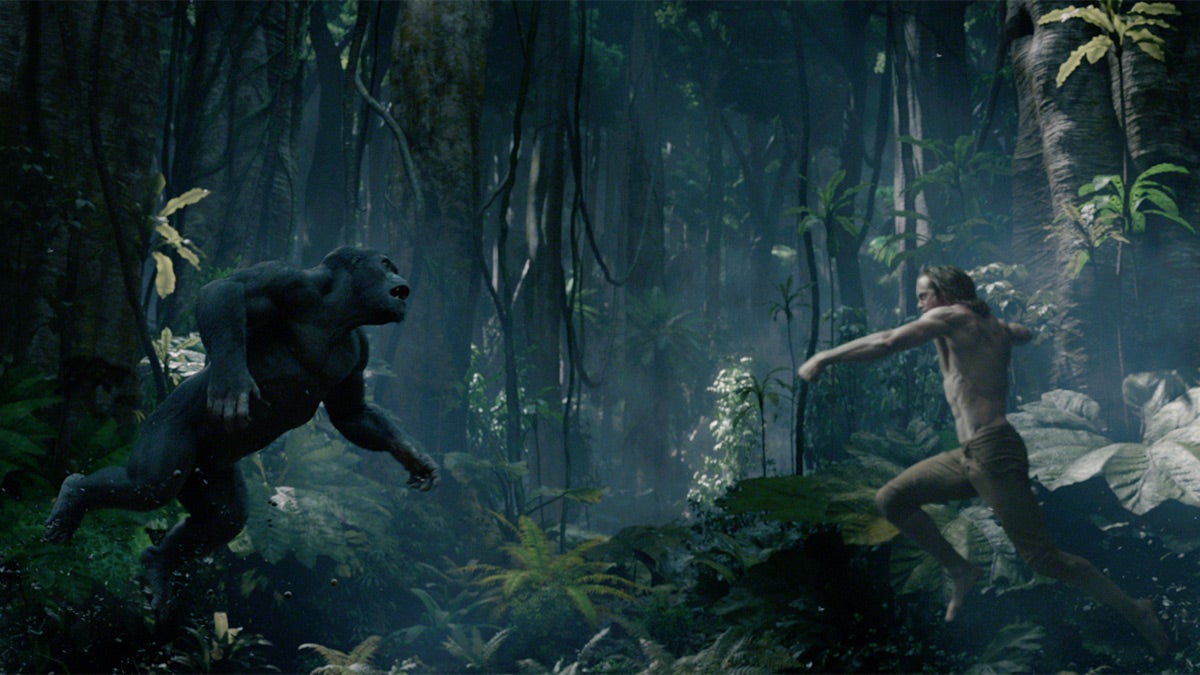 The Legend of Tarzan is a missed opportunity. This could have been the all-action, non-stop adventure blockbuster. Instead, we have a slow-moving bore that either excites or is full of any peril that could have us gripping our armrests. If they decide to bring him back, forget the superhero antics and give us a rollicking romp, which is what Tarzan should be.
2/5