Director: Jake Szymanski
Starring: Zac Efron, Anna Kendricks, Adam Levine, Audrey Plaza, Stephen Root, Stephanie Faracy, Sugar Lyn Beard, Sam Richardson
Written by: Andrew Jay Cohen and Brendan O'Brien
Running Time: 98 mins
Cert: 15
Release date: 10th August 2016
Once again, it's time for another gross-out comedy in which normally straight-laced actors are forced to belittle themselves with jokes that are neither funny or clever. Although you can understand why they all agreed to take part in this Wedding Crashers-lite movie, as a large proportion of it takes place in Hawaii. Thankfully this isn't as painful as previous similar films, thanks to a cast full of energy determined to make this work and an occasional titter or two.
Mike and Dave Stangle are not the flavour of the month when it comes to parties within the Stangle household, usually taking things too far and turning them into disasters. Ordered by their parents to find suitable, nice dates for their sister's up-and-coming wedding, the boys put an ad out and receive hundreds of replies. Alice and Tatiana, two drug-fuelled girls very similar to Mike and Dave, decide to win the boys over for a free vacation to Hawaii. What starts out as promising soon becomes a nightmare.
So what does this film do differently that the likes of anything with Seth Rogan or even the awful Dirty Grandpa do? Well, not a great deal. Made up of a series of set pieces that range from the totally deranged to the downright tasteless is the order of the day, while the actors riff in overlong scenes obviously off script that include them saying the F-word as many times as they can, in the hope that something is remotely amusing. Most of the time it isn't.
Where this film does have a saving grace is that some of the events are, occasionally, amusing and some of the ad-libs scenes do raise a smirk. Hard to believe, right? This from the man who has hated these comedies for years, finally finding one that isn't woefully awful. Well, compared to others like this, this is the Citizen Kane of gross-outs.
We get scenes where the human body is a source of amusement and the odd awkward moment (Dave catching his sister nude, the brothers bickering over open mics) come across as neither funny or original. A scene in which a bisexual relative offers herself to Tatiana for free backstage passes to a Rihanna concert and the girl accepting doesn't help matters. Although a scene in which the boy's sister is given a massage with a difference does, shockingly, hit the right mark.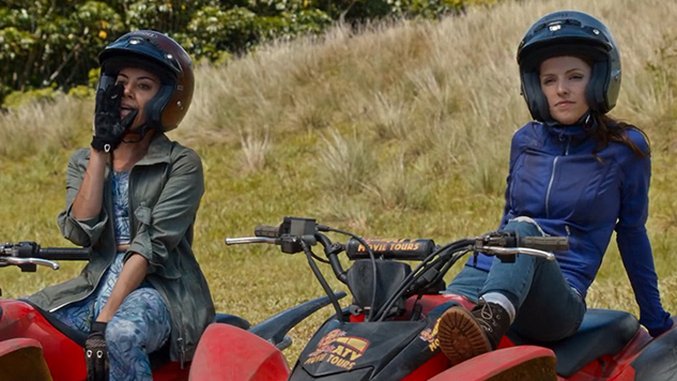 The film is really saved by the cast giving it everything they've got. Zac Efron, who went from teenybopper to king of these comedies, does what Zac Efron does: he plays handsome and removes his shirt. This time he is joined by Anna Kendricks, who, frankly, is far better than the material and looks sometimes out of placed and embarrassed to be there. Audrey Plaza, who scored big in Parks and Recreations, deserves better too. The real star, however, is Pitch Perfect alumni Adam Levine. Here is a comedy actor who knows how to riff and improvise, as proven in the outtakes. He has some of the better lines, most, I guess, are his own.
Mike And Dave etc is only just a marginal improvement on most of the other of this ilk, yet it would be nice to have had some original ideas and better jokes that don't rely on sex and drugs. In fact, give these four classier material and you could have had comedy gold. Instead, they are wasted on junk.
2/5