Director: Sharon Maguire
Starring: Renee Zellweger, Colin Firth, Patrick Dempsey, Jim Broadbent, Gemma Jones, Sarah Solemani, Emma Thompson, Sally Phillips, Shirley Henderson
Written by: Dan Mazer, Emma Thompson and (also story and characters created) Helen Fielding
Running Time: 123 mins
Cert: 15
Release date: 16th September 2016
Has Bridget Jones really been in our lives for over 15 years? The hugely popular book by Helen Fielding was turned into the hugely popular film back in 2001, followed by the equally popular but not as good sequel, Edge of Reason. Having been away from our screens for 11 years, fans of the wine-drinking singleton couldn't wait for her eventual return. Was it worth that wait? Maybe.
Bridget Jones is now in her forties and is back being single again. Deciding to live life to the full, she is taken to a music festival where she meets Jack, an American online dating billionaire and Bridget, taking the advice of her news presenter friend, Miranda, goes to bed with him. Days later, attending a christening, she meets up with ex Mark Darcy. After one too many wines, they end up in bed too. Which is where the problems really start for Bridget as she discovers she is pregnant but not sure who the father is.
I was a huge fan of the original Bridget Jones's Diary. A very funny comedy with a main character that women (and some men) could relate to in a time when British comedy was really finding their feet. The sequel disappointed in many quarters, mainly for falling into the trap of not really moving on but just giving the audience what they had experienced before. Now we get the long-awaited sequel that needed to be as good, if not better, than the first film. Sadly it falls short, mainly because it's just not funny enough.
The premise is a well-trodden one, that of one woman, two possible fathers. With Ms Jones, the walking disaster area as the woman, this had plenty of comic potentials. The strength of Jones's escapades is the high embarrassment level. Sadly, we have had to experience the likes of David Brent, who takes putting your foot into it to a whole new level. So Bridget is now, well, just an ordinary girl who is a little clumsy and who occasionally makes an error or two.
When the film does hit the mark, it's amusing enough and a far better bet than the 2004 film, yet those moments are few and far between. A scene involving a hospital swivel door is funny but offers plenty of opportunity for big laughs, yet it's over far too soon. While other scenes just come across as being drawn out. At over two hours the film suffers from length problems and could have survived by having some of its running time shortened.
Still, the cast is so likeable you can forgive them. Renee Zellweger, absent from our screens for far too long, proves once again what a talented comedic actress she is while her British accent is still faultless. Colin Firth returns to his stuffy, deadpan self as Darcy, while the addition of Patrick Dempsey's new-age man somehow works opposite Darcy's straight-laced Brit. Emma Thompson, who also co-wrote the script, gets the best lines as Bridget's bemused doctor.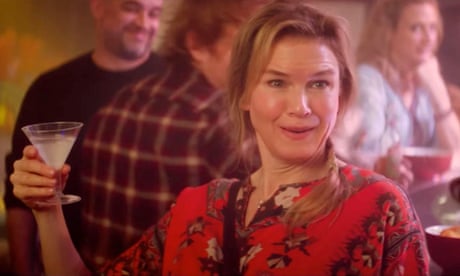 Having already made piles of money in the UK seems to show that Bridget Jones's fans haven't given up hope on her. The almost certain fourth film needs to get back to basics and have a much higher level of laughs than this or Edge of Reason did. Hilarious? No. Mildly amusing? Yes. It's nice to have her back. Shame she wasn't funnier.
3/5