Director: Danny Boyle
Starring: Ewen McGregor, Johnny Lee Miller, Robert Carlyle, Ewen Bremner, Kelly MacDonald, Anjela Nedyalkova, Shirley Henderson, James Cosmo
Written by: John Hodge and (based on the novel) Irvine Welsh
Running Time: 117 mins
Cert: 18
Release date: 27th January 2017
It was one of the most influential and innovated movies of the 1990's. It took an unfilmable novel and made it into a film that stood the test of time. It introduced to the world a filmmaker with great vision and talent, who has since gone on to be as famous as the young cast he populated in only his second feature. It has an iconic poster and soundtrack and within its hedonism of drugs, sex and violence, it is rightly now regarded as a classic. Trainspotting was over 20 years ago so it almost seems appropriate to see how the characters from that movie have developed. Now we have T2: Trainspotting and it's good to have the boys back.
After leaving behind Edinburgh for 20 years Mark Renton left for Amsterdam. Now, after having a life scare he has finally returned home to find a city he hardly recognises and to friends who are still resentful of his reasons for leaving. Spud tried to get his life together but after a lack of understanding about British Summer Time has returned to his drug-fuelled ways. Simon (Sick Boy) runs his aunt's failing pub and dreams of turning it into a brothel, raising money but blackmailing the rich and wealthy, while Begbie, having lost his chance of freedom, escapes prison only to continue his life of crime, soon discovering that revenge is just around the corner.
Trainspotting was always going to be a hard act to follow. It was such a powerful piece of cinema that there would be some who immediately think that it was a terrible idea to try and repeat what had gone before. So director Danny Boyle and screenwriter have decided not to even attempt it. Instead, we have a story that is more interested in developing the characters than taking them on another drug-induced journey. These are no longer kids in their 20's without a care in the world. They have grown up. Renton has completely kicked the habit. Sick Boy has gone on to use cocaine with only Spud finding it hard to live a life without hard drugs but for now a very different reason.
Where the first film capture a time and a general feeling of a nation, we now live in a different world, so the story faces that too. Boyle has always been politically acute and he sets this new film in a world where health is more important than excess, where the old is being destroyed and replaced and where heroin has been replaced by cocaine and viagra. It's also a film about nostalgia, with constant references not only to the previous film but to the past in general (a nightclub devoted to 80's music, Renton's childhood memories).
This is also a much more sober movie. Gone are the episodic moments where the viewer are allowed to feel the same drug-fuelled journey that the characters were experiencing. Now we have a coherent storyline about revenge, about forming new friendships and about moving on. Boyle still manages to impress with some smart cinematic tricks and treats and while the soundtrack may not be as memorable as the first time, he still understands the power of music to move the film along.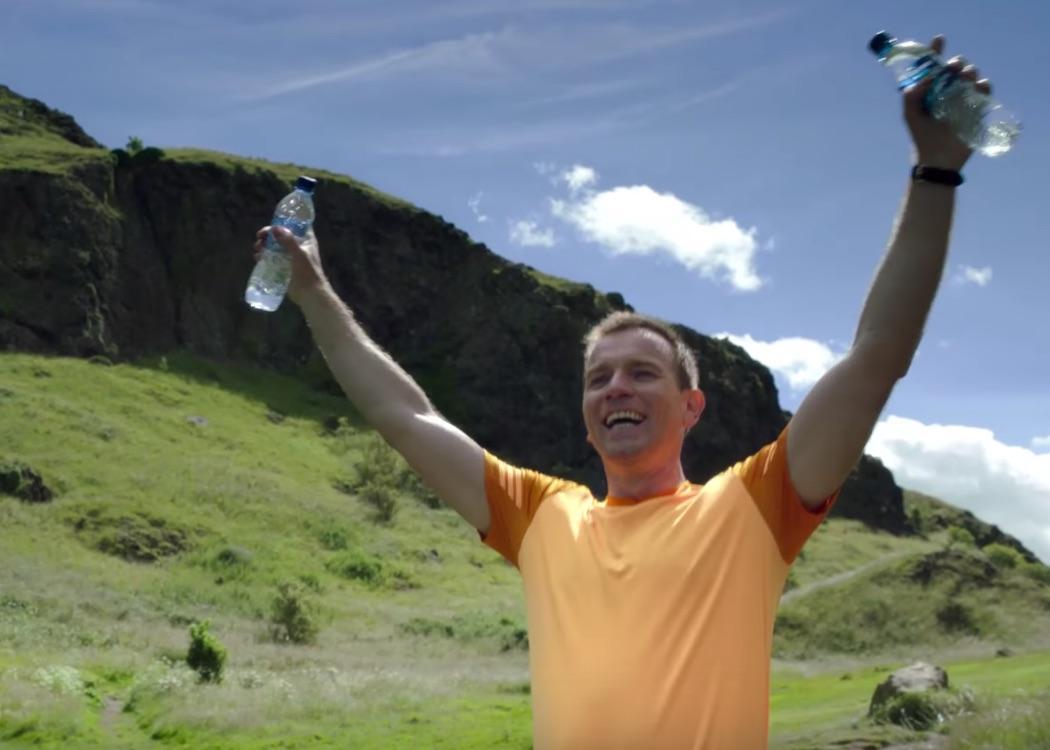 More than anything, we are allowed to spend some time with the characters we enjoyed being within the past, except this time we get to understand them better. It's also nice to see the cast reassembled without any replacements. Ewen McGregor and Johnny Lee Miller as Renton and Simon seem to really enjoy being back together and apart from a brutal fight sequence, their obvious friendship off screen really shine through here. Robert Carlyle's Begbie and Ewen Bremner's Spud are the real stars of this film. Begbie, brimming with resentment of being locked away for 20 years, as well as an inner hatred for Renton, hasn't dampened his inner psycho and is unbelievably unsettling. You nervously wait for the face-to-face meeting, while Boyle neatly allows the tension to build, making the time they do clash almost heartstopping.
The real emotional centre to the film is Bremner's Spud. Previously a lost soul, we see him almost pulling it together until his lack of understanding about time destroys it for him. On the brink of death, his only remedy is the return of his former friend and his opportunity to put his story down on paper as a warning to others, which keeps the two films together. Bremner steals the film from everyone, with a hugely sympathetic performance that manages to be funny and sad at the same time.
If you go in expecting a carbon copy of Trainspotting, or even a film that can top it, then you will be bitterly disappointed. If you go in because you want to see how those characters from old have grown-up, then you are in for a treat. This might not be the innovating piece of cinema that the 1996 film was but it's still an enjoyable ride with interesting company. These guys have matured very well. A scary fun ride with a touch of sadness thrown in for good measure.
4/5