Director: Joe Wright
Starring: Gary Oldman, Kristen Scott-Thomas, Lily James, Ben Mendelsohn, Ronald Pickup, Stephen Dillane, Nicholas Jones, Samuel West
Written by: Anthony McCarten
Running Time: 125 mins
Cert: PG
Release date: 12th January 2018
The attention around this movie about the early days of Winston Churchill's role as Prime Minister is mainly aimed at one man: Gary Oldman. Heavily touted as being the big winner at this year's Oscars, it is, without a doubt, an extraordinary performance. Sadly, it's one of those occasions when the performance is better than the film and Joe Wright's dramatisation of those early days at the height of the war suffers from being overblown and over-directed.
1940 and the country are losing confidence in Neville Chamberlain's leadership. Calling for his resignation, the man to fill his shoes is less popular within the halls of Westminister than the previous Prime Minister. Winston Churchill had made several bad decisions in the past and so placing him in charge of a country looking like they are going to be invaded by the Germans could see Britain brought to its knees. With the troops stranded at Dunkirk, it's up to Churchill to decide either to go into peace talks with Hitler or to try and bring his soldiers home and fight on.
There's no denying that this is a story that many may not know. Just how hated Churchill really was within the ranks of his own party, only placed in the position to appease the Labour Party. Even King George IV distrusted him and they all waited for him to make a mistake, resign and then Viscount Halifax, a supporter of Chamberlain, could step in.This side of the events are fascinating and are just as interesting as the parts of history that are well documented, the evacuation of Dunkirk and the bulldog attitude of never giving up.
The problem with how Joe Wright delivers this story is by delivering it, not in a subtle and quietly assured manner but turning everything up to 11, from the lighting, soundtrack and it comes across as bombastic as the flag-waving tales that sometimes comes from Hollywood.
The lighting would be more suited in a film noir thriller than a tale of a man with the world on his shoulders. Shadows, shafts of lights and, in a scene where Churchill addresses the nation, a covering of red from the "on air" bulb instantly detaches you from the story being told. Characters are shown in darkness, especially King George as if he had it in his contract to only speak to Churchill if there was some backlighting. Scenes of the leader driving through the streets of London looking at the world passing by his window, all shot in slow motion, show an almost unnatural world where every cliche is played out: men with flat caps, businessmen in suits and even nuns, all look like they belong somewhere else other than a film about a country at war. One particular scene, in which Churchill rides the tube alone and gets a mini-referendum from the passengers is so out-of-place, almost laughable that anything natural about the film is lost.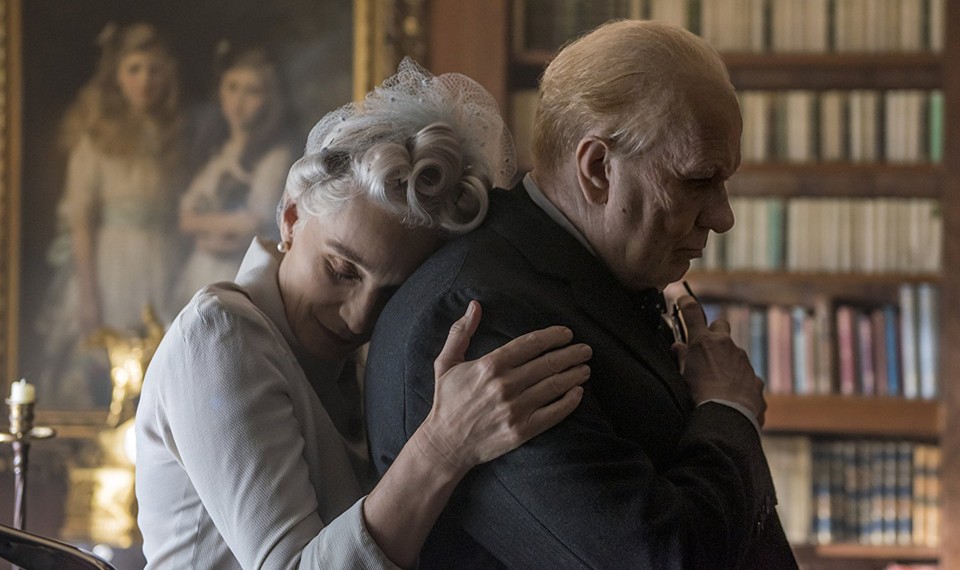 The score is also incredibly intrusive, with triumphant, rousing orchestration interrupts what are otherwise quiet scenes of dialogue. The whole film has a whiff of the theatricals about it, which all seems rather unnecessary and so detaches you from the action. The script doesn't help either. Everything has to be explained in great detail and so in places, it comes across as awkward and unnatural.
It is up to the performances to pull this through and thankfully, they do. Lily James os solid as Churchill's secretary, while Kristen Scott-Thomas is her usual strong self as his tough-than-nails wife. Yet the film belongs to Oldman. An actor who surely falls into the category of underrated, here he doesn't just play Churchill, he comes Churchill. Completely dominated by this larger-than-life man, Oldman catches every nuance of the man, showing not only the monster that he could be but a man at odds with his cabinet and with a country wanting him to deliver. It is a powerhouse of a performance and the kind that deserves awards attention. About time that Oldman got recognised.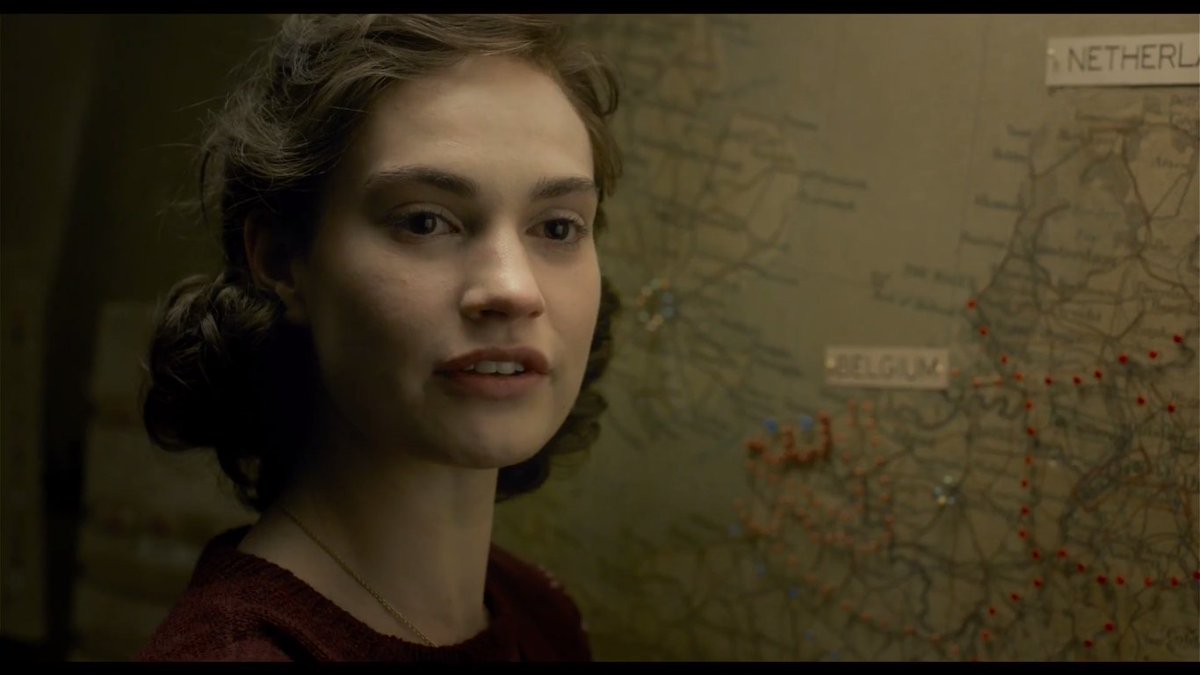 Darkest Hour is a disappointment, considering that Wright gave us Atonement and the massively undervalued Hanna and while the direction is far too much, it's still worth catching for Oldman, proving once and for all that he should be up there with the best of the screen actors.
3/5