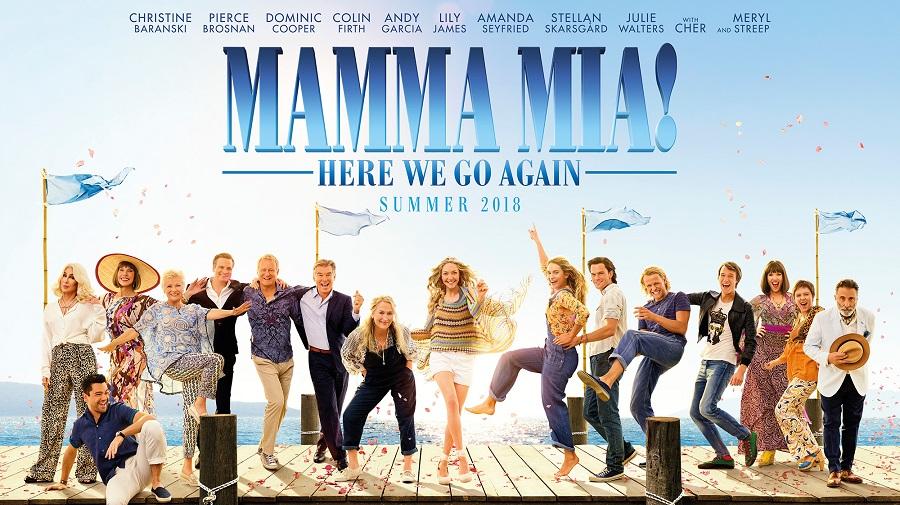 Director: Ol Parker
Starring: Lily James, Amanda Seyfried, Meryl Streep, Dominic Cooper, Pierce Brosnan, Stellan Skarsgard, Christine Baranski, Colin Firth, Cher, Julie Walters, Andy Garcia.
Written by: (Also story) Ol Parker, (story) Richard Curtis, (also based on the original musical) Catherine Johnson, (originally conceived) Judy Craymer
Running Time: 114 mins
Cert: PG
Release date: 20th July 2018
Ten years ago, in the summer of 2008, cinemas were buzzing with the sound of ABBA as Mamma Mia, the film of the smash hit stage musical, debuted. Now we get an original sequel with more ABBA songs to dip into and a bigger cast. Will it outdo the first film in energy, campness and general feel-goodness?
Sophie is reopening her mother's hotel and while dealing with marital problems and fear of failing, she copes by thinking of her mother's plight when she first came to Greece and met her three possible fathers for the first time.
Fans of the first film will be pleased to know that everything they enjoyed the first time is here once again. Glorious Greek scenery: check. ABBA songs, some very familiar (Waterloo, Super Trouper) some not so familiar (Hole in my Soul): check. Actors who can't sing or dance but try their best: check, check, check. This time there is a couple of bonus in the form of a glorious cameo and a change in the central performance, who brings a new level of fun.
The film starts off on an odd note with the marital difficulties of Sophie and Skt. She in Greece, he's in New York. Not the best start to what should be an upbeat celebration. It then shifts gear as we start to follow newly graduated Donna as she goes out into the world and finds that her heart is on the Greek island, showing how she met the three men, one who could be the father of Sophie.
While these events occur, we flit back to Sophie panicking about the opening of the hotel as a storm gets in the way, although Rosie and Tanya, Donna's university friends, come to lend a hand. For the first half of the film, the adventures of the young Donna become more entertaining than what is happening on the island with the hotel. Thankfully, one musical number changes that and for a while, you genuinely think that the beats of the previous film are missing. Lucky for us, they pick up.
The returning cast is like watching old friends on a reunion. Pierce Brosnan sings once again but it isn't as painful. Stellan Skarsgard and Colin Firth add a little humour, while Amanda Seyfried seems to have been given all the drab songs that slow the pace down. Thankfully, it's Angel Eyes performed with comic gusto by Christine Baranski and Julie Walters that saves the modern story and manage to pick up the pace. From that point on, the film starts winning.
Not that the first part is a complete loss thanks to Lily James's energetic performance as the Young Donna. She is the focal point of the story and she takes it with aplomb, giving us a wonderfully likeable Donna while punching out the musical numbers like a theatrical pro. Introduced with When I Kissed The Teacher, she takes every opportunity to shine.
Having Cher appear as Sophie's grandmother is also a coup that works. Who would have thought Cher would be singing a duet with Andy Garcia and their version of Fernando is strangely magical. As for the finale, be prepared to shed a tear or two.
Mamma Mia! Here We Go Again is flawed and it doesn't grab as quickly as the first film did but there is still plenty to enjoy and if you are a fan of ABBA or, for that matter, spandex, you will come out with a grin on your face and humming the great tunes. Don't leave till the end credits are completely over, otherwise, you will miss an extra outtake from scene-stealing Omid Djalili. If you are feeling a little blue, this is the tonic to pick you up.
4/5