Director: Peter Farrelly
Starring: Viggo Mortensen, Mahershala Ali, Linda Cardellini, Sebastian Maniscalco, Dimiter D. Marinov, Mike Hatton, P.J. Byrne
Written by: Peter Farrelly, Nick Vallelonga and Brian Currie
Running Time: 130 mins
Cert: 12A
Release date: 30th January 2019
You can always tell it's awards seasons, as the film companies release their "issues" films, movies that deal with heavy subject matters like sexuality, abuse and race. This year, among the usual array of costume dramas and memoirs of a better time, are the race films. We've already had Spike Lee's BlackkKlansman, now we have Geen Book, a crowd-pleasing tale based on a true story about two men on different sides of the race fence, thrown together in order for them to see life in a different way.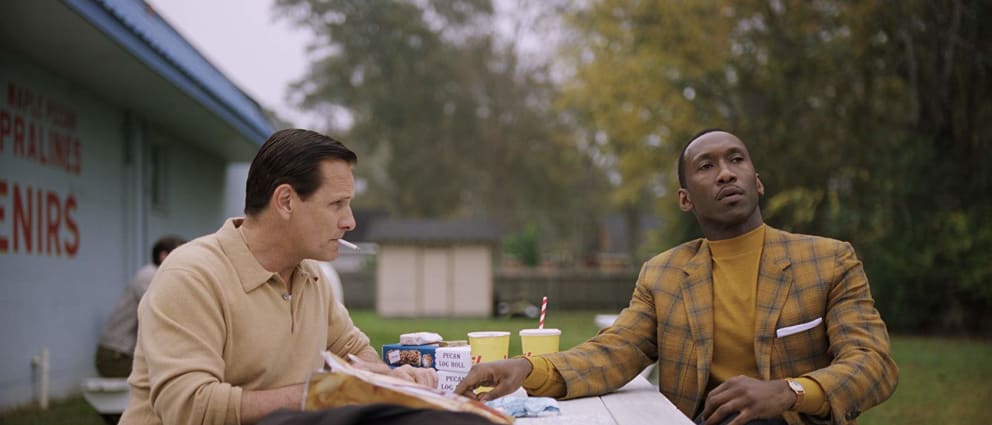 It's 1962 and Tony "Tony Lip" Vallelonga has become unemployed from his job as a bouncer in a nightclub while it closes for renovations. With Christmas around the corner, he takes an eight-week position as a driver for African-American classical pianist Dr Don Shirley on a concert tour of the Deep South. Armed with The Negro Motorist Green Book, a travel guide of motels designed for the country's racial segregation, Tony and Don Shirley are poles apart in culture and attitudes but as the journey goes on, they bond and are faced with an understanding of the race problems in America at that time.
Directed by Peter Farrelly, more famous for the gross-out comedies he produced with his brother, Dumb and Dumber, There's Something About Mary, this comes as a surprise and yet, even though it is dealing with hefty issues, is funny for all the right reasons and not, like his previous films, cheap shots. This is a road movie that tackles the race problems that occurred in the States at that period of time and by throwing a man with no social graces and his own racist opinions with a refined gentleman, it manages to create some interesting scenarios.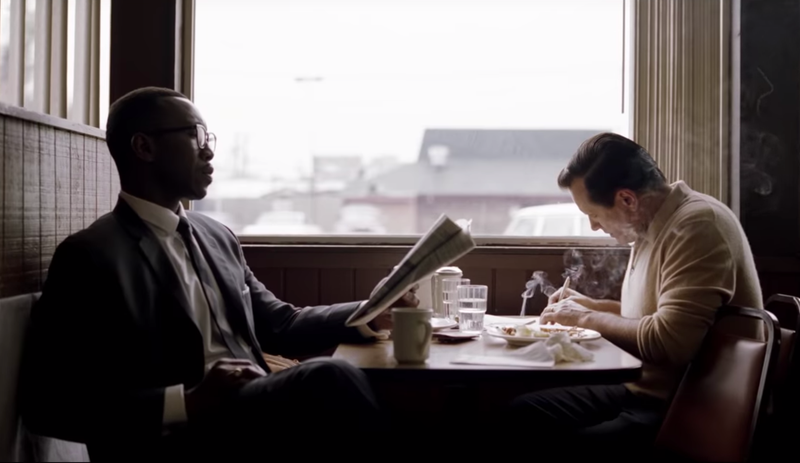 Tony is an Italian-American without a filter. He is a brutish lout who would rather use his fists than his brains and yet his friends gave him the name Tony Lip because of his ability to persuade or BS. Don Shirley is the complete opposite, a man who has lived his life in solitude, speaks nicely and who doesn't conform to the stereotype of a Black African-American. Yet these two very different men have to travel together in a land neither have experienced before, having to be separated from each other due to colour, being victimised and refused entry to the restaurant that Don Shirley will be playing for the White customers.
This relationship is mainly played out inside the car that Tony is driving with Don Shirley sitting in the back. Along the way, Tony introduces his passenger to Little Richard and fried chicken, while Don Shirley helps with letters to Tony's wife and trying to get him to understand that a black man driving through the Deep South of America is never going to be accepted with open arms.
Very reminiscent to the Oscar-winning 1988 drama Driving Miss Daisy, which follows very similar lines, this does, on occasions, feel too light considering the subject matter and it plays to the audience so they don't feel too guilty by the end. Unlike BlackkKalnsman, which manages to jar you at the end, this intends its audience to leave with a good feeling. The message of race is still there, it's just done in a less harsh manner.
Having said that, the performances are insanely good. Linda Cardellini, as Tony's wife, Dolores, is a delight, managing to be a far more relaxed individual when it comes to race than her husband. Yet it is the two leads who dominate the picture. Viggo Mortensen, as Tony, is tough, lacking in class and yet even when his darker side appears, you cannot help but warm to him. He struts around like a thug, yet his heart belongs to his wife and family and his eventual understanding of the way the world deals with colour becomes almost a revelation.
Mahershala Ali, still fresh from his Oscar win in Moonlight, looks like he will do it again this year for his performance of Don Shirley, a quietly spoken man with an education, pose and manners, who tries to fit in and yet he knows its an uphill battle. The pair works terrifically together and if there is any justice in the world, they should both be rewarded because one wouldn't work without the other.
Green Book is a very good movie. It manages to entertain while still getting its message across. If you want a harder edge to the argument of race, then BlackkKlansman is your film. If you want to leave the cinema being shocked but still feeling good, then this will do the trick.
4/5