Director: Robert Rodriguez
Starring: Rose Salazar, Christoph Waltz, Jennifer Connelly, Mahershala Ali, Ed Skrein, Jackie Earle Haley, Keean Johnson, Jorge Lendeborg Jr.
Written by James Cameron, Laeta Kalogridis, Robert Rodriguez and (based on the graphic novel series "Gunnm") Yukito Kishiro
Running Time: 122 mins
Cert: 12A
Release date: 6th February 2019
There has been a lot of buzz about this James Cameron produced, Robert Rodriguez directed sci-fi adventure based on a Manga series. After years in production, was it worth the wait? Is this the film that bridges the gap before we are inundated with Avatar movies? As a piece of visual spectacle, it delivers but that's about it.
Set in a dystopian future, a cybernetics expert, Dr Dyson (I kid you not) discovers on a trash heap created by the huge spaceship that hangs over the city, the head of a cyborg female with a brain. After rebuilding her, she cannot remember where she came from but she has skills when it comes to being in danger. As her past starts to catch up with her, Alita has a mission she has to complete.
Considering the source material, a Manga novel called Gunnm is a vast and expansive creation, it was always going to be ambitious to bring the comic to life and visually, they have managed to achieve that. Alita, a small girl with enormous eyes who looks like butter wouldn't melt, is a secret warrior, an unconscious killing machine who can take on even the biggest and most brutal of men. Where Rodriguez and his team have managed to conjure up is an impressive landscape with some exciting visuals. As well as this, the 3D for this film is far more superior than many others, mainly because this is a Cameron production and he was the man who pushed the format down our throats 10 years ago with his blue aliens.
Where the film suffers is from a sense of overfamiliarity. As you watch this cyborg trying to find the truth about herself, you start ticking off a collection of other films this seems to have borrowed quite heavily from. The whole dystopian future feel has elements of The Maze Runner and other Young Adult stories; there's touches of Blade Runner from the neon-lit nighttime scenes to the collection of bounty hunters who prowl the streets. The game that plays a minor distraction to the story is certainly more than a whiff of Rollerball to it, while the half human, half robot as well as some of the security systems, definitely owe some of its touches to Robocop.
The film also is dragged down by a lumpy script. Cameron, who co-wrote it with Laeta Kalogridis and some help from Rodriguez, has, in recent years, struggled with over exposition scripts and this has the same fate. We are constantly told what is happening in great detail and then reminded every chance we get a lull in the action. These scenes often slow the pace down and in some cases, are a tad dull.
Thankfully, along with some well-staged action sequences and the impressive CGI, the performances are decent enough to keep the attention, particularly Rose Salazar as Alita, who is a revelation. She managed to convey an innocence with a violent past while still keeping her believable. It's a star-making performance and her name should be remembered for future reference. Elsewhere, Christoph Waltz is quietly entertaining as the unfortunately named Dr Dyson and flavour of the month, Mahershala Ali, currently wowing everyone n Green Book, gets to play devilish baddie here.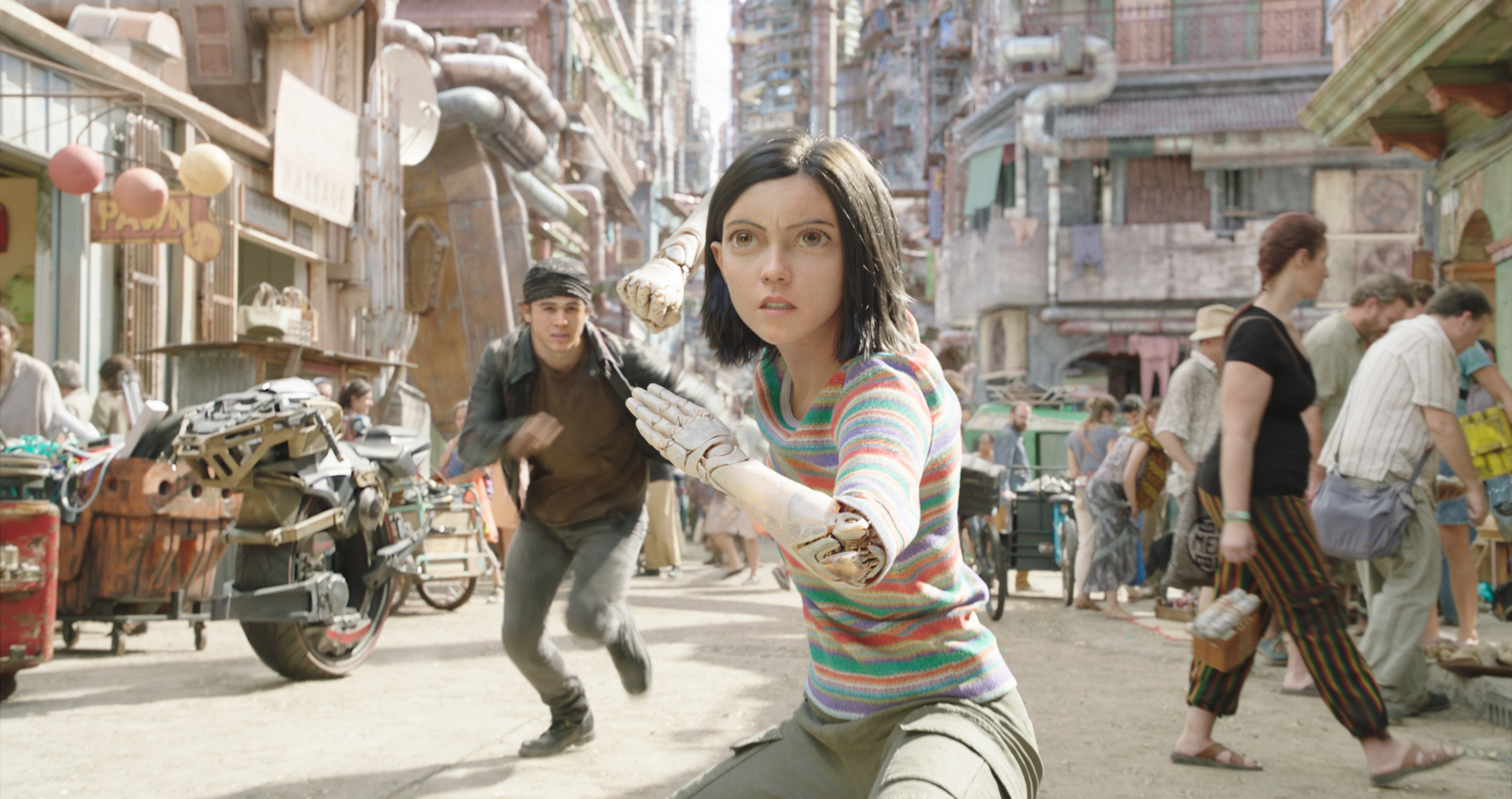 Alita: Battle Angel is an impressive piece of popcorn fodder and is fun when the action kicks in. It's just a shame that the script is often so lumbering. Definitely a case of style over substance. There's also a question I have for the finale and without giving away any spoilers…how did she get down?
3/5