Director: Marielle Heller
Starring: Melissa McCarthy, Richard E. Grant, Dolly Wells, Ben Falcone, Gregory Korostishevsky, Jane Curtain, Stephen Spinella, Christian Navarro
Written by: Nicole Holofcener and Jeff Whitty
Running Time: 106 mins
Cert: 15
Release date: 1st February 2019
One of the joys of watching films is finding out about stories that you may never know anything about. Can You Ever Forgive Me? is one such film, a delight based on actual events about how one desperate woman needs money, who finds herself drawn into a world of forgery and fraud that is so bizarre it can only be true. What this film also manages to do is bring two contrasting actors together and give them the best roles of their careers.
Lee Isreal is a woman stuck in a rut. Her biographies are not selling. Her publicist won't help her. She needs money for rent and to pay for her precious, sick cat. She requires some cash. While researching a book about Fanny Brice, she discovers a letter hidden in a book from the actual woman. Lee takes it to a book dealer who pays money for it. Lee finds she has a skill of using the voice of other writers, and so she starts her own business forging letters from prominent authors and celebrities from the past. She forms a bond with Jack Hock, an ageing gay man who befriends Lee in a bar. Yet as the deception grows, so do the chances that things could go wrong.
Marielle Heller, the director of the underrated Diary of a Teenage Girl, handles the material with soft, respectful gloves. This is a quietly confident production, brimming with delights and surprises. Heller uses her setting of New York well, capturing the more romantic side of the city without ever being drippy or sentimental. The music, a collection of jazz tracks, help to achieve the mood and the beats of the crime this failing writer is committing.
What really helps this film work is the cracking script, full of bright lines and terrific dialogue. Like the material that is being forged, these are words of craftspeople and  Nicole Holofcener, and Jeff Whitty is those two scribes. It flows brilliantly as we follow Lee's journey into creating more and more elaborate letters, knowing all the while she could be caught at any time. The friendship between Lee and Jack is also gentle and believable, two people with demons and secrets that never really get explored or even lingered over, yet this never harms the story but makes it even more endearing.
Lee's own relationships, whether it be with her ailing cat or with the friendship she sparks with bookshop keeper, Anna, is sweet considering how hard-edged and acid-tongued Lee can be. Even when with Jack, she fires some well-aimed arrows of viciousness. Thankfully he gives as good as he gets.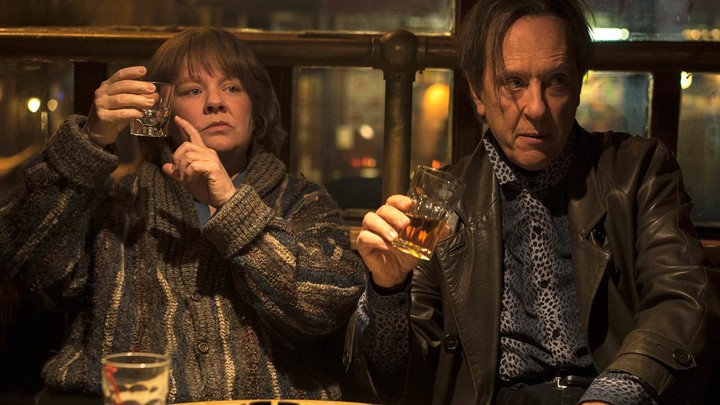 The real triumph comes in the unlikely pairing of Melissa McCarthy and Richard E. Grant. McCarthy, whose film career has met with some very dubious decisions of late, really hits the jackpot here, giving her best performance to date as Lee. She conveys a woman on the edge who takes no prisoners and yet has a softer side which she brings out. McCarthy makes you genuinely care about this woman, none more so than in the final scenes. Richard E. Grant is the film's real treat. With a role that you can easily compare to his most famous from Withnail and I, Grant brings his grandeur the part of the gay alcoholic who seems to enjoy life by using his charm and wit. He is the perfect foil to McCarthy's brash Lee.
Can You Ever Forgive Me? is a smart, sassy, winning film that is often beautifully underplayed and understated, yet you cannot help but smile throughout. Hopefully, this will bring much more opportunities for its stars and who knows, they might have created a new partnership. I would pay good money to see them working together again. Simply delightful.
5/5