Director: Barry Jenkins
Starring: Kiki Layne, Stephan James, Regina King, Colman Domingo, Teyonah Parris, Michael Beach, Aunjanue Ellis
Written by: Barry Jenkins and (based on the book) James Baldwin
Running Time: 119 mins
Cert: 15
Release date: 8th February 2019
I have always said that if I go into a film with high expectations, I am often than not disappointed. I really should listen to my comments because I was extremely excited to see the new movie by Moonlight director Barry Jenkins. After the wonderment of that Oscar-winning drama, I couldn't wait to see what this talented young director would do next. Word of mouth for If Beale Street Could Talk was high, with awards and nominations being lauded on it. While there is so much to commend it, it was, for me, that difficult second album.
1970's Harlem. Tish and Fonny grew up as friends but have fallen in love. Yet they have to face the agonies of the world when Fonny is arrested for a crime he didn't commit while Tish discovers she is pregnant. With her family behind her and his hating her, they forge a battle to prove his innocence while Tish faces the fact she could be raising the child alone.
Jenkins is, without any questioning, an exciting new talent who uses cinema quite brilliantly. The cinematography is glorious, with terrific use of lighting and colour, while Jenkins, like in Moonlight, uses the human face as a palate to tell the story. With slow motion for critical moments and lingering shots of a perfectly framed image, you cannot but applaud a man who cherishes the art of cinema. Add to that the beautiful score that compliments the film instead of overemphasising the action.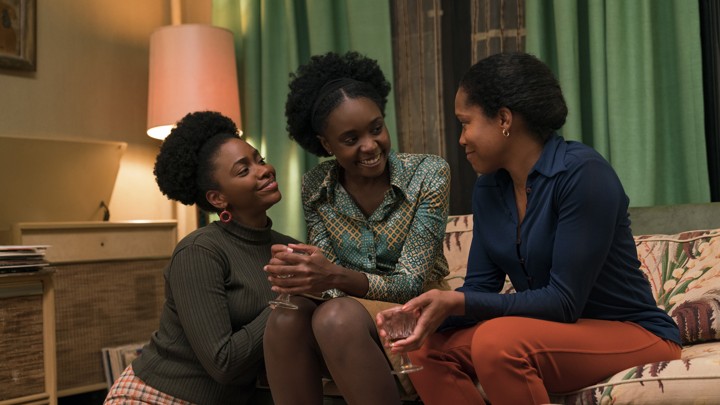 The story of love, family and racial tension, however, is the film's problem. Jenkins has an essential and powerful source material in James Baldwin's novel, yet the film takes its time to tell its tale to the point that the pacing slows down to almost a stop. We get the story played out in flashback and real time, showing how Tish and Fonny grew up to eventually falling in love, leaving the alleged crime till later in the film and there are moments when the artistry sometimes interferes with the storytelling. Shots linger far too long, bringing the proceedings to a jarring halt which also affects your emotional connection to the characters.
I was left cold to Tish and Fonny's predicament which is something I didn't expect. I wanted to be swept away with their love, which is apparently real and beautiful. A sequence in which they spend the night together for the first time put together with care and attention and is far from sordid but enchanting. Yet I couldn't bring myself to connect with their plight. When the film really works is when Jenkins brings a sense of realism to the story. When Tish's family invite Fonny's family to share the news, it is a mix of comedy, joy and sudden, heartbreaking pain, as Fonny's religious mother doesn't share the happiness of the moment. This is a crucial scene, not only as it shows the divide between the families but a realism rarely seen in films about black families in cinema. Yet these scenes are few and far between, and I would have wanted more like this.
The performances, however, are terrific. Kiki Layne and Stephan James, as the young lovers, are superb, bringing a freshness and realism to their characters. You believe these two are in love. Regina King, hotly tipped for Oscar success, as Tish's mother, is also on fine form although her performance isn't as impressive as the two leads. Colman Domingo, as Tish's father, lifts the film every time he appears, bringing well needed comedic relief.
If Beale Street Could Talk is a vital film. After the crowd-pleasing Green Book, this tale of racism tension is far more powerful and thought-provoking. Yet it is so understated and underplayed to the point of annoyance and, sadly, boredom. There is so much to celebrate, I just wish it had connected more with me.
3/5