Director: Sean Anders
Starring: Mark Wahlberg, Rose Byrne, Isabela Moner, Gustavo Quiroz, Julianna Gamiz, Octavia Spencer, Tig Notaro, Margo Martindale, Julie Hagerty
Written by: Sean Anders and John Morris
Running Time: 118 mins
Cert: 12A
Release date: 14th February 2019
There aren't that many movies about foster care, so Instant Family has to be commended for trying to put that wrong right. Daddy's Home director Sean Anders' comedy-drama, based on his own experiences of adoption,  has its heart definitely in the right place. What's so unfortunate is that for a film about the difficulties of coping with children being moved from home to home, it is incredible saccharine sweet to the point of vomit inducing.
Pete and Ellie seem to have everything although there is something not quite perfect in their world. When they discover a fostering website, the pair realise that children could be the answer to their dreams. Attending classes, they become more and more confident. So much, they decide to take on teenager Lizzy. What they don't realise is that Lizzy is just one child of three and when they say yes to the small family, they think it's going to be easy. They thought wrong.
With its peppy poster and advertising campaign, Instant Family comes across as another mismatch comedy about two adults entirely out of control with three cute kids running them to the ground. On the whole, it is precisely that movie (think Cheaper By The Dozen). What Anders has managed to do is go much deeper than that, showing us the process that families have to go through, the trials and tribulations of coping with damaged goods and, of course, what happens when the biological parent comes back on the scene.
While good-natured Pete and Ellie think that everything is going to run smoothly, what they don't understand is that taking on three children where the eldest has in the past played mother to the youngest can only mean conflict. With Lizzy, Juan and Lita, three children of a mother who has been imprisoned and was running a crack house, comes anxieties and difficulties. Juan, a walking disaster area, is always on edge. Lita, the youngest with a scream that could shatter glass and Lizzy, a 15-year-old who first comes across as grateful, soon becomes every parent's nightmare of a teenage girl: stubborn, attracted to an older man and refusing to be parented by two white middle-class people.
The film works best when Pete and Ellie have to face the darker parts of this relationship and failing. It also works as an examination of the whole fostering process and just how tricky it can be. Where it fails is being so increasingly upbeat and sickeningly sweet, where everyone shares the love (at meetings, there seems to be a lot of hugging). The ending will either leave you with a spring in your step or just wanting to scream at the screen…enough now!
The jokes range from amusing to pathetic, and the characters that seem to work the best are the organisers of the foster service, Karen and Sharon, two women poles apart with their attitudes. Karen is often bleak and honest while Sharon naturally follows the rules. There's one foster parent, a single woman who wants to reenact The Blind Spot scenario. This gag runs out of steam quite quickly.
The performances are fine. Mark Wahlberg as Pete is back to playing the sweet-natured, blue-collar worker while Rose Byrne as Ellie is a wacky, often out-of-control woman who is desperate to be liked. Octavia Spencer and Tig Notaro as Karen and Sharon almost steal the film from everyone, while the kids range from obnoxious to terrific, with Isabela Moner as Lizzy proving a real star turn.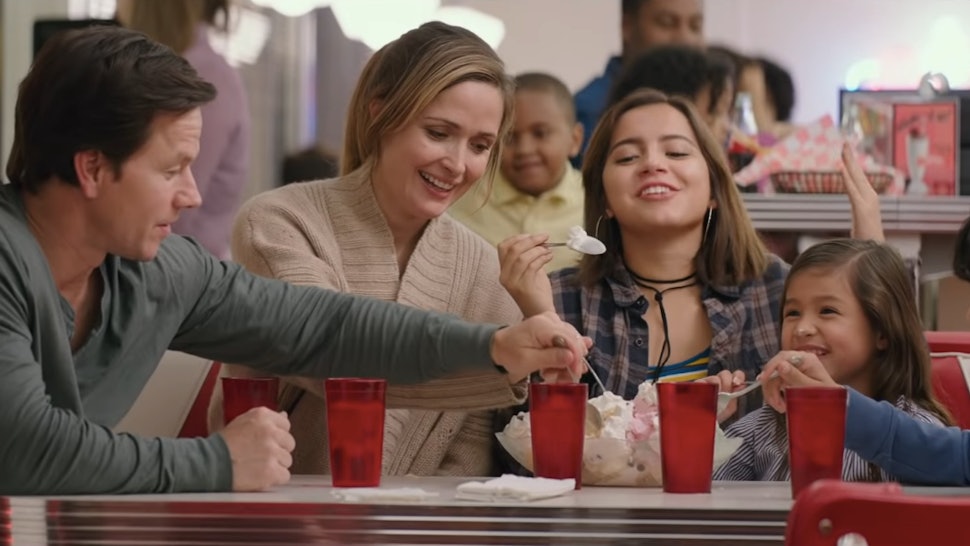 Instant Family could have been a lot worse, but it has heart and the occasional bleak side that pulls you through the crowd-pleasing sweetness of the piece. Not the best comedy ever but then again not as dire as I thought it would be.
3/5