Director: Dexter Fletcher
Starring: Taron Egerton, Jamie Bell, Richard Madden, Bryce Dallas Howard, Gemma Jones, Stephen Graham, Steven Mackintosh, Tom Bennett, Tate Donovan
Written by: Lee Hall
Running Time: 121 mins
Cert: 15
Release date: 22nd May 2019
Coming off the tailcoats of Bohemian Rhapsody, a film that didn't work for me, now comes Rocketman, taking the early life of Elton John as its source. Instead of giving us a straight forward biopic like the Queen movie, director Dexter Fletcher has made a musical using the songs of John and Bernie Taupin as musical numbers in a film that mixes fantasy and reality, warts and all. This is the film that Bohemian should have been.
Arriving at rehab, dressed as the devil, Elton John recounts the life that has led him to this place. From his days growing up a loveless child longing to be hugged by his father, to his musical journey and going from Reg Dwight to the flamboyant Elton, his friendship with his songwriting partner, Bernie Turpin and his wild sexual adventures and the drink and drugs that came with it.
Fletcher, who took over directing duties on Bohemian, has put his stamp on this film, refusing to give us a straight-forward biopic but more a jukebox musical that uses the songs to push the story forward. It's a technical and visual treat and shows a sense of confidence missing from Fletcher's previous films. Watching it, you are taken on a whirlwind journey that plays with timelines, takes us from almost drowning in a pool to hitting a ball into a stadium without leaving the audience behind.
The set pieces are brilliantly handled, reminiscent to the work of Ken Russell. In fact, the whole film has the same quality as The Boyfriend and Tommy, the movie that Elton John memorably sang Pinball Wizard. Sometimes weird, sometimes surreal but always fascinating and extremely watchable. The production values are also impressive, with costumes almost identical to those worn by John during the early career.
What was lacking in Bohemian Rhapsody was the sex, drugs and rock n roll. It all seemed far too clean and polite. Here it is on show in all its glory. John's excesses, whether it be the drinking, the drug taking, the temper tantrums or the sexual relationships and all on show. Those going in thinking they will get a second Queen biopic will be extremely shocked. For everyone else, this works well throughout, and while it might become a little self-pitying by the end, it's a brave decision to include it all.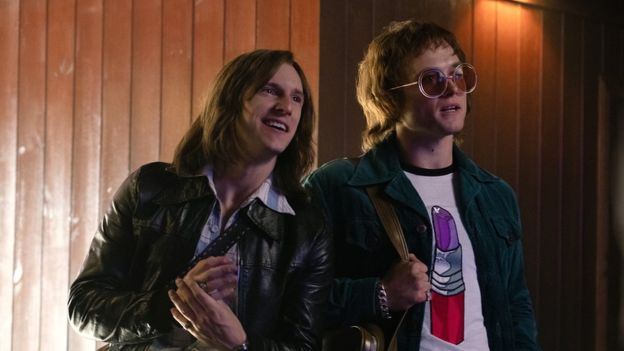 The performances, from a very talented cast, are all exceptional. Bryce Dallas Howard, utterly unrecognisable as John's mother, is a revelation. Richard Madden is terrific as John Reid, John's manager and former lover and Jamie Bell bring a groundedness to the madness as Bernie Taupin. Plus there is a film-stealing performance from Stephen Graham as Dick James, the agent who first takes John and Taupin on and Steven Mackintosh is excellent as John very distant father.
At the heart of the film is Taron Egerton as Elton John. He hits a home run. It is a magnificent performance that doesn't rely on being just an impression, but he brings with him a depth of character, a vulnerability and a level of believability. While he doesn't always sound like John in the songs, his performance of the numbers brings a truthfulness to them. This is a star-making performance for Egerton.
I really liked Rocketman. It's a film about friendship, about longing for a father figure, about addiction, all played out with a great soundtrack from two men who created fantastic music. Could Fletcher go back and remake Bohemian Rhapsody in the same way that this has been made?
4/5