Director: Olivia Wilde
Starring: Kaitlyn Dever, Beanie Feldstein, Billie Lourd, Jessica Williams, Jason Sudeikis, Lisa Kudrow, Will Forte, Skyler Gisondo
Written by: Susanna Fogel, Emily Halpern, Sarah Haskins and Katie Silberman
Running Time: 102 mins
Cert: 15
Release date: 27th May 2019
There has been a trend of late of actors turning to directors who take on coming-of-age movies. Greta Gerwin scored high with Lady Bird, while Jonah Hill gave us Mid90s. Now Olivia Wilde steps behind the camera for Booksmart, a sharp and incredibly funny comedy that is more than just another Superbad style last days of school film. This is a comedy that has heart and is more about friendship than sex jokes. It also boasts two rising stars who really sparkle.
Amy and Molly are best friends who have spent their whole High School days working hard to get into the colleges they want. When Molly discovers that everyone else also got their choices and still partied the entire time, the girls decide that on the eve of graduation, they have one last chance to show the school they are just as much fun as everyone else. Planning to go to a huge party, they have one problem: they have no idea where it is.
Wilde's film uses all the familiar traits from past teen comedies and literally turns them on their head. This is a celebration of geekiness, as Amy and Molly are more interested in school budgets than letting their hair down. Molly, the school president, is a sober adult in a teenager's body while Amy, who came out and yet hasn't done anything about it, dreams of a skater girl, however, is far too awkward to approach her. Wilde takes her time establishing the leading players, making each of them rounded and not just one-dimensional stereotypes.
The film splits as Molly and Amy decide to hit the town for this huge party, but problem after problem gets thrown up. Getting there without a clue where they are going leads them across town, ending up on an empty yacht owned by rich kid Jared, a murder mystery party led by the drama department, to the girls taking drugs and hallucinating they are Barbie dolls.
All the while, the thing that shines through is the friendship between these two girls. They do everything together. They share their deepest desires, their hopes and dreams. They genuinely love each other to the point that you know if they were to ever fall out, it would be heartbreaking. It is one of the film's many strengths, and if you ever had a best friend in school, you instantly recognise how important it is to have them on your side.
It's also hilarious, and while some of the jokes are aimed to shock, they are never so vile and nasty to disgust. From the moment the film starts, with Molly and Amy doing a strange ritualistic dance routine to their whole journey that plays out like a Yuppie nightmare movie al la Scorsese's After Hours, the film delivers laugh after laugh. There's also the best karaoke ever of Alanis Morissette's You Oughta Know.
The cast is terrific with Billie Lourd as the mysterious Gigi almost stealing the film as she somehow manages to pop up wherever Amy and Molly go. Yet it is Kaitlyn Dever and Beanie Feldstein who shine. As best friends, you believe they have been bests their whole lives. They bounce off each other with the maturity of seasoned comedy partners. Their journey just makes you smile. You want them to find love. You want them to be regarded as fun. You want them to be your best friends too. If I were to give them the ultimate compliment, they are the new Tina Fey and Amy Poehler.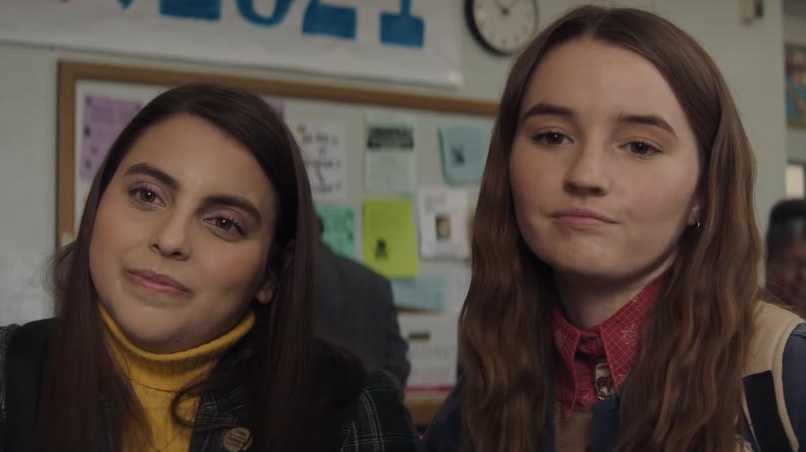 Booksmart is fabulous. A film that is far more than just a gross-out teen comedy. It never outstays its welcome, and you long for more. Olivia Wilde has shown she is as talented behind the camera as she is in front and I want Dever and Feldstein to star in everything. With all the blockbusters stealing the screens at the multiplexes, you must hunt out this magnificent comedy. I came out with a massive smile on my face. Highly recommended.
5/5