Director: Ari Aster
Starring: Florence Pugh, Jack Reynor, William Jackson Harper, Vilhelm Blomgren, Will Poulter, Ellora Torchia, Archie Madekwe, Hampus Hallberg
Written by: Ari Aster
Running Time: 147 mins
Cert: 18
Release date: 3rd July 2019
Paganism has always been a fruitful topic for horror films, from the days of Hammer to the granddaddy of pagan movies, The Wicker Man. It's the strange, otherworldly existence that seems so tantalising for filmmakers. Now we have Midsommar, the follow-up to the diverse Hereditary from director Ari Aster. If you thought Hereditary split the audiences, wait till you see this.
Dani and Christian have been a couple for a few years, but the relationship is tilting towards ending when Dani has a tragedy befall her family. The couple joins some of Christian's academic friends to visit a once-in-a-lifetime festival in Sweden. Once there, the group, welcomed with open arms, find themselves in a hallucinatory nightmare, where this celebration of midsummer turns into a pagan cult.
One of the things that divided audiences with Hereditary was the fact that the first half got it absolutely right, only to be spoilt by a silly ending. No far this time. Midsommar is bonkers from start to finish. Not strictly true, as we see the tragic events unfold for Dani, leaving her wholly grief-stricken and unable to function correctly, so maybe a trip to Sweden will ease the pain. Much to the disgruntled friends of Christian, especially Mark, who knows that his friend wants to end the relationship.
Once in Sweden, the darkness of Dani's world becomes almost fairy-tale like, with the nearly continuous sunlight, white flowing dresses of the new community and strange potions, powders and brews the newcomers are given, causing a hallucinatory sense of calm. Yet this is short-lived, as the group witness a ritual enough to make anyone want to run as fast as they can from this strange land. Except they don't, and soon they start disappearing.
One of the big questions about this film is what is it exactly. Is it a horror? Well, there are horror elements to it, and when the gore comes, it is shocking and graphic. Aster also doesn't hide the gruesome images in the darkness, like most directors. These are played out in broad daylight, so the blood red really is visible. Yet I wouldn't say it's a horror, not in the traditional sense.
Is it a thriller? The tension is there, and Aster doesn't hold back on building things slowly. At 2 and a half hours, it uses every inch of film to layer the tension, and it certainly is creepy enough to be classed as a thriller but again, not in the traditional sense. There are moments of real black humour and yes, with all this blood and tension about, it is surprisingly funny.
What it certainly is is a brilliantly filmed, unnerving piece that lingers in the mind long after you view it. The images, the atmosphere, the rituals are all embedded into the brain, as this film immerses you in its peculiar behaviour of this Swedish community. It also helps that the film has a stunning performance from Florence Pugh. As Dani, this is a woman literally dragged through the wringer, and we experience the whole thing through her eyes. Most of the time, the camera is close-up on her face, and she delivers with a performance that will chill you to the bone. It is a masterclass of acting.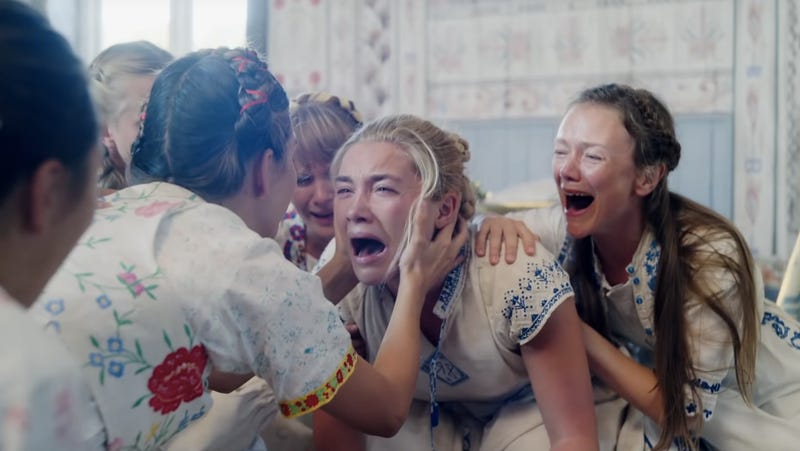 Midsommar is another Marmite movie. Some will love it, some will hate it. I loved it. I loved its look, its style and its shock. We know Sweden is famous for ABBA and Ikea. Now it can be known for bizarre acts of horror. Probably won't do the Swedish tourist board any favours.
4/5