Director: Autumn de Wilde
Starring: Anya Taylor-Joy, Johnny Flynn, Bill Nighy, Miranda Hart, Mia Goth, Josh O'Connor, Callum Turner, Rupert Graves, Gemma Whelan, Amber Anderson
Written by: Eleanor Catton and (based on the novel) Jane Austen
Running Time: 125 mins
Cert: U
Release date: 14th February 2020
The world of Jane Austen has always been a popular writer for filmmakers to turn to. There have been countless versions of her work and now we get another version of Emma. Previously filmed in 1996 with Gwyneth Paltrow (and a BBC production in 2009), as well as being the source material for the film, Clueless, you may wonder why we need another version. Maybe we don't but one thing I have to say about Autumn de Wilde's new production is that this is bright, breezy and charming, while never softening the character.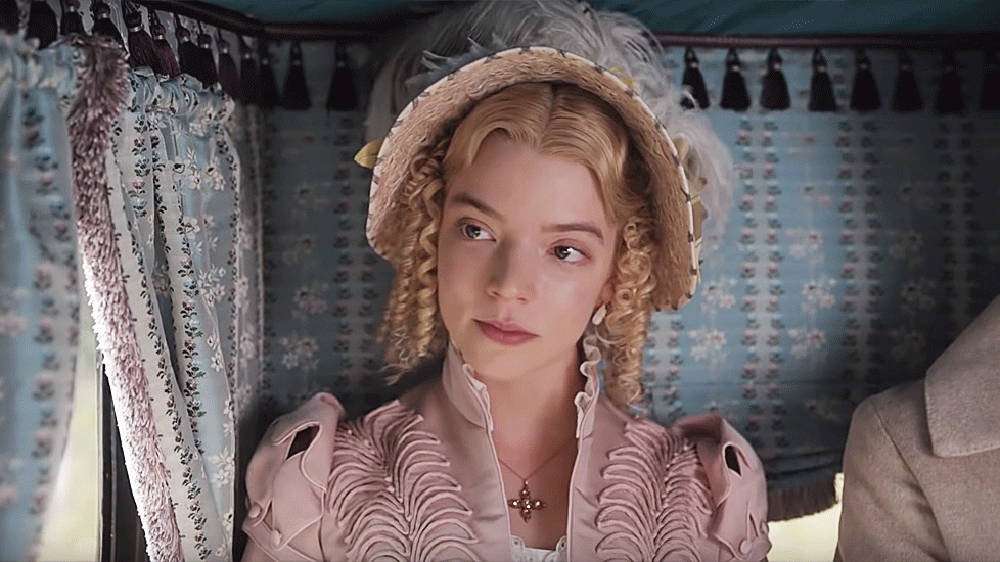 Emma Woodhouse is a twenty-one-year-old who lives with her father and who enjoys her time meddling in the love lives of her friends. While she tries desperately to get things right, there is an air of arrogance to her choices that makes her come across as selfish. In order to find the perfect husband for her friend, Harriet Smith, she finds herself almost controlling her choices to manipulate her own decisions.
The first thing you notice is how beautiful the film looks. Not hard really when you consider the settings, the lush English countryside. Yet the cinematography by Christopher Blauvelt captures it with a rich colour palette that warms the heart. The costume designs are also both perfectly suited and hugely inventive. The men, with their high collars, look like their heads are detached from their bodies while Mr Wodhouse's outfits play a part of the character's humour.
This isn't a soft, audience-friendly version of Emma. She comes across as quite self-indulgent and brattish. You never lose the sight that she is trying to be supportive and yet while she tries to do this, she comes across as controlling, moving her friend away from one man in order to please her own satisfaction. She is, quite frankly, a brat. None more so than when at a picnic, where she comes back at a comment made by the chatty Ms Bates that literally made the audience at my screening gasp.
Yet this is a funny and charming version of the film that manages to capture the heart. The use of music helps carry the film and the scene at a ball between Emma and her neighbour Mr Knightley is electric. Sometimes you don't need words to reinforce the emotions between two people. Their dance speaks volumes about their feelings and it's one of the highpoints.
The performances are pitch-perfect. Miranda Hart as Ms Bates, does come across as her screen persona but she has her moment of pathos after the verbal attack. Bill Nighty almost steals the film as Mr Woodhouse, with his Nighty ticks and brilliant use of his costumes for comic effect. Every scene he appears in is a gem to view. The younger cast members do terrific jobs too. Josh O'Connor, while teetering on the edge of caricature, manages to make Mr Elton both slimy and comedic. Mia Goth, as Hannah, beautifully captures the child-like innocent of a girl who cannot use her own mind, relying on Emma to do it for her. Even physically she is like a child.
Taking on the role of Mr Knightley, Johnny Flynn may be younger than the man Austen created, yet he has such a screen presence that you forget this almost immediately. This is a man who watches Emma's decision making with a critical eye until the ball. That moment between him and Anya Taylor-Joy's Emma is electrifying. In the title role, Taylor-Joy is magnificent. With her sauce-like eyes that capture her every mood clearly, she isn't afraid to make her Emma hateful, yet you still manage to warm to her. It's a well-balanced performance and one that should propel Taylor-Joy to superstardom.
Emma. (let's not forget the full stop) is a joyous addition to the Austen cinematic universe. Timely and surprisingly modern while keeping faithful to the original text, this is a delight. A treat for eyes and ears.
4/5