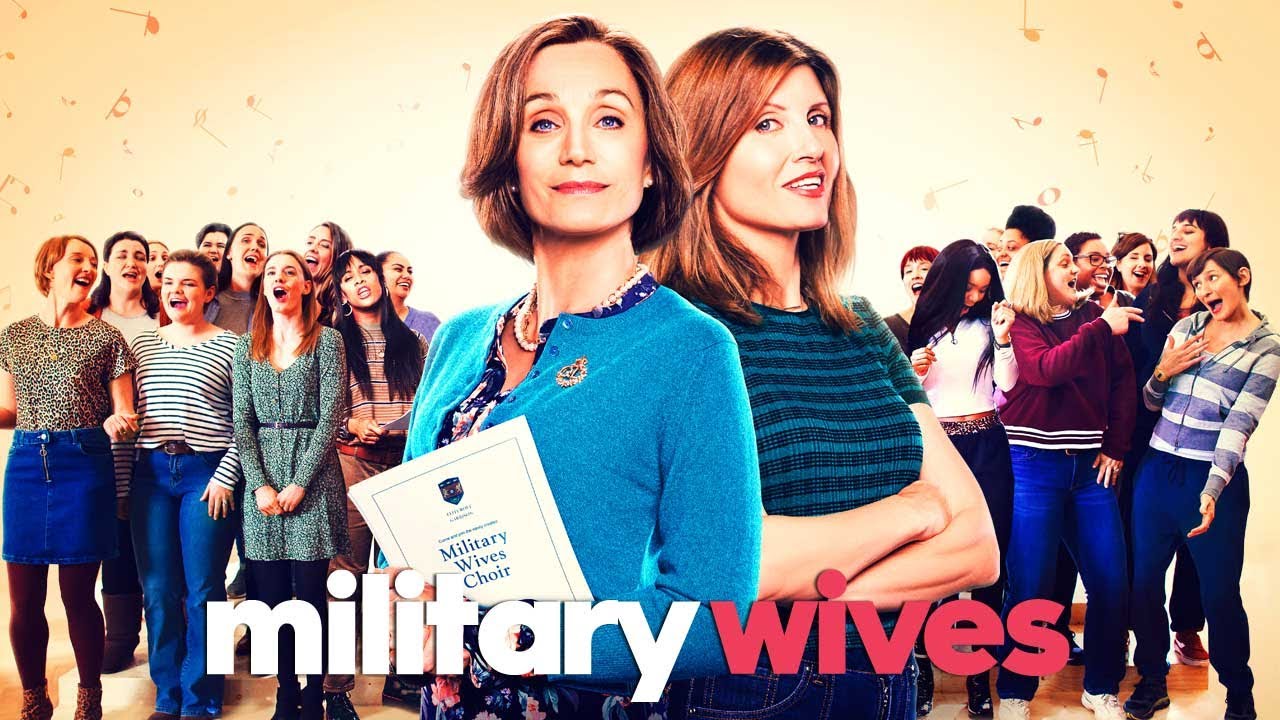 Director: Peter Cattaneo
Starring: Kristen Scott Thomas, Sharon Horgan, Jason Flemyng, Greg Wise, Amy James-Kelly, India Amaeteifio, Emma Lowndes, Gaby French, Lara Rossi
Written by: Rosanne Flynn and Rachel Tunnard
Running Time: 112 mins
Cert: 12A
Release date: 6th March 2020
If there is one style of filmmaking that the Brits are good at, it's the feel-good comedy-drama. Movies based on true stories that have an uplifting feel about them, from the likes of Calendar Girls, Made in Dagenham and Pride. Films that have you laughing, then crying, then cheering, leaving the cinema with a smile on your face and a spring in your step. Next wee, we have Misbehaviour, a tale of women's libbers during the Miss World contest of 1970, this wee, we have Military Wives. Inspired by the BBC series The Choir, this has all the elements, but sadly it lacks the punch of previous films like this.
As the husbands and partners on a military base head off to Afghanistan, the wives left behind spend their days drinking coffee or going for walks. Kate, the wife of a major, decides to join the wives after the death of her son. Kate is bossy and opinionated and decides to start a choir. With Lisa, another wife singled out to organise events for the women, supposedly in charge but being pushed to the side by Kate, the two start a power struggle while getting the women to become one voice.
Peter Cattaneo, who should know how to deliver a film like this, considering he was the director of The Full Monty, gives us a reasonably mundane, almost TV movie feel to the material. The script is pretty routine and follows the trappings of most films like this: a conflict between two characters while surrounded by other sketchy characters, a touch of pathos, a few tears along the way and a triumphant, it-will-all-work-out ending. Sadly for Military Wives, there seem to be so many missed opportunities.
Throughout the film, there are flashes of interest. None more so than the fear these women feel when a doorbell or phone rings. It is almost inevitable that it will happen to one of them, but by exploring the lives these women have to live through, day in and day out, the fears of never seeing their loved one ever again, needed to be given more screentime. Instead, we get focus mainly on Kate and Lisa. Kate, showing a stiff upper lip mentality towards her son's passing while Lisa is trying to cope with a teenage daughter who hates her and refuses to do what she's asked. That element of the story didn't need to be a subplot when there is so much rich material they could have touch on.
We follow the women from the shy, tone-deaf women watching Kate and Lisa trying to win the superiority spot, to confident, tuneful singers invited to the Royal Albert Hall to perform at the Day of Remembrance concert. It trips along with predictability and nothing surprises. It also plays the emotional cards exactly when you think they will come. It's like the writers have watched previous films like this and followed every beat.
The saving graces are the two leads. Kristen Scott Thomas as Kate delivers another reliable performance. No one does uptight as well as Scott Thomas. She has a terrific sparring partner in the form of comedy actress Sharon Horgan, who, as Lisa, has this care-little attitude that moves to one-upmanship to win the popular vote amongst the women. Both hold the film exceptionally well. As for the other cast members, well they are almost stereotypes for a movie like this and sadly, I couldn't remember a single name of the characters they played.
Military Wives is the kind of film that will do well in the cinema, especially for those who like these kinds of films. Sadly, there were too many things wrongs with the movie for me to really enjoy it as much as I had with Pride or Brassed Off.  Its heart is in the right place, but it comes across too bland. Undemanding but extremely predictable.
2/5