Directed by Leigh Whannell
Starring: Elisabeth Moss, Oliver Jackson-Cohen, Harriet Dyer, Aldis Hodge, Storm Reid, Michael Dorman
Written by: Leigh Whannell and (based on the novel) H.G. Wells
Running Time: 124 mins
Cert: 15
Release date: 28th February 2020
Back in 2017, Tom Cruise's The Mummy was supposed to be the start of Universal's Dark Universe, in which classic monsters are brought back in a modern form. The next film in the series was The Invisible Man with Johnny Depp in the title role. After The Mummy flopped badly, the Dark Universe was no more, and all future productions were halted. Thankfully, Jason Blum and Blumhouse stepped in and took the rights for The Invisible Man. Handing it to writer and director, Leigh Whannell, we have a tense, brilliantly executed thriller/horror that allows a talented actress to take the lead in a Hollywood studio piece and delivers.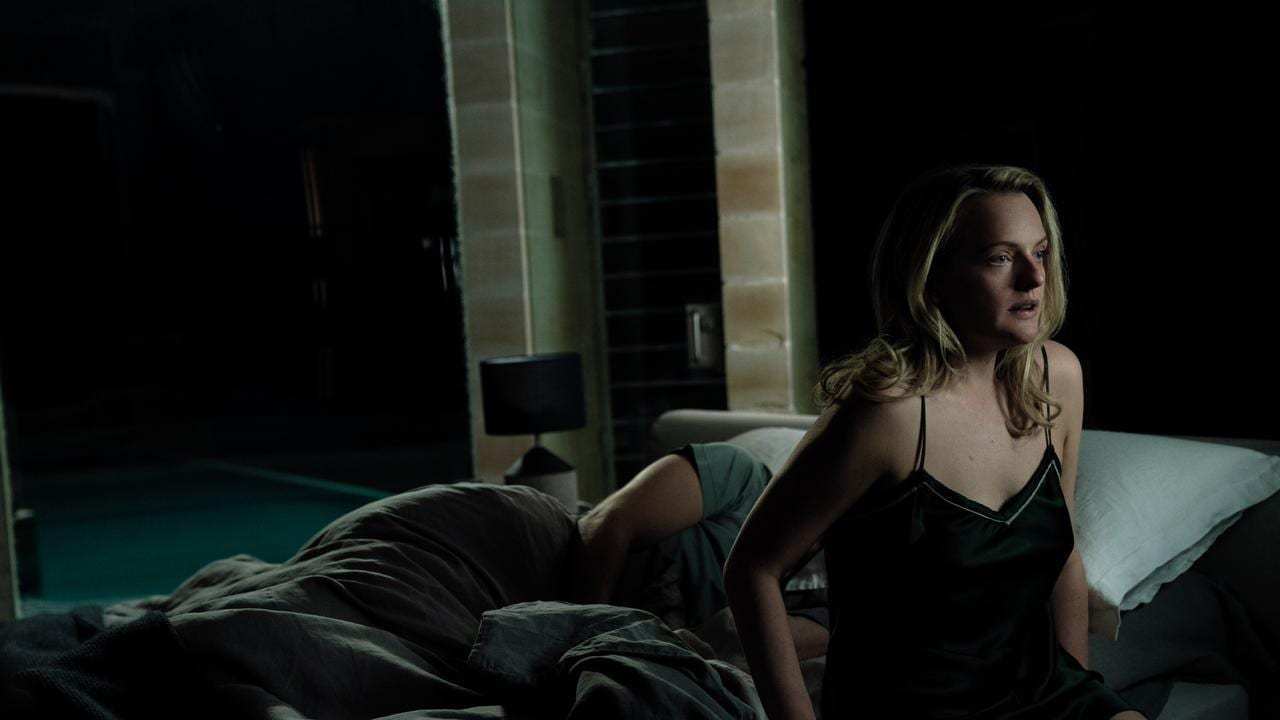 Cecilla Kass is escaping from an abusive relationship when she discovers her former partner has committed suicide. Thinking she is free from his control, Cecilla feels she can move on with her life until strange, unexplained things start happening to her, believing that he never died but has found a way to become invisible. Everyone thinks that her claims are outrageous and she is going mad.
Leigh Whannell has taken the basic premise of H.G. Wells famous story and added a slice of the 1938 play Gaslight, a story of a man how has complete control over his wife so that she thinks she is going mad. Adding to that and without glamorising it, domestic abuse, Whannell has delivered a very modern thriller with its heart set in the past. Unlike The Mummy, which was Tom Cruise running away from a giant CGI head, the only gimmick here is the invisibility and the reveal (no plot spoilers here).
Does it work? Absolutely! As ludicrous as it may be, with the idea of invisibility, Whannell and his cast bring it to life in such a way that you are gripped from the start and you are with Cecillia the whole way through. We know she is not going crazy as we witness the strange events but watching her trying to convince everyone else is often painful to watch. Whannell keeps this going throughout its whole running time, and so you find yourself moving closer to the edge of your seat.
Some of the set pieces are well handled. One particular scene in a restaurant is smart and shocking in equal measures. You are always surprised. Other horror directors take heed. If you are going to make a movie relying on jump scares, then make us care about the characters. These moments in the film are more effective because we care about Cecilla.
It also helps that you have a skilled actress in the lead role. Elizabeth Moss, best known for Mad Men and The Handmaid's Tale, is magnificent. She breathes life into Cecilla, making her both sympathetic and traumatised without ever making her fully rounded. In almost every scene, she commands the film. At some moments, you feel like shouting out to help her. It is a mesmerising performance and one that goes to show, even in popcorn movies, it's just the same as performing in a serious, independent film. You still give it everything you've got. This should provide Ms Moss more opportunity in the future.
If there is one criticism of the film, it's the somewhat Scooby-Doo style ending. This is such a small flaw because The Invisible Man is a first-rate thriller-horror that is head and shoulders above anything else around. Go but be prepared to clean the armrest particles out of your fingernails. It is that tense.
4/5